Marjorie Taylor Greene Selling Christian Nationalist Shirts Amid Backlash
Republican Representative Marjorie Taylor Greene announced on Friday that she would begin selling Christian Nationalist shirts despite the backlash she recently received for touting this belief.
"The Godless left is relentlessly attacking me for my Christian faith. I am a proud Christian and a proud American," she wrote on Truth Social, a social media platform launched by former president Donald Trump. "That's why I am a proud Christian Nationalist. Claim your Proud Christian Nationalist shirt now and share your love for our great country."
The Truth Social post also includes a redesigned picture of Greene and a slogan that reads "stand against the Godless Left" as it advertises the shirt that has "Proud Christian Nationalist" printed on it. The shirts are being sold on her website for $30 each.
The Georgia congresswoman was heavily criticized recently by Christians and non-religious people for calling Americans to embrace Christian nationalism, which is the belief that the United States is defined by Christianity and that the government should take steps to keep it that way, Dr. Paul D. Miller, co-chair for global politics and security at Georgetown University, explained in a 2021 article for Christianity Today.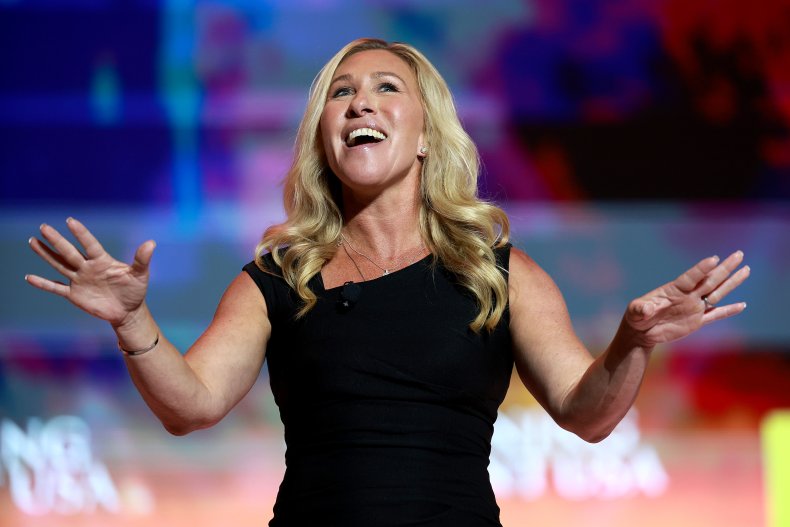 "Popularly, Christian nationalists assert that America is and must remain a 'Christian nation'—not merely as an observation about American history, but as a prescriptive program for what America must continue to be in the future," Miller said.
During the conservative Turning Point USA Student Action Summit in Florida on Saturday, Greene said that Christian Nationalism is a "good thing."
She said that "there's nothing wrong with leading with your faith....If we do not live our lives and vote like we are nationalists—caring about our country, and putting our country first and wanting that to be the focus of our federal government—if we do not lead that way, then we will not be able to fix it."
Her remarks drew criticism from social media users who called her a "Nazi", while GOP Representative Adam Kinzinger compared her statements about Christian Nationalism to the Taliban's, stressing that the group enforces a similar ideology when imposing their version of Islamic law.
Critics have denounced this ideology and consider it radical and in opposition to interfaith inclusion. They argue that Christian Nationalism is often linked to extreme movements such as the "alt-right" and white supremacy. Last week, Reverend Paul Raushenbush, a Baptist minister and the incoming president of the Interfaith Alliance, said in an interview that Christian Nationalism is "a threat to the American way of life."
Additionally, in recent months, some conservatives who embrace Christian Nationalism have openly pushed against the principle of separating the church from the state. However, separating the church from the state has been emphasized in the First Amendment in the Constitution, stating that "Congress shall make no law respecting an establishment of religion, or prohibiting the free exercise thereof."
Newsweek reached out to Greene's media representative for comment.