Adam Kinzinger Blasts Marjorie Taylor Greene as the 'American Taliban'
GOP Representative Adam Kinzinger blasted Representative Marjorie Taylor Greene on Twitter Friday, comparing the Georgia Republican's recent "Christian nationalism" remarks to the Taliban.
During a Saturday appearance at a Turning Points USA Student Action Summit in Florida, Greene argued that being a "Christian nationalist" is a "good thing." She also contended that "there's nothing wrong with leading with your faith." Greene has made similar remarks on her podcast and Twitter.
Kinzinger, an Illinois Republican who is staunchly opposed to former President Donald Trump and his allies, such as Greene, slammed her sentiments in his Friday tweet.
"'We need to prove to people we are the party of Christian Nationalism.' Rep Marjorie Taylor Greene 'We are the party of Islamic nationalism...' Taliban. I oppose the American Taliban. @GOPLeader?" he wrote, tagging House Minority Leader Kevin McCarthy.
The Taliban, an Afghan militant group, have forcefully imposed an extremist interpretation of Islam on their nation's population. They rapidly retook control of Afghanistan last August as the U.S. withdrew from the country after two decades of war.
"It's our policy to ignore Kinzinger's desperate attempts at relevancy," Nick Dyer, Greene's press secretary, told Newsweek when reached for comment. Kinzinger, who is not seeking reelection in November, has been criticized by fellow Republicans for his opposition to Trump.
Following her Saturday speech, Greene received significant backlash, with some critics describing her as a Nazi. In a statement sent to Newsweek, Greene pushed back against the criticism.
"I am being attacked by the godless left because I said I'm a proud Christian Nationalist," Greene said in the statement, which she also shared on Twitter. "These evil people are even calling me a Nazi because I proudly love my country and my God. The left has shown us exactly who they are. They hate America, they hate God, and they hate us."
Kinzinger previously called out pro-Trump Representative Lauren Boebert, a Colorado Republican, for making related comments about the "separation of church and state."
"I'm tired of this separation of church and state junk—that's not in the Constitution. It was in a stinking letter, and it means nothing like they say it does," Boebert told an audience in Colorado in June.
Kinzinger responded on Twitter: "There is no difference between this and the Taliban. We must [oppose] the Christian Taliban. I say this as a Christian."
In a Monday tweet, the Reverend Chuck Currie, an Oregon pastor who frequently criticizes Republicans, took issue with Greene's support for Christian nationalism.
"Unlike Marjorie Taylor Greene, I've studied the Scriptures & devoted myself to serving the Church. Christian nationalism is a racist ideology incompatible with Christianity," Currie wrote. "Jesus was for all the world, not one nation. Beware false teachers like Greene. She dances with the devil."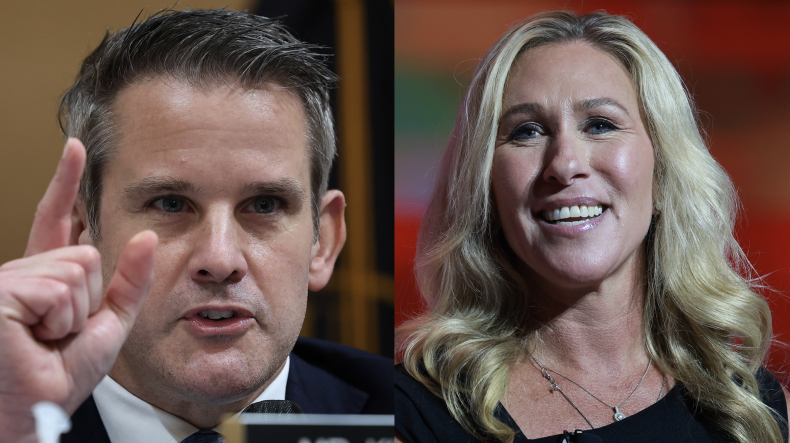 Similarly, Kinzinger has described others touting Christian nationalism as "false prophets." In mid-July, he shared a viral video clip from a FlashPoint Live Church event on July 1 at the Gas South Arena in Duluth, Georgia. The video showed evangelical Christian leaders urging attendees to join them in reading a so-called Watchman Decree promoting Christian nationalist ideals.
"To my fellow Christians: these are the false prophets you were warned about," Kinzinger tweeted in response to the clip. "An idol is an idol, whether it's money, power, or a nation."
The framers of the Constitution were concerned about the imposition of a specific religion in their new nation, as well as the persecution of citizens for their religious beliefs. To protect against this, the First Amendment states that "Congress shall make no law respecting an establishment of religion, or prohibiting the free exercise thereof."
Recent Pew Research Center data shows that about 70 percent of the U.S. population identifies as Christian, although that category is broken down into various denominations with differing beliefs. Nearly 6 percent of the population identifies as Jewish, Muslim, Buddhist or Hindu, while almost 23 percent has no religious affiliation.
Newsweek reached out to McCarthy's press secretary for comment on Kinzinger's remarks.
Update 7/29/22, 11:10 a.m. ET: This story was updated with a comment from Marjorie Taylor Greene's press secretary.