Marjorie Taylor Greene Sponsors Bill to Award Kyle Rittenhouse a Congressional Gold Medal
Georgia GOP Representative Marjorie Taylor Greene has sponsored a House bill to award Kyle Rittenhouse a Congressional Gold Medal for "protect[ing] the community of Kenosha, Wisconsin, during a Black Lives Matter (BLM) riot on August 25, 2020."
Greene introduced the bill on Tuesday. The legislation was then referred to the Financial Services and Administration committees, with its advancement to be determined by the House speaker.
Greene has yet to provide the text of the bill, numbered H.R. 6070, as of early Wednesday afternoon, according to Congress' website.
A Congressional Gold Medal is Congress' "highest expression of national appreciation for distinguished achievements and contributions." Past honorees include George Washington, the Wright Brothers, Winston Churchill, Jesse Owens, Mother Teresa, Nelson Mandela and the Capitol Police following the January 6 riot.
A bill proposing an awardee must be co-sponsored by at least two-thirds (290) of the members of the House. Given the polarization about Rittenhouse, Greene's bill proposal is likely to be only symbolic as it faces unlikely odds of passing in the Democratic-controlled House.
"Democrats planted the seeds of chaos and stoked violence in cities all across our country for a year," Greene said in a statement. "Communities suffered billions in damages by BLM/Antifa domestic terrorists, all while the media cheered it on. A 17-year-old boy stepped forward when most men stayed home."
She continued, "Kyle Rittenhouse deserves to be remembered as a hero who defended his community, protected businesses and acted lawfully in the face of lawlessness. I'm proud to file this legislation to award Kyle Rittenhouse a Congressional Gold Medal."
Rittenhouse shot three men in August 2020, killing two and injuring one, during protests in Kenosha following the police shooting of Jacob Blake, an African American. Rittenhouse's legal team argued that its client acted in self-defense.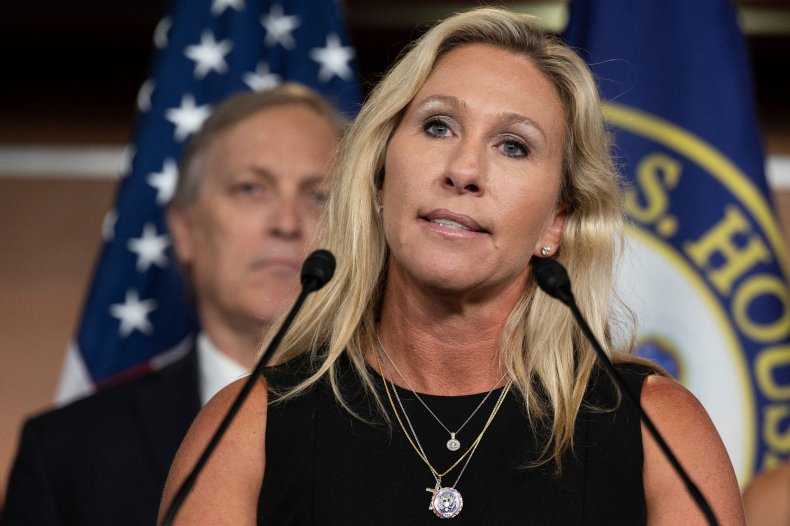 Last Friday, Rittenhouse was cleared of five felony charges: one count of first-degree reckless homicide, one count of first-degree intentional homicide, one count of attempted first-degree intentional homicide and two counts of first-degree recklessly endangering safety.
Rittenhouse has since aimed to distance himself from politics, saying that "I don't want to get involved in politics" and that he "support[s] the BLM movement." But conservative and far-right supporters have viewed him as a poster boy for their movement.
White supremacist Robert Rundo praised the verdict on Telegram and used Rittenhouse's image to promote white supremacist causes. Conservative author Dinesh D'Souza proposed a path for Rittenhouse to run for Congress as a way to "to turn his notoriety, created by the Left, into a nightmare for the Left."
Meanwhile, recently censured GOP Representative Paul Gosar of Arizona offered to arm wrestle Florida GOP Representative Matt Gaetz "to get dibs" on Rittenhouse as an intern. And former President Donald Trump aimed to rally support from his supporters around Rittenhouse, calling him a "good young guy" who should not have been put through a trial.
Rittenhouse met the former president at Mar-a-Lago, his Florida resort, where an image of the two of them was snapped and posted on Twitter by Donald Trump Jr. with the caption GOATs (Greatest of All Time).
Update 11/24/21, 12:29 p.m. ET: This story was updated with additional information.
Update 11/29,21, 9:33 a.m. ET: This story was updated with comments from Marjorie Taylor Greene.