Republican Georgia Representative Marjorie Taylor Greene has said she is "very sorry" for comparing COVID-19 mask mandates to the Holocaust following her recent visit to the U.S. Holocaust Memorial Museum.
"I have made a mistake and it's really bothered me for a couple of weeks now, and so I definitely want to own it," Greene said outside of Congress on Monday morning. "I wanted to say that I know that words that I've stated were hurtful and for that I am very sorry."
"The horrors of the Holocaust are something that some people don't even believe happened, and some people deny, but there is no comparison to the Holocaust," she continued. "There are words that I have said and remarks that I have made that I know are offensive, and for that, I want to apologize."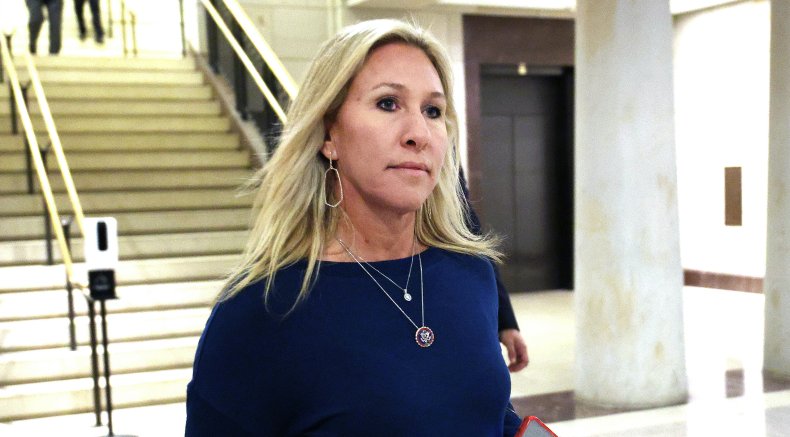 Greene visited the museum on Monday morning for a private tour. Her visit occurred as Jewish Democratic Illinois Representative Brad Schneider is reportedly preparing a resolution condemning her comments.
"We welcomed her visit as we do all members of Congress," Andrew Hollinger, the museum's director of communications, told the Jewish Telegraphic Agency.
Greene originally made the comparison in late May when criticizing possible plans to separate unvaccinated and maskless House members from their vaccinated colleagues.
"You know, we can look back in a time in history where people were told to wear a gold star and they were definitely treated as second-class citizens, so much so that they were put in trains and taken to gas chambers in Nazi Germany," Greene said. She made her comments on The Water Cooler, a show on Real America's Voice, a right-leaning media network.
Jewish groups and other lawmakers immediately condemned Green's comments. Greene initially doubled down on them a few days later, stating that "any rational Jewish person" would also oppose "overbearing" mask mandates. A few days after that, she compared COVID-19 prevention measures to the Holocaust yet again.
"Vaccinated employees get a vaccination logo just like the Nazis forced Jewish people to wear a gold star," Greene tweeted on May 25.
Nazis killed roughly six million European Jews during the Holocaust, which occurred between 1941 to 1945. Mask mandates have not yet been linked to any deaths, according to the fact-checking site Politifact.com.
On May 28, the U.S. Holocaust Memorial Museum published an open letter signed by 50 Holocaust survivors urging politicians to stop making comparisons between modern social conditions and the Holocaust.
"We also watch with great dismay a persistent and increasing tendency in American public life to invoke the Holocaust for the purpose of promoting another agenda," the letter said.
"It is deeply painful for us to see our personal history—the systematic destruction of our families and communities and murder of six million Jewish men, women, and children—exploited in this way," it continued. "What we survived should be remembered, studied, and learned from, but never misused."
Newsweek contacted Greene's office for comment.