Marjorie Taylor Greene Votes Against Mourning Turkey Earthquake Victims
Republican Representative Marjorie Taylor Greene voted against a resolution in the House of Representatives on Monday, mourning the loss of life following earthquakes in Turkey and Syria.
Greene was joined in her opposition by fellow Republican Representative Thomas Massie, but the resolution passed by a vote of 414 to 2, with 17 members not voting.
Twitter user Acyn shared a still from the floor of the House of Representatives showing the outcome of the vote on Monday, which has now been viewed more than one million times.
The resolution had been introduced by Republican Representative Joe Wilson of South Carolina on February 17 and the motion was cosponsored by several other members of the House.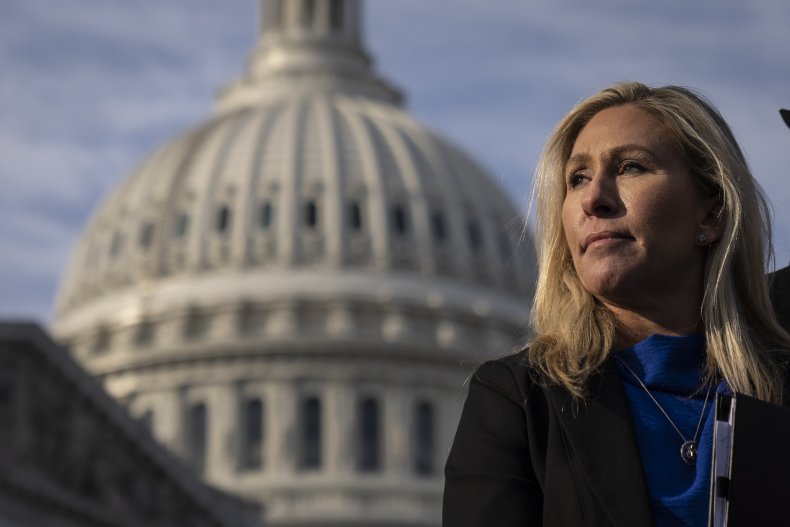 Speaking on the House floor on Monday, Wilson said: "American families' prayers and sincere condolences go to the people of Türkiye and Syria. To the brutal Assad regime and its backers—war criminal Putin, the authoritarian ayatollah in Iran—there will be a message: your diversion of humanitarian aid during an earthquake is despicable."
"The U.S. Congress stands united. We will never normalize with you. We will hold all those who attempt to normalize with you accountable, and we will not stop supporting the people of Syria to have a government they deserve based on democracy with rule of law, not authoritarians with rule of gun," Wilson said.
The text of the resolution noted that on February 6 "a magnitude 7.8 earthquake struck central-southern Türkiye, followed by a magnitude 7.5 earthquake later the same day, followed by over a thousand aftershocks in Türkiye and northwest Syria."
It cited the difficulties facing people in both countries and the humanitarian response, and proposed that the House "mourns the horrific loss of life in Türkiye and Syria caused by the earthquakes in Türkiye" as well as "expresses its deep condolences to the families of the many earthquake victims" among other matters.
The resolution also praised "the heroic work of humanitarian aid and rescue workers on the ground to save lives and provide care for victims" and called on President Joe Biden's administration "to continue to use all diplomatic tools, including through the United Nations Security Council, to open all Türkiye-Syria border crossings for United Nations assistance."
The text criticized Syrian President Bashar al-Assad and condemns "efforts by the Assad regime to cynically exploit the disaster to evade international pressure and accountability, including by preventing the United Nations from providing assistance through multiple border crossings between Türkiye and Syria."
Turkey and Syria have experienced a series of earthquakes, with the most powerful hitting on February 6, and the death toll from the quakes in Turkey had reached 44,218 as of February 24.
The combined number of deaths in both countries has now passed 50,000, while more than 160,000 buildings were destroyed or badly damaged in Turkey, including buildings containing 520,000 apartments.
Newsweek has reached out to Greene and Massie's offices for comment.