Marjorie Taylor Greene's Voting Plan Branded 'Unconstitutional'
Marjorie Taylor Greene's suggestion that Democrats who move to Republican states shouldn't be allowed to vote for five years has been branded "unconstitutional." Furthermore, it is "an assault on democracy," a legal expert told Newsweek.
The House Republican made the comment to Charlie Kirk, executive director of conservative youth group Turning Point USA. He had asked how conservatives should respond to liberals "trying to invade our states or our counties."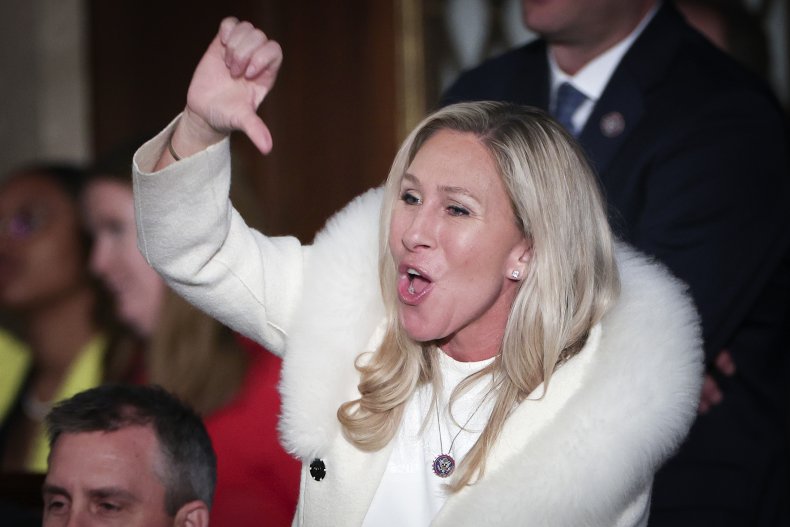 Greene replied: "What I think would be something that some red states could propose is: well, OK, if Democrat voters choose to flee these blue states where they cannot tolerate the living conditions, they don't want their children taught these horrible things, and they really change their mind on the types of policies that they support, well, once they move to a red state, guess what, maybe you don't get to vote for five years.
"You can live there, and you can work there, but you don't get to bring your values that you basically created in the blue states you came from by voting for Democrat leaders and Democrat policies."
According to U.S. census data released earlier this month, in 2022 the population of California fell by nearly 350,000, while New York, another firmly Democratic state, lost 300,000 people. By contrast, the Republican-controlled states of Florida and Texas gained 440,000 and 470,000 residents, respectively.
Greene's proposal was rejected as "unconstitutional" by Rachel Fiset. She is a criminal defense attorney who co-founded Los Angeles-based law firm Zweiback, Fiset & Zalduendo LLP.
Fiset told Newsweek: "Marjorie Taylor Greene's suggestion that people moving states should forfeit their right to vote for five years is unconstitutional and universally against the principles set up 'uniting' the states.
"She is suggesting that people forfeit their rights to vote as a punishment for moving states. And while this exact instance is not addressed in the Constitution, the restriction on voting would certainly violate the principles and amendments protecting the fundamental right to vote of citizens of 18 and over in the United States. In short, Greene's narrative is an assault on democracy."
A similar view was expressed by Neama Rahmani, president of LA-based West Coast Trial Lawyers and a former federal prosecutor.
He told Newsweek: "Greene's suggestion is absurd and patently unconstitutional. U.S. citizens have a right to travel between states and a right to vote.
"These are fundamental rights that cannot be abridged because of partisan politics," added Rahmani. "Though short residency requirements of a few weeks or months have been upheld, a five-year requirement is unconstitutional on its face and would never survive a court challenge."
On February 10, Utah Governor Spencer Cox said "refugees" from California should stop moving to his state, which he claimed has been the fastest growing in the U.S. over the past 10 years. This was in part because of migration from California.
The Republican Governor said: "We would love for people to stay in California instead of coming as refugees to Utah."
Greene also caused controversy this month by proposing a "national divorce" between red and blue states, arguing their political differences had become irreconcilable.
She later outlined her plan in greater detail. The federal government should be responsible for defense and border control, with almost all other policy areas devolved to the states, Greene added.
However, this plan was criticized by Fox News host Laura Ingraham, who said on her show it was the "last thing we need."
Newsweek has contacted Marjorie Taylor Greene for comment.