Fox News Trashes Marjorie Taylor Greene's 'National Divorce' Idea
Marjorie Taylor Greene's call for a U.S. "national divorce" between Democratic and Republican states has been blasted by Fox News host Laura Ingraham, who described it as the "last thing we need."
Detailing her proposal on Tuesday, Greene said a greatly weakened U.S. federal government should remain, with responsibility for defense and border security, whilst nearly all other powers should be devolved to the state level.
Ingraham attacked the proposal on her Fox News show on Wednesday, commenting: "Now why would we want to embrace the states that gave us Jimmy Carter and Bill Clinton, but essentially give up on the states that gave us Reagan and Trump? Imagine if Youngkin had given up on Virginia, or if Republicans on Long Island gave up on New York. The last thing we need is an American breakup of any sort."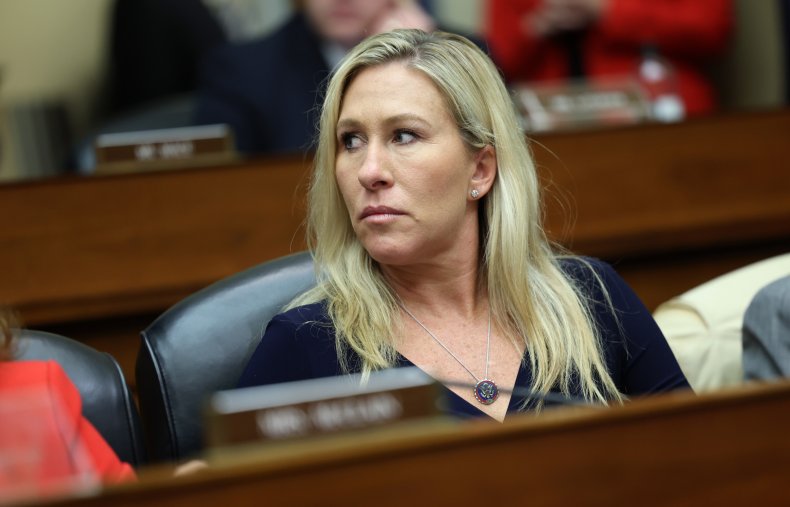 Former Democrat presidents Carter and Clinton come from Georgia and Arkansas respectively, which are traditionally seen as Republican states, whilst Reagan was born in Illinois and Trump in New York.
Ingraham continued: "Just because it often seems like Democrats have given up on America themselves, doesn't mean ever that Republicans or conservatives should. They should not. I'm certainly not willing to give up on the states that gave us Sinatra, John Wayne, or that welcomed my grandparents from Poland.
"There are good hardworking people in Illinois, in New York, in California, and Washington State, who don't want to move and who are looking for new leadership. So let's give it to them."
The Fox News host also told House Republican Matt Gaetz that Greene's proposal would give Democrats "a bat" to "use against us in 2024."
Gaetz offered a partial defense of Greene's comments, before discussing "woke ideology" in schools.
He said: "I think Marjorie Taylor Greene is making an invigorated argument for federalism, which I think a lot of voters would ascribe to.
"I don't think it's helpful when we have Democrats trying to divide us, even divide parents from their own children by pushing woke ideology in the classroom."
On Wednesday, Greene again promoted her "national divorce" plan, arguing it would help prevent the U.S. being "on the verge of WWIII with Russia and China" following Vladimir Putin's invasion of Ukraine.
She tweeted: "In a National Divorce, our Department of Defense would defend America's borders not be on the verge of WWIII with Russia and China because our overly powerful federal warlords serve Ukraine first."
However, Greene's proposal has come under fierce attack from some within her own party, including Mitt Romney, the former Republican presidential nominee.
Asked about the plan by reporters in Congress, the Senator replied: "I think Abraham Lincoln dealt with that kind of insanity. We're not going to divide the country, it's united we stand, divided we fall."
Representative Marjorie Taylor Greene has been contacted for comment.