Marjorie Taylor Greene Vows to 'Stand My Ground' Against Democrat Bid to Expel Her
Representative Marjorie Taylor Greene has issued a defiant message after a group of Democratic lawmakers made a move to kick her out of Congress.
Rep. Jimmy Gomez has introduced a resolution backed by 72 co-sponsors which called for her expulsion. It comes only weeks after the House voted to remove the Georgia Republican from both of her committees over controversial social media. comments.
Greene has faced scrutiny for promoting violence against Democrats and conspiracy theories about QAnon and the 9/11 attacks. She was also condemned for confronting David Hogg, a survivor of the mass shooting at Marjory Stoneman Douglas High School in Parkland, Florida.
Greene told Newsmax that the way Democrats were treating her "was exactly the way they treat Trump supporters," and alleged that the party "had called for violence" on those who supported the former president.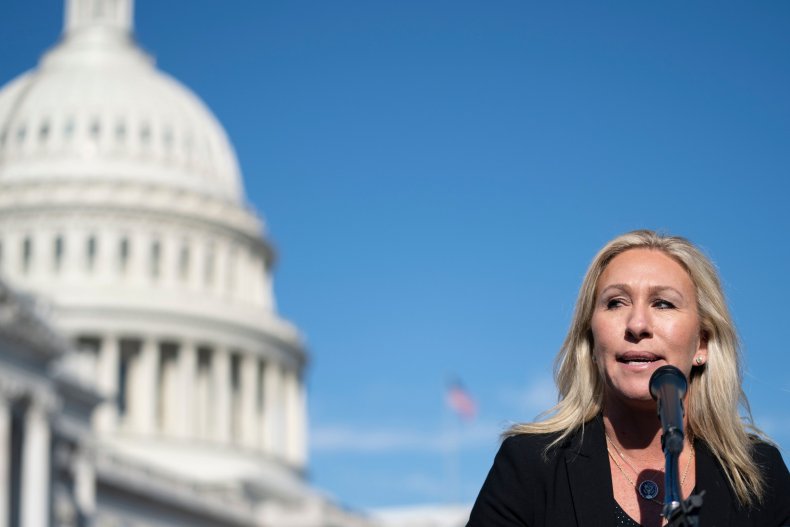 In a wide-ranging response on the right-wing network, she took swipes at various Democrats. They included Rep. Maxine Waters (D-CA) for past comments that she had threatened Trump supporters, although the Californian lawmaker later clarified she had never called for violence.
Greene also criticized Vice President Kamala Harris and Representative Ilhan Omar for sharing a weblink to the Minnesota Freedom Fund, which provided bail funds for people protesting George Floyd's death.
"Who is guilty of inciting violence on the American people, is it me? Greene said, No, I have not done anything."
She then went on to condemn Twitter, after the platform briefly suspended her account on Friday, although it later said that this had been a mistake and reinstated it.
Greene saw this as a move to stifle her and compared it to what the Democrats were doing. "Twitter just so happens to make an 'error' and suspend me at the same time that Democrats introduce a resolution to expel me from Congress," she said.
"Here's the deal...I am not backing down. I'm going to stand my ground and I will do this for the American people and for the district back at home, because we have to do whatever we can to stop these radicals who are in control of our government."
Gomez's bill is unlikely to pass because it would require bipartisan support and the backing of dozens of Republicans to reach the two-thirds majority. However, it could force Republican lawmakers to go on the record about their support for Greene.
The Democrat has pushed for Greene's expulsion since the January 6 Capitol insurrection. "I take no joy in introducing this resolution, but any member who cites political violence and threatens our lives must be expelled," he said on Friday.