Greene Knocks Democrats Over Focus on Capitol Riot: 'What's Jan. 6?'
Representative Marjorie Taylor Greene recently doubled down on her criticism of the attention focused on last year's Capitol riot, saying that high school students she's spoken with that don't even know what happened that day.
The GOP congresswoman from Georgia told NBC News last weekend that she felt the media was focusing too much attention on the January 6, 2021 riot at the U.S. Capitol, which was carried out by supporters of former President Donald Trump. "The American people are fed up with this over-dramatization of a riot that happened here at the Capitol one time," the Georgia lawmaker said.
Greene reiterated her views in a tweet on Wednesday. Greene explained in a thread that she enjoys speaking with high school seniors about their views on current events and politics.
"All of these H.S. seniors will be voting in November. They are very smart and tuned into what's happening in our country and how it affects them," Greene wrote.
"I asked them what they thought about J6. They said, 'what's Jan 6th?' And there you have it. Keep digging that hole Dems," she concluded.
In her previous remarks to NBC News, Greene also described the Capitol attack as "horrible" and "a terrible experience." She said she "hated it" but contended that Americans no longer want attention focused on the violence of that day. Greene argued that they are more concerned about inflation, high gas prices, border security and other issues that impact their lives.
Newsweek reached out to the House select committee investigating the January 6, 2021 attack.
While Democrats make up the bulk of the select committee members, two Republicans—Representatives Liz Cheney of Wyoming and Adam Kiniznger of Illinois—also serve on the commission. Cheney and Kinzinger are both staunch Trump critics, however, and voted along with eight other Republicans and Democrats to impeach the former president for inciting the Capitol riot. A number of other Republicans have expressed support for the select committee's ongoing probe.
Polling conducted in January by the Pew Research Center showed that the opinions of Americans about the attention paid to the Capitol riot are almost equally divided. Thirty-one percent said "too little" attention has been paid to the riot while 33 percent said the "right amount" of attention was paid to the events of January 6, 2021. Thirty-five percent said that the riot was getting "too much" attention.
Hundreds of Trump supporters attacked the Capitol just over 15 months ago in an apparent effort to prevent the formal certification of President Joe Biden's Electoral College victory. The riot came shortly after Trump urged a large crowd at a nearby rally to "fight like hell" to save their country—following months of spreading false claims that Biden's win was fraudulent.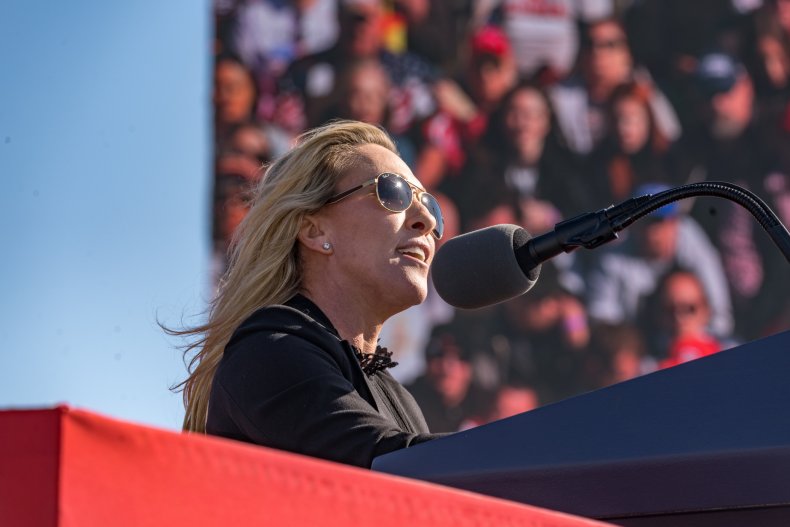 The Justice Department has arrested hundreds of suspects who allegedly participated in the riot. Some have blamed Trump directly for their actions.
"If the president's giving you almost an order to do something," Dustin Thompson, a 38-year-old Capitol riot suspect from Ohio, said during his trial on Wednesday regarding his actions on January 6, 2021. "I felt obligated to do that."
Trump has consistently denied any wrongdoing related to the Capitol attack. The former president has said that the House select committee's investigation is politically motivated and a "witch hunt."