Marjorie Taylor Greene's 9/11 Remarks Stun Audience Into Silence
GOP Representative Marjorie Taylor Greene has called President Joe Biden "absolutely pathetic" for refusing to shoot down a Chinese spy balloon over the continental United States, saying that nobody on the ground was killed when the hijacked United Airlines Flight 93 crashed in Pennsylvania during the 9/11 attacks.
The balloon was eventually downed by an F-22 jet on February 4 after it had passed over the Atlantic off the coast of South Carolina. Pentagon officials had advised Biden not to target the balloon as it crossed the continental U.S. because of the danger that falling debris could pose to those on the ground.
Addressing the Kootenai County Republican Central Committee in Coeur d'Alene, Idaho, this past Saturday, Greene took a different view.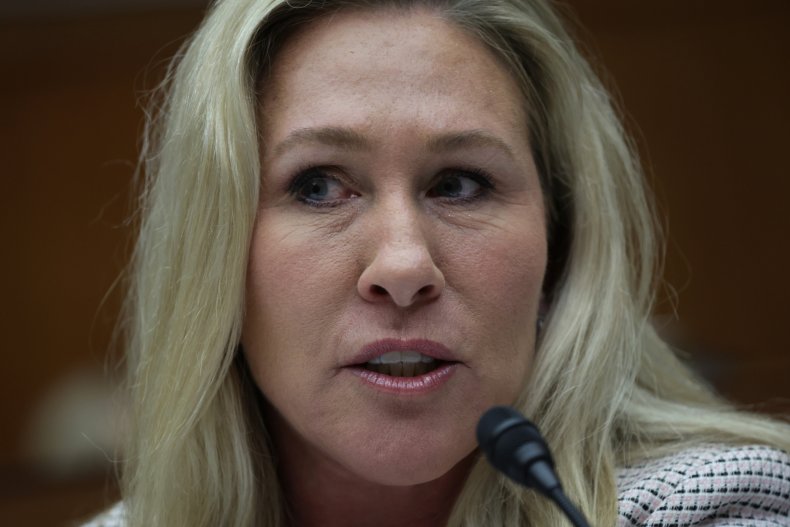 The Georgia Republican said: "The excuses that were given on this were pathetic, absolutely pathetic. They told us it was too risky, oh, it was too risky to shoot down a Chinese spy balloon. Do you know what a bunch of b******* that is?
"They said it's three school buses wide," she continued. "OK, well, do you guys remember on 9/11 when an airplane crashed in Pennsylvania? A jetliner, remember that? It didn't kill anybody on the ground. Killed everybody on board, but it didn't kill anybody on the ground. So they want to tell all of us that it was too risky to take down that Chinese spy balloon over rural Idaho or Montana or any of these other states, or Alaska."
Greene has been contacted by Newsweek for comment.
The clip was shared on Twitter by Patriot Takes, an account that says it is dedicated to "monitoring and exposing right-wing extremism."
Greene continued: "They are liars. You can only see it two ways. Either they're liars or they're cowards, or our president has sold out to China. You know what, I'll go for all three."
Her comments about 9/11 were met with silence, but she was cheered after her remarks criticizing Biden.
United Airlines Flight 93 was hijacked by four Al-Qaeda operatives on September 11, 2001. They were unable to reach their target, believed to have been either the U.S. Capitol or the White House, after an uprising by passengers and crew members. The hijackers crashed the aircraft, killing 33 passengers, seven crew members and themselves.
While the crash didn't cause any casualties on the ground, it damaged a cabin and garage owned by Barry Hoover, who worked in a nearby lumberyard.
Before being elected to Congress, Greene expressed doubt about whether a plane flew into the Pentagon as part of the 9/11 attacks, although she has since retracted this view.
In January, referring to her past support for conspiracy theories, Greene said: "Like a lot of people today, I had easily gotten sucked into some things I'd seen on the internet. But that was dealt with quickly early on. I never campaigned on those things. That was not something I believed in."
After the Chinese balloon was downed, American warplanes shot down three unidentified objects, which had been flying over Alaska, the Yukon territory in Canada and Lake Huron on Friday, Saturday and Sunday, respectively.