Marjorie Taylor Greene's 'Loathsome and Dangerous Lies' Disavowed by Her Favorite Gym
CrossFit has denounced the "loathsome and dangerous lies" of Rep. Marjorie Taylor Greene (R-Ga.), a former CrossFit affiliate gym owner who has continued to tout the brand.
Greene, an ardent supporter of former President Donald Trump who was elected last November, was last month removed from all of her House committee assignments following a bipartisan vote prompted by a series of controversial past remarks, including past support of pro-Trump conspiracy theories like QAnon and Pizzagate.
Although CrossFit had previously been silent about the congresswoman, the company disavowed Greene in a BuzzFeed News article on Monday.
"CrossFit supports respectful fact-based political dialogue to address our common challenges, and we strongly oppose the loathsome and dangerous lies attributed to Ms. Greene," CrossFit spokesperson Andrew Weinstein told BuzzFeed.
Nick Dyer, Greene's communications director, asked the outlet if they had "anything better to do" in response to a query for comment, adding "What is wrong with you?" Dyer had not responded to a Newsweek request for comment at the time of publication.
Greene sold her stake in the CrossFit-affiliated gym that she co-founded in Alpharetta, Georgia before her ascent to Congress. She has remained a loyal CrossFit adherent and frequent booster of the brand since entering politics.
After being elected to represent Georgia's 14th Congressional District, Greene recorded a viral video of herself working out in a hotel room while lamenting that public health restrictions "tyrannical" Democrats imposed due to COVID-19 made it impossible to visit a CrossFit gym while visiting Washington, D.C. in preparation for taking office.
"I work out everyday in a CrossFit gym that is open. With people," Greene tweeted on November 14. "Gyms are small businesses that have been devastated by the government mandated shut downs. In DC, NOTHING is open bc of Democrat tyrannical control. So here's my hotel room workout. We must FULLY reopen!"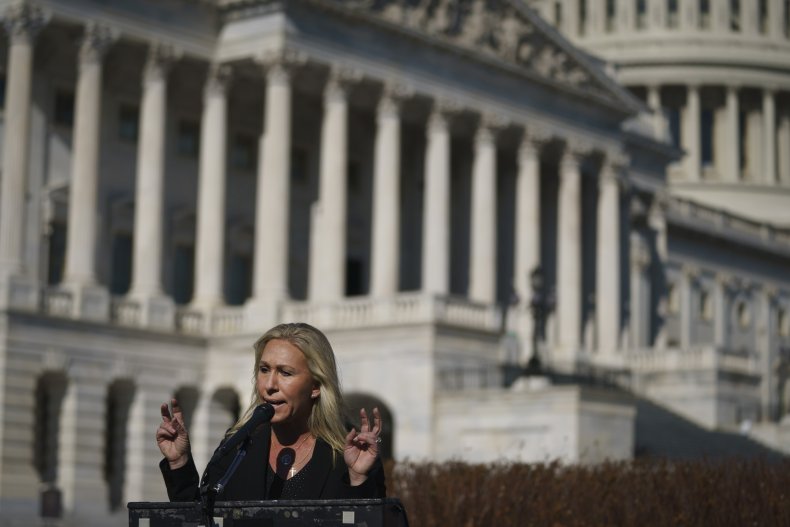 CrossFit has itself been no stranger to controversy in recent times, with former CEO Greg Glassman resigning and selling the company last June after BuzzFeed published his comments from a leaked Zoom call with affiliates.
In addition to conspiracy theories concerning COVID-19, the call reportedly featured Glassman questioning why anyone would mourn the killing of George Floyd, whose death at the hands of police had inspired massive nationwide Black Lives Matter protests.
Continued associations with Greene may have provided an additional public relations concern for the company. As pressure on the congresswoman continued to mount in the wake of the January 6 riots at the U.S. Capitol, some of those associated with CrossFit expressed dismay that the company had not publicly disavowed Greene.
"[Greene] featured CrossFit in her campaign ads, routinely tagged CrossFit in Social Media posts," former CrossFit affiliate owner Alyssa Royse, who cut ties with the company following the Glassman controversy, wrote in a February 12 blog post. "And nothing from HQ saying anything about it. Tacit approval. Yes, they can and should distance themselves from her, she's still posting her workouts and talking about the gym she no longer owns."
Newsweek reached out to CrossFit for comment.