Marjorie Taylor Greene Shares Video of D.C. Hotel Workout Because of 'Tyrannical' Lockdowns From Democrats
Marjorie Taylor Greene tweeted a video of her CrossFit workout in Washington, D.C., stating that she was forced to exercise in her hotel room due to lockdowns imposed by "Democrat tyrannical control."
The recently elected Republican congresswoman from Georgia shared the video Saturday while visiting D.C. for a new House member orientation, and said that during her visit she's been unable to complete her daily workout inside of a gym.
"I work out everyday in a CrossFit gym that is open. With people. Gyms are small businesses that have been devastated by the government mandated shut downs," she wrote. "In DC, NOTHING is open bc of Democrat tyrannical control. So here's my hotel room workout. We must FULLY reopen!"
But the GOP congresswomen exaggerated her claim that "nothing" is open.
Washington, D.C. is currently under Phase Two of reopening, which allows businesses including restaurants, retail, museums, and events to operate with limited capacity.
Under this phase, gyms and fitness centers are also able to open with limited access, allowing five people per 1,000 square feet. However, medium-to-high contact sports, communal swimming pools, hot yoga, and locker rooms remain closed.
Newsweek reached out to Greene for additional comment.
Greene, who gained attention for supporting the QAnon conspiracy theory, has been an outspoken critic of numerous efforts to derail COVID-19. On Friday, she tweeted that "masks are oppressive" and proudly stated that "In GA we work out, shop, go to restaurants, go to work, and school without masks."
According to a report by the Georgia Department of Public Health, there have been over 382,000 confirmed COVID cases, with 8,418 confirmed deaths and 33,809 hospitalizations.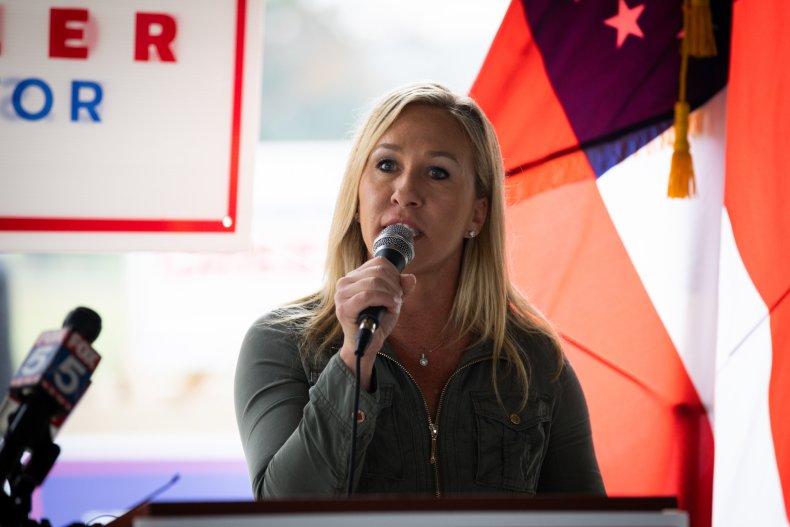 But Greene is not the only GOP official to criticize Democratic efforts to halt the spread of the coronavirus. Earlier this week, Mississippi Governor Tate Reeves said that the state would refuse to participate in a national lockdown if President-elect Joe Biden proposes one next year.
In Oregon, state GOP leaders have criticized Democratic Governor Kate Brown for initiating a two-week long lockdown across the state, calling the order "Orwellian."
But as COVID-19 continues to spread at rapid rates across the country, a number of states—including Illinois, Washington and New York—have begun initiating stricter measures.
Earlier this week, D.C. Mayor Muriel Bowser issued new travel advisories for people coming to and from the district. These new guidelines request that anyone visiting D.C. get tested within 72 hours of travel, and to stay home if the test comes back positive or if the traveler was in close contact with someone infected with COVID-19.
If a person is visiting D.C. for more than three days, they should also get tested, per the mayor's order.
Though D.C., has not yet implemented new lockdowns, Bowser said if the virus continues to surge, leaders may consider moving back into reopening phase one or zero, which would result in a stay-at-home order.
On Friday, the city reported 125 new positive cases and 115 hospitalizations, and has been steadily increasing its numbers over the past week.
"Don't get tired of being vigilant about COVID," Bowser said at a dedication ceremony on Thursday, adding that D.C. residents should continue wearing masks and be mindful of their daily practices.