Marjorie Taylor Greene's Warning to GOP on Possible Trump Indictment
Representative Marjorie Taylor Greene, a Georgia Republican, warned GOP members about consequences they might face if they don't back former President Donald Trump who could possibly be indicted by New York prosecutors next week.
"If the Manhattan DA indicts President Trump, he will ultimately win even bigger than he is already going to win. And those Republicans that stand by and cheer for his persecution or do nothing to stop it will be exposed to the people and will be remembered, scorned, and punished by the base," Greene wrote on Twitter on Saturday.
Greene, a staunch supporter of Trump, has long defended the former president and has previously denied the 2020 presidential election results, repeating similar claims that Trump touted about widespread voter fraud. Meanwhile, the GOP lawmaker has repeatedly criticized the Biden administration for various issues including pandemic-related policies and military aid to Ukraine in its ongoing fight against Russia.
She has also often defended some conservatives, alleging that they are are experiencing "political persecution" such as InfoWars TV host Alex Jones, who last year was ordered by a jury to pay nearly $1 billion in compensatory damages to the families of the Sandy Hook victims for calling the school mass shooting a hoax.
The Georgia Republican continued to defend Trump on Saturday, saying that he "did nothing wrong and has always fought for the American people."
However, the former president might be facing a potential criminal indictment by prosecutors in New York in an investigation by the Manhattan district attorney's office in relation to an alleged hush money payment made by Trump's former attorney Michael Cohen to adult film star Stormy Daniels.
The Manhattan district attorney's office has been investigating a $130,000 reimbursement to Cohen for a payment made to Daniels, who claims she had an affair with Trump in 2006.
The former president is being investigated for the money paid to Daniels by Cohen to keep the alleged affair a secret ahead of the 2016 presidential election. Trump has denied having an affair with Daniels and has strongly criticized the investigation.
The Trump Organization recorded the reimbursement as legal expenses. However, it is against state law in New York for companies to misclassify the nature of expenses. This could lead to a misdemeanor charge for Trump, which might later become a felony if the misclassification took place in order to cover up another crime.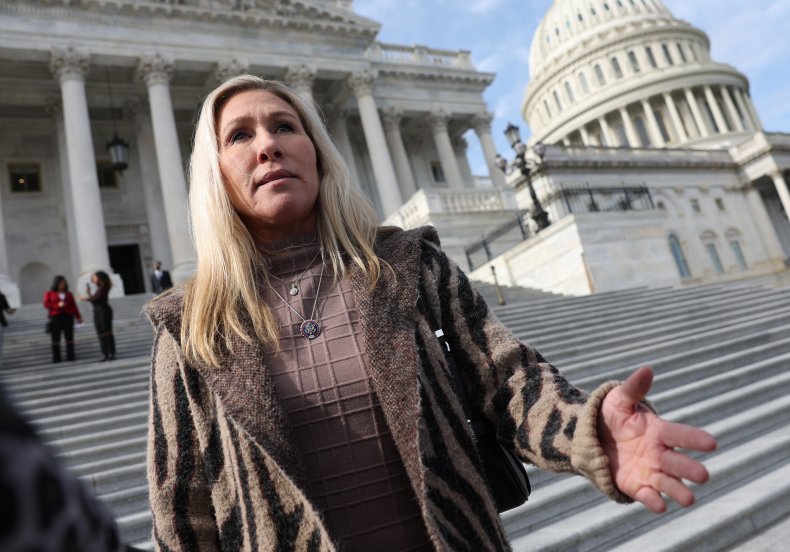 This week, Cohen testified before a grand jury for two days and has previously pleaded guilty to campaign finance charges after helping with the payment arrangements. Meanwhile, Daniels spoke to New York prosecutors on Wednesday as part of the investigation.
Greene on Saturday lashed out at Democrats and blamed them for the "weaponized government" and "political persecution."
"And any Republican who thinks the Democrats will stop this madness once Trump is out of the way is fooling themselves. Weaponized Government and Political Persecution are new chapters in their playbook and they will use those methods against anyone who stands in their way. And we are absolutely fed up with the two-tiered justice system or rather INJUSTICE system in America. The base has had enough of Republicans that won't stand up for the people and against the Democrats war against Trump, his admin, his supporters, and traditional values," she tweeted.
The Georgia congresswoman recently predicted that Trump will win the 2024 presidential election in a "landslide" if he is indicted.
"If they indict President Trump on fake charges, to go after him to try to stop the movement that they cannot stop, he is going to win 2024 in a landslide victory and then we'll put him in the White House and he will finish what he started. We will gut the government of all the traitors that are serving the globalists and America last," Greene told Lindell TV.
Newsweek reached out to Greene's spokesperson via email for comment.