Mark Cuban Rips SEC for 'Zero Understanding' of Cryptocurrency
Billionaire entrepreneur Mark Cuban defended cryptocurrency, criticizing the U.S. Securities and Exchange Commission and John Reed Stark, the founder and former chief of the agency's Office of Internet Enforcement, for dismissing the utility of cryptocurrency.
Stark, the president of his eponymous cybersecurity consultancy, raised concerns about cryptocurrency during a Thursday morning interview with CNBC's Squawk on the Street. He argued it had little to no practical use, saying there's "no reason to invest in it." Cuban, the owner of the NBA's Dallas Mavericks and one of the key investors on the ABC reality show Shark Tank, took issue with Stark's assessment.
"Watching @cnbc and the guest who used to work at the SEC has absolutely no understanding of crypto. Says there is zero utility. One certainty is crypto will continue to positively impact business more than the SEC. I'm happy to educate him on the applications we are developing," Cuban tweeted.
After another Twitter user challenged the billionaire's position, asking him to name something that cryptocurrency can do better than its competitors, Cuban responded with a long list.
"Weather insurance. Money transfer. Provenance for digital files. Marketplace efficiency for digital content. Personal banking. Prediction markets. Non-fractionalized banking. Structured financial products. Fractionalization of assets. Gaming rewards. Soon ticketing," Cuban responded.
In the CNBC interview, Stark contended cryptocurrency and its investors are "enabling" ransomware attacks.
"Ransomware is hitting everywhere and they're all collecting it in bitcoin because there's no way they're going to get caught. So you're also enabling it," Stark, who led the SEC Office of Internet Enforcement for 11 years, told Squawk on the Street.
"The country is kind of falling apart from ransomware all because of crypto, and the main reason people own crypto is because they think someone else will buy it and make the price higher," he said.
In further comments to Newsweek, Stark clarified his position, suggesting Cuban may have misunderstood his remarks.
"Just because I can't think of a single U.S. societal benefit (social, economic or otherwise) of crypto and the untraceable financial transactions it facilitates, does not mean I cannot appreciate the many potential benefits of blockchain. But I think Mr. Cuban misunderstood my commentary. Being anti-crypto does not mean I am anti-blockchain, the two philosophies are too often mistakenly conflated," the consultant told Newsweek in an email.
Stark said he can "appreciate" many of the "exciting things" blockchain could provide, but he called out "self-interested cadre of promoters shilling crypto." He said these people are just doing so to "enrich themselves." Stark maintained "the crimes that have emerged because of cryptocurrency, especially ransomware attacks, have become a major societal threat."
"President [Joe] Biden should stop the hustle and sign an Executive Order that no federal entity will accept crypto as payment for goods or services or do business with any entity that transacts in crypto. The only ones hurt will be the shameless cadre of hucksters and gamblers who tout bitcoin only to enrich themselves," the cybersecurity consultant argued.
Cryptocurrencies have surged in popularity in recent years, with Bitcoin being the first to draw major international attention after its founding in 2009. While Bitcoin started out with a value of just a few cents, one Bitcoin is worth nearly $39,000 as of the time of this writing. However, the cryptocurrency market has proven volatile and Bitcoin peaked at a value of more than $63,000 back in April.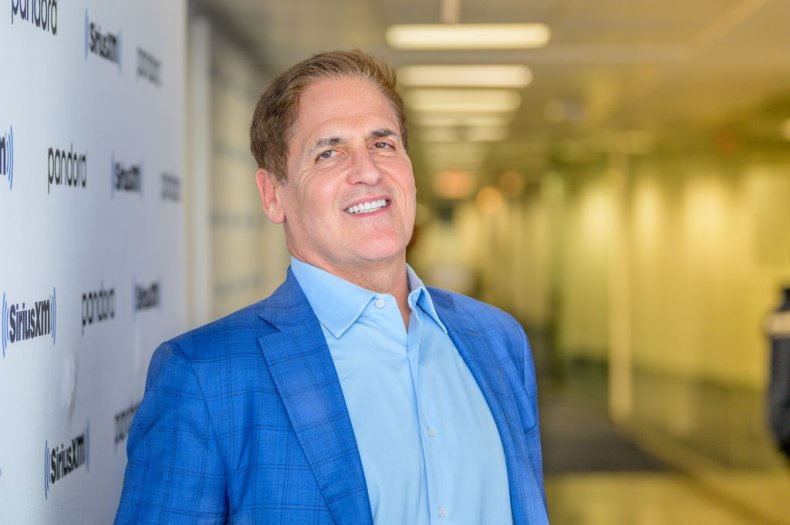 Other cryptocurrencies have emerged as well, drawing substantial investment. Ethereum and Dogecoin, as well as others, have become popular in addition to Bitcoin. But a number of cryptocurrencies have declined in value since peaking earlier this year, although many analysts believe they will rebound and grow substantially in value in the coming years. In May, Cuban told Newsweek strong cryptocurrencies will ultimately succeed.
"The more utility the platform has the more successful it will be," Cuban said. He noted "speculation aside, the best platforms will do well over the long term."
Newsweek reached out to Cuban for further comment but did not immediately receive a response.