Mark Hamill Joins Forces with Zelensky, Compares Russia to 'Evil Empire'
Actor Mark Hamill has joined forces with Ukrainian President Volodymyr Zelensky to bolster Ukraine's "Army of Drones," while likening Russia to an "evil empire."
Hamill alluded to the villainous Galactic Empire from the Star Wars films in a statement on Thursday after he was named an "ambassador" to Ukraine's United24 fundraising platform. The actor famous for playing Luke Skywalker will focus his attentions on promoting the Army of Drones program, according to a release from Zelensky's office. The program calls for international monetary donations that the Ukrainian military will use for the purchase of unmanned aerial vehicles (UAVs), as well as direct "dronations" of UAVs.
"In this long and unequal fight, Ukraine needs continuous additional support. That's why I was honored President Zelenskyy asked me to become an ambassador for the Army of Drones," Hamill said. "I know for certain that Ukrainians need drones to protect their land, their freedom and the values of the entire democratic world.
"Right now is the best time for everyone to come together and help Ukraine stand up in this war with the evil empire," he added.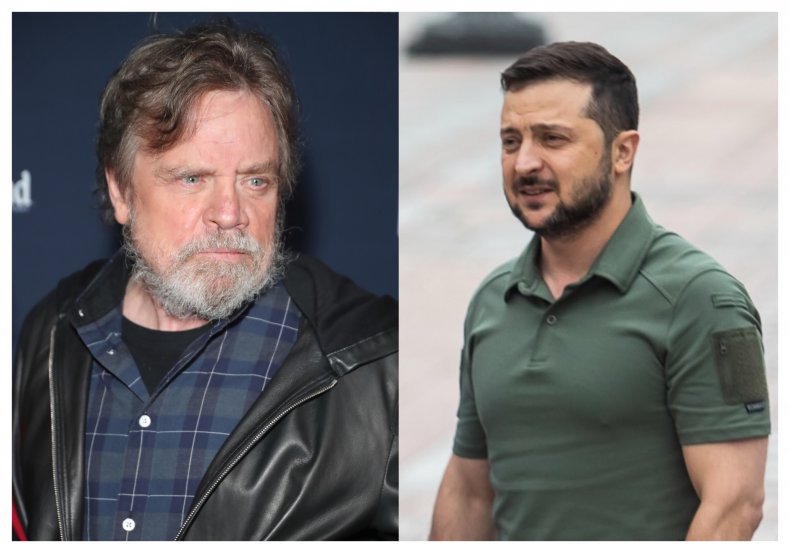 Zelensky thanked Hamill for his assistance in an online call with the actor. Zelensky also suggested that the war with Russia had similarities to the Star Wars narrative by referring to it as a struggle between the "light" and "darkness" during the call.
"The light will win over darkness," said Zelensky. "I believe in this, our people believe in this... Thank you for taking on this difficult mission of being the first ambassador to help Ukraine raise funds for the Army of Drones to support our defenders. It is really important!"
Hamill is not the first American celebrity to promote Ukraine's United24 fundraising platform, with actor Liev Schreiber, singer and actress Barbra Streisand and the band Imagine Dragons all having previously taken part.
Popular Ukrainian sports stars including soccer coach and former player Andriy Shevchenko and tennis player Elina Svitolina have also promoted the platform.
However, Hamill is the first celebrity to specifically act as ambassador to the Army of Drones. A total of 986 drones have been donated to Ukraine through the program, according to Zelensky's office, while drone purchases totaling 1,905,508,866 Ukrainian Hryvni—or approximately $51.6 million—have been made using donated money.
Drones have been used extensively by both Ukraine and Russia during the war. Ukraine's military UAVs have mostly consisted of Turkish-made Bayraktar TB2 drones, according to the BBC. The Ukrainian military has relied on many different types of surveillance drones, including some consumer models donated to the program.
Meanwhile, Russia has been increasingly launching attacks using Iranian-made "kamikaze" drones, with Ukraine having reported the destruction of several of the drones in recent weeks.
Newsweek reached out to the Russian government for comment.