Mark Kelly Pushes Bipartisan Border Reform, Calls for Title 42 Delay
Friday marks the first day of arguments for a case that will determine whether the Biden administration can proceed with a plan to lift the Title 42 public health order that allows asylum seekers to be blocked.
The Trump-era rule, based on a rarely-used U.S. code from WWII that lets immigration authorities bar entry to someone whose country of origin is experiencing infectious disease, is set to end May 23. The Centers for Disease Control and Prevention has said the measure introduced in March 2020 is no longer needed to stop the spread of COVID-19.
However, a group of 24 states, led by Arizona, Missouri, and Louisiana, hopes to convince Trump-appointed Judge Robert Summerhays of the U.S. District Court for the Western District of Louisiana to leave the order in place.
While some Democrats will be rooting for defeat of the challenge, others in the Party, including those who represent border states, would like to see the rule left in place for now, fearing that the administration has not done enough to prepare for the potential surge in migration that lifting Title 42 might cause, which has caused worries on both sides of the aisle.
Democratic Senator Mark Kelly of Arizona expressed those concerns to Newsweek.
"The administration picked a rather arbitrary date to lift Title 42 without a plan in place," Kelly said. "What I want to see are details that provide me and the communities in Arizona, especially in southern Arizona, some reassurances that this isn't going to be a chaotic situation at the border."
Kelly joined fellow border Democrats, including Senator Kyrsten Sinema of Arizona and Representatives Vicente Gonzalez and Henry Cuellar of Texas, in calling for the administration to delay its decision.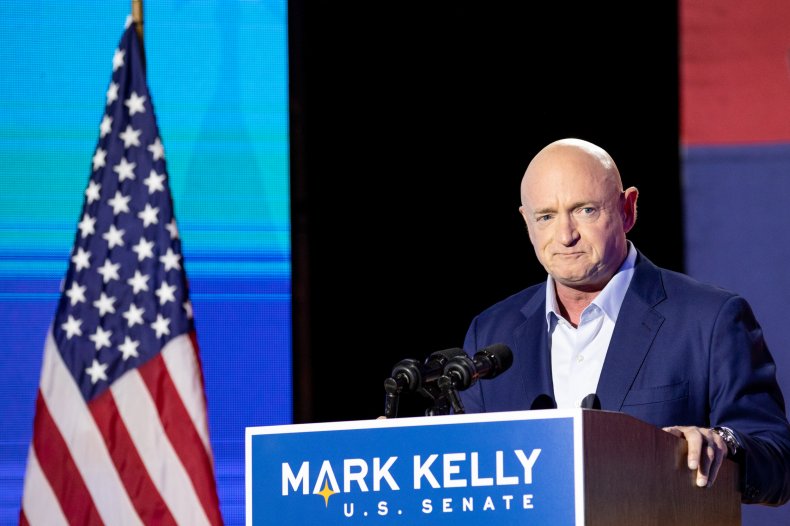 Since Kelly made his call in late March for a delay, the Department of Homeland Security (DHS) has issued a "six pillar plan" on how it will respond when the ban is lifted, which includes bolstering resources, speeding up border processing, ramping up enforcement, supporting local NGOs, targeting smugglers, and deterring initial migration.
But Kelly remains unconvinced.
"Right now, there's not enough detail in the plan where we wouldn't expect anything other than a really, really challenging situation," Kelly said. "We're expecting the number of migrants to go up more than double, and Border Patrol and the Department of Homeland Security are not prepared to deal with those kinds of numbers."
"Senator Rob Portman [R-Ohio] and I have legislation that would require the Department of Homeland Security to have a continuous plan about how to handle surges," Kelly told Newsweek. "This goes in cycles, and it changes over time for different reasons."
Under the bill, known as the Border Response Resilience Act, DHS would have to both create a response plan and conduct exercises to improve its ability to handle increased migration at the border. The measure would also see DHS receive access to contingency funding during times when the border experiences increases in unaccompanied children, asylum-seekers and migrants.
"It's just a crisis that's been going on for years now, and we just gotta get Washington to do a better job handling this," Kelly said. "We've got bipartisan support on a lot of this."
DHS has predicted that border encounters could jump from 7,000 people to 18,000 people a day if Title 42 is removed. And while Kelly does not believe the order should "be in place forever," he does not want to see it lifted until a plan with "sufficient detail" has been provided to ensure that border authorities have the resources necessary to handle the expected consequences.
As Newsweek has previously reported, border towns have found their resources and nonprofit infrastructures strained as migrants travel across their communities. Kelly notes that these chaotic situations have harmed the economic health of border towns.
"I think anytime there's a situation where there's a crisis and there aren't the resources there to handle it, it's not good for communities," Kelly told Newsweek. "It would not be helpful for the economies in towns in southern Arizona."
"Tourism is really important to Arizona," he added. "We don't want tourists to think that we have this chaotic situation in Arizona. That's why the federal government needs to do a much better job handling this situation."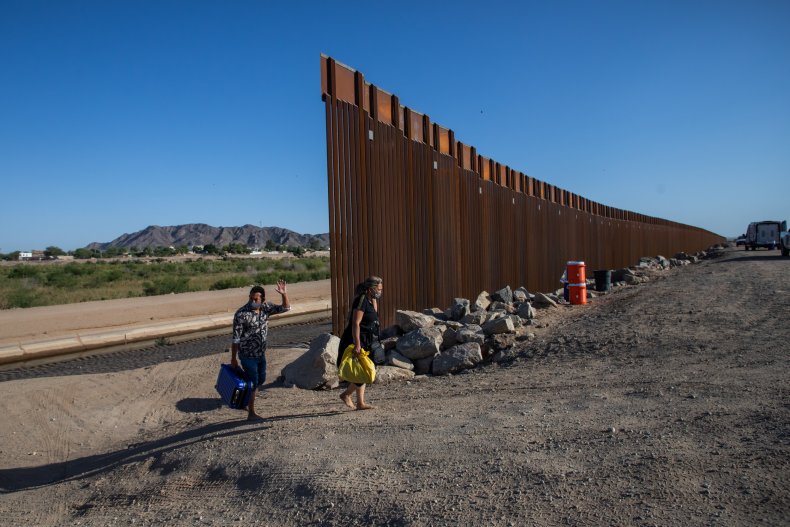 Mayor Douglas Nicholls, a Republican, who oversees the city of Yuma, Arizona, which lies about 25 miles from the border, shares Kelly's concerns. He too hopes that the federal government will ensure that it is able to handle a surge before lifting the order.
Nicholls told Newsweek that Border Patrol is currently intercepting about 1,000 people a day in the Yuma area. He said that for the most part his city has been able to handle these numbers. However, he said that when the numbers rise above that level facilities become strained, and the town struggles to accommodate everyone as it fills with migrants.
And that has a negative economic impact on Yuma that goes beyond the cost of taking care of the migrants.
"There's an issue about people choosing to stop here for tourism or looking at our community for economic development," Nicholls told Newsweek, "because all they see is chaos and that on the news, which doesn't fully represent our community."
"As far as perceptions, only the one element of our community is really explored on the national stage at this point," he added.
While Nicholls stressed that his community is safe, he has heard from leaders in Yuma's tourism industry that people express concerns about their wellbeing prior to visiting the town due to perceptions they've developed about chaos at the border.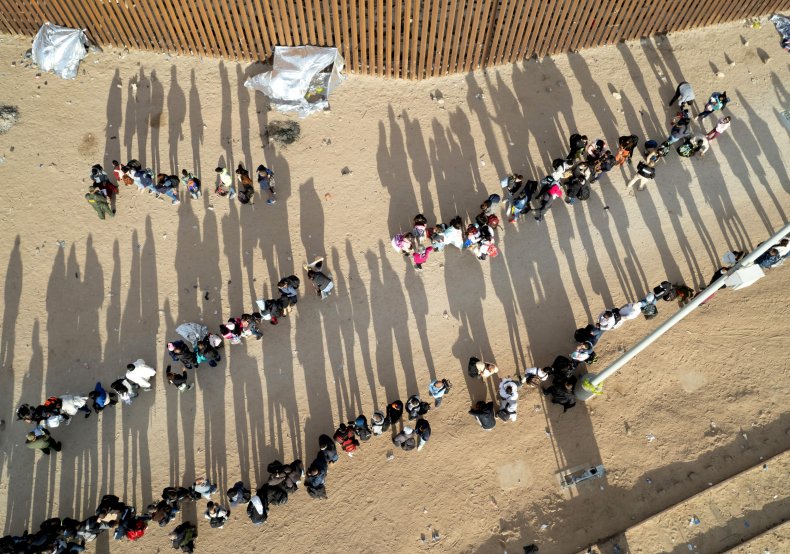 Newsweek asked U.S. Customs and Border Protection (CBP) about what actions the agency is taking to address these concerns, and received the following response:
"DHS has been in regular contact with elected officials, local leaders, and non-governmental organizations as part of a whole-of-government effort to manage and plan for any increase of encounters along our Southwest border," a statement from CBP Supervisory Public Affairs Specialist for Arizona John Mennell read.
"DHS values the partnership of communities along the Southwest border and their feedback as we work together; they are critical to ensuring we can enforce our immigration laws and process asylum claims in a safe, orderly, and humane manner," the statement continued.
"Through the establishment of a Southwest Border Coordination Center, we are increasing our capacity to process new arrivals, evaluate asylum requests, and quickly remove those who cannot establish a legal basis to remain."
While responding to imminent migration surges remains a priority for border lawmakers, Kelly said that for too long the federal government has "failed border states." He emphasizes the need for new legislation, and sees bipartisanship as a clear path toward accomplishing this goal.
Nicholls agrees. For too long he has seen the country neglect its responsibility to pass immigration and border enforcement reforms. If the country had "modern" channels for welcoming seasonal workers and evaluating who is legally allowed to enter, he believes the situation at the border would improve.
He stressed that for Washington to implement these measures effectively it must listen to those who deal with the consequences of America's current system most closely — those who represent and reside at the border.
"You have to see this on the ground for itself and to understand the impact and to understand smart ways to address it," Nicholls told Newsweek. "You can't do it from 2,500 miles away."