Donald Trump would be in serious legal trouble if speculation that his former chief of staff, Mark Meadows, is co-operating with Special Counsel Jack Smith's investigation turned out to be correct, a legal expert has said.
Former Defense Department special counsel Ryan Goodman was reacting to a CNN report on how Meadows is continuing to work his influence in Washington D.C., including by advising GOP lawmakers on the ongoing debt-ceiling negotiation.
The report adds that Meadows is no longer in communication with the former president, even though he is considered a key figure in Smith's criminal probe into Trump's attempt to overturn the 2020 election results.
An unnamed source connected to Trump told CNN they are in the dark about whether Meadows is cooperating with the federal investigation, or if Meadows is a target of a criminal probe himself.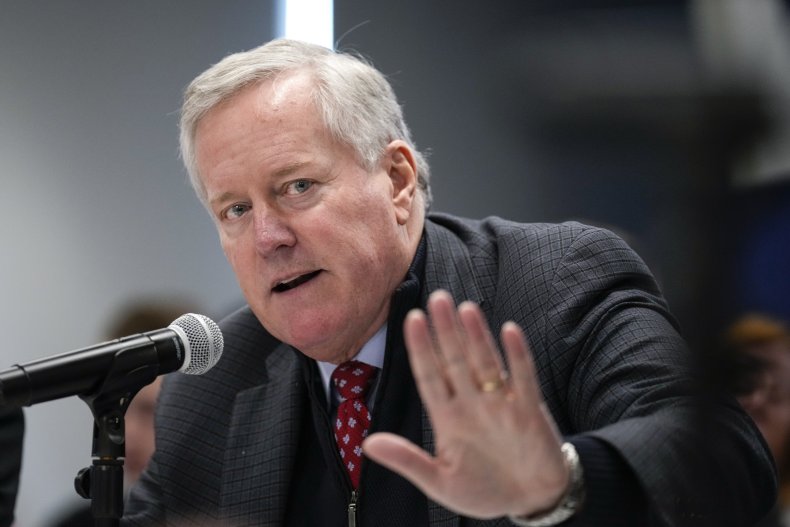 "We've all heard the same rumors," one Trump adviser told CNN. "No one really knows what he's doing though."
While sharing a CNN link on Twitter, Goodman tweeted: "If he's cooperating, it's game over."
Meadows has long been thought of as a potential key witness in the federal probe looking into Trump's actions in and around January 6 and the former president's attempts to overturn the 2020 Election.
Meadows was with Trump on January 6 as the insurrection was unfolding and he was said to be a key figure in the post-2020 election events.
Meadows was also said to have been in direct communication with organizers of "stop the steal" protest, which took place in D.C. on January 6 in 2021, prior to the riot.
It was previously reported that Meadows had been subpoenaed by Smith to testify in front of a special grand jury as part of the investigation into the events that led up to the January 6 attack.
It's unclear if Meadows has answered questions under oath following the subpoena, which was issued in February, but a judge cleared the path for him to testify after rejecting Trump's attempt to have his grand jury appearance blocked on the grounds of executive privilege in March.
Discussing reports that Meadows could be cooperating with Smith's probe, former Deputy Assistant Attorney General Harry Litman tweeted: "I'll believe it when I see it."
In September 2022, Meadows was said to have complied with a previous DoJ subpoena that resulted in his handing over the same thousands of text messages that were requested via a subpoena issued to him by the House Select Committee investigating the events leading up to the Capitol riot.
The texts showed GOP lawmakers, Fox News presenters and members of Trump's own family attempting to persuade Meadows to get the former president to tell his supporters to end the violence, something Trump failed to do for more than three hours.
Meadows also handed over to the January 6 panel a 38-page PowerPoint document that contained plans to overturn the 2020 election and declare a national emergency. Meadows' legal team said at the time the presentation was sent to him via email, but that it was not acted upon.
While Meadows was cooperating with House Select Committee's subpoena at first, he refused to comply further and didn't appear for a deposition.
The panel later recommended that Meadows be referred to the DoJ for prosecution for refusing to comply with the congressional subpoena, along with ex-deputy chief of staff Dan Scavino.
The DoJ decided not to charge Meadows or Scavino for refusing to comply with the congressional subpoena, which previously prompted speculation they had cooperated with the federal investigation.
Newsweek has contacted Meadows' legal team for comment.