Martha McSally Attacks Mark Kelly's Gun Control Group Started After Wife Gabby Giffords Was Shot in the Head
Republican Senator Martha McSally described a gun control group set up by the former Arizona representative Gabby Giffords, who was shot in the head in 2011, as a "very radical political organisation" with links to the "extreme left" within the Democratic Party.
McSally made the claim during a televised election debate with her Democratic opponent, Mark Kelly—a Navy captain and NASA astronaut who is married to Giffords.
Referring to her rival as "Counterfeit Kelly," McSally called on him to explain his support for what she termed the "radical left element" of the party, naming Bernie Sanders, Rashida Tlaib and Ilhan Omar.
McSally, who has branded herself the "Second Amendment Senator," said: "Keep in mind, $57m that he raised from some of the most extreme left-wing people in the country in order to then endorse and bankroll these individuals who are now in office with these ideas that are dangerous for Arizona."
Asked to be specific about which fundraising group she was referring to, McSally said: "I think he knows. It is a very that has raised $57m.
"He has been a political operator for a decade...some of the most extreme left-wing candidates in our country, running for office, bankrolling them, endorsing them, look at the photo he's got his arm around Omar in Minneapolis."
Kelly responded: "The organisation that Senator McSally is referring to is named after my wife, Gabby Giffords. Gabby was injured, shot in the head, in 2011.
"The issue of gun violence is personal for Gabby and me, and I'll never forget what she went through for that year and a half. In hospital for six months, a year of significant rehab. Today, she still does physical therapy and speech therapy.
"So we formed an organization to try and help communities become safer from gun violence.
"I am a supporter of the Second Amendment, I am a gun owner. Our rights and traditions are so important.
"But we can never let a bunch of kids in the classroom get killed and think there is nothing we can do about it.
"Common sense things like background checks for all gun sales, red flag laws, these are common sense things that most Arizonans support, apparently Senator McSally does not."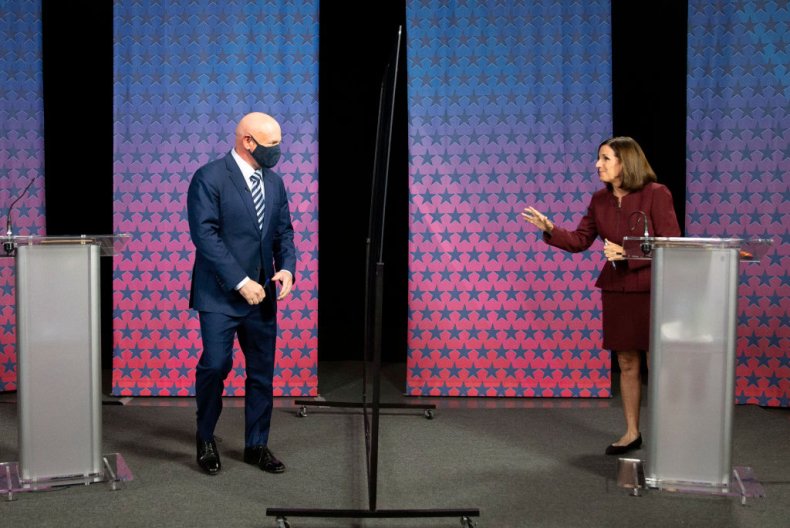 The Giffords organization was founded after the 2011 shooting in Tucson in order to campaign against gun violence. The group says it is "fighting to end the gun lobby's stranglehold on our political system."
McSally is engaged in a tight race with Kelly for the state, which the latest opinion poll suggests is leaning towards the Democrats.
A New York Times-Siena College poll released Monday gave Democratic presidential nominee Joe Biden an 8 point lead over Trump in Arizona.
The poll surveyed 655 likely voters between October 1-3. It had a 4.2-point margin of error.
Trump won the popular vote in Arizona by 48 percent to 45 percent in 2016.
The state will hold a special election for the senate on November 3 to fill the seat left by John McCain after his death in 2018. Former U.S. Senator Jon Kyl filled the role for several months before his resignation left a gap for McSally, whose appointment triggered the upcoming vote.
Newsweek contacted the Giffords organization for comment.
Correction 10/7/20, 10:50 a.m. ET: This article was updated to reflect that a quote from the televised debate was McSally's. An earlier version incorrectly attributed it to Giffords.