'Even White Lives Don't Matter'—Protester Pushed by Buffalo Cop Slams Dropped Charges
An elderly man who was shoved to the ground by police during a Black Lives Matter protest in Buffalo, New York, last summer has said a grand jury decision to drop charges against two officers will harm the relationship between the public and police.
Martin Gugino, then 75, suffered a cracked skull, brain injury and was left temporarily unable to walk after the incident last June.
Speaking to WBFO after an Erie County grand jury voted not to indict Buffalo Police Officers Robert McCabe and Aaron Torgalski on Thursday, Gugino said: "It is important that the community be able to call 911. It is important for the black community to trust that 911 will be helpful, when they need help.
"When they call for help they will get help and I don't think this decision demonstrates that even white lives matter."
Despite suffering injuries that left him in hospital for a month, Gugino said he respected the decision of the court.
"I think the DA charging the police is great, fine. Do something, and if that's what you want to do, fine. And if the jury wants to say no, well, fine, that's their job," he said.
"I mean, I don't criticize them, I just think something was wrong there, something happened and everybody knows it. It was bad, and we don't seem to know what to do about it."
Gugino added: "Martin Luther King said the moral arc of the universe is long and it bends towards justice. And it bends towards justice because everyday people go out and try to do something that is right.
"Eventually you will prevail and it is a long road. We don't have that much time left, but it is a long road. And of course every day you should be as good as you can be ... no matter what the situation, but it is especially important now."
Torgalski and McCabe, who were charged with felony second-degree assault, were suspended without pay by the Buffalo Police Department after a video of Gugino lying on the ground went viral.
But in a press conference on Thursday, Erie County District Attorney John Flynn announced the dismissal of the charges, saying a "full grand jury presentation was given and at the end of the grand jury, the grand jurists voted to no-bill the case ... which means that they dismissed the case."
Flynn said he did not believe the case was a difficult one to decide, adding: "This was not the JFK assassination, OK. This was not that complex of a case."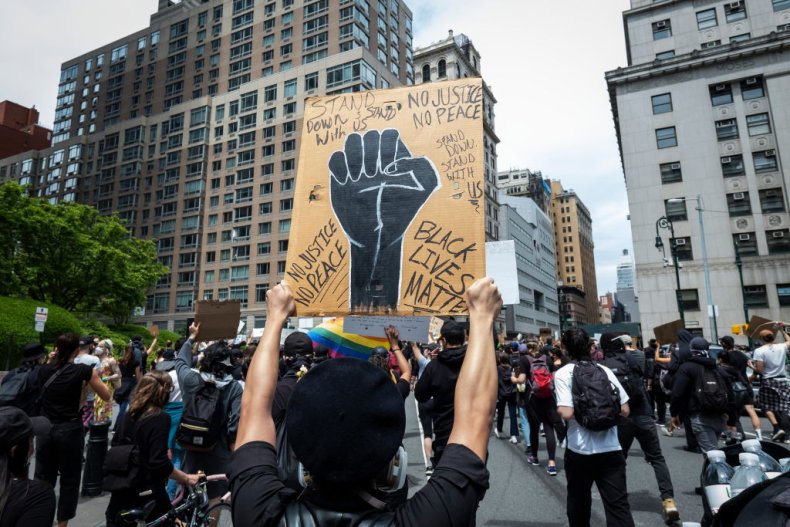 The decision to drop the charges against McCabe and Torgalski, which received the backing of the local police union, was met with anger on social media.
"This decision gives members of the Buffalo police force further license to engage in unnecessary brutality," wrote one Twitter user.
"If the roles were reversed and I shoved a cop and he cracked his head open would they have dropped the charges against me?? NOT A CHANCE," posted another.
John Evans, president of the Buffalo Police Benevolent Association, said he was "extremely pleased" with the grand jury's decision.
"As we have stated all along, Officers McCabe and Torgalski were simply following departmental procedures and the directives of their superiors to clear Niagara Square despite working under extremely challenging circumstances," he said.
Newsweek has contacted Black Lives Matter for comment.