Martin Luther King Jr Day: 17 Quotes to Honor the American Civil Rights Activist
On the third Monday of January, millions of Americans will honor Martin Luther King Jr., the civil rights activist who fought for racial equality in the U.S.
King, who was a Baptist minister, was one of the most vocal civil rights leaders who led the civil rights movement. The civil rights leader was the driving force behind the Montgomery Bus Boycott and the 1963 March on Washington, which helped create the Civil Rights Act and the Voting Rights Act. He also inspired other movements today to push for equality through nonviolence.
To honor the American civil rights activist, here are 17 quotes compiled by Goodreads, Brainy Quote and Quote Garden to honor him: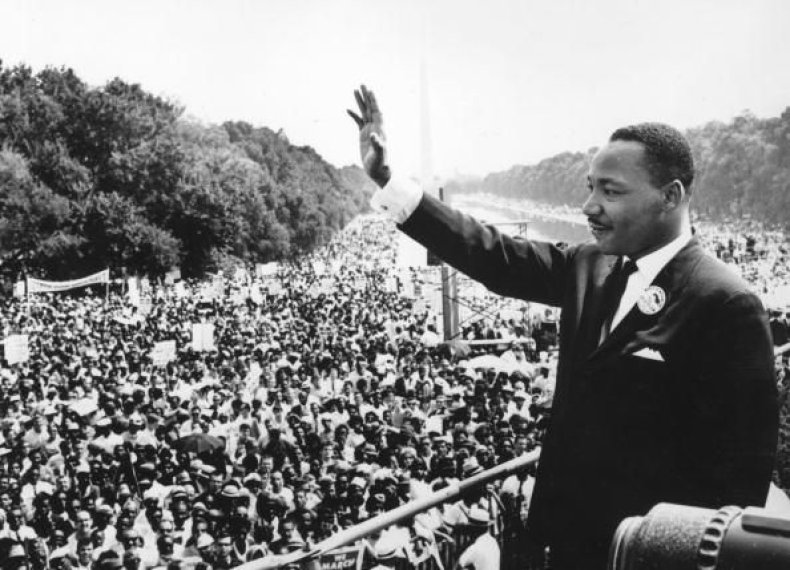 1. "Darkness cannot drive out darkness; only light can do that. Hate cannot drive out hate; only love can do that."
2. "Faith is taking the first step even when you don't see the whole staircase."
3. "In the end we will remember not the words of our enemies...but the silence of our friends."
4. "The time is always right to do what is right."
5. "I have a dream that one day this nation will rise up and live out the true meaning of its creed: 'We hold these truths to be self-evident, that all men are created equal."
6. "The ultimate measure of a man is not where he stands in moments of comfort and convenience, but where he stands at times of challenge and controversy."
7. "Human progress is neither automatic nor inevitable... Every step toward the goal of justice requires sacrifice, suffering, and struggle; the tireless exertions and passionate concern of dedicated individuals."
8. "I have decided to stick with love. Hate is too great a burden to bear."
9. "We are not makers of history. We are made by history."
10. "We may have all come on different ships, but we're in the same boat now."
11. "Freedom is never voluntarily given by the oppressor; it must be demanded by the oppressed."
12. "I look to a day when people will not be judged by the color of their skin, but by the content of their character."
13. "Whatever your life's work is, do it well. A man should do his job so well that the living, the dead, and the unborn could do it no better."
14. "A lie cannot live."
15. "An individual has not started living until he can rise above the narrow confines of his individualistic concerns to the broader concerns of all humanity."
16. "We must accept finite disappointment, but never lose infinite hope."
17. "Love is the only force capable of transforming an enemy into a friend."
Martin Luther King in pictures: The life and times of a Civil Rights icon