'Pharma Bro' Martin Shkreli's Plea for Early Prison Release to Help Develop COVID-19 Cure Rejected by Judge
Martin Shkreli's request to be released early from prison so he could help work on a coronavirus cure has been denied.
U.S. District Judge Kiyo Matsumoto wrote in an order issued on Saturday that the 37-year-old's "self-described altruistic intentions" do not not provide a legal basis to grant the motion, Bloomberg reported.
"The court does not find that releasing Mr. Shkreli will protect the public, even though Mr. Shkreli seeks to leverage his experience with pharmaceuticals to help develop a cure for COVID-19 that he would purportedly provide at no cost," Matsumoto wrote in the order. "In any event, Mr. Shkreli's self-described altruistic intentions do not provide a legal basis to grant his motion."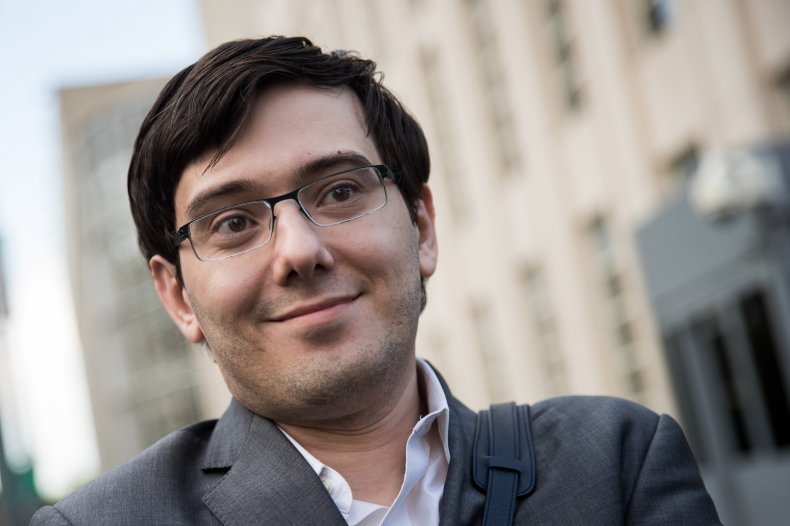 According to TMZ, the judge also said his claim of finding a cure that has "so far eluded the best medical and scientific minds in the world working around the clock" is the type of "delusional self-aggrandizing behavior" that led to his conviction.
The judge also said Shkreli does not have any underlying health conditions that warrant a compassionate release. He rejected the idea that Shkreli, who became infamously known as "Pharma Bro" after massively hiking up the cost of a life-saving drug, was susceptible to coronavirus because he has asthma and suffers from allergies.
The judge noted that the federal penitentiary in Allenwood, Pennsylvania, where Shkreli is incarcerated, has no confirmed cases of COVID-19, the disease caused by the novel coronavirus.
Shkreli's lawyer, Benjamin Brafman, has been contacted for comment.
Shkreli is currently serving a seven-year prison sentence for a securities fraud conviction after scamming investors in hedge funds he ran before entering the pharmaceuticals industry.
In a scientific paper posted on the website of Prospero Pharmaceuticals last month, Shkreli said he wanted a three-month furlough from prison so he could research potential treatments for COVID-19.
He dismissed the pharmaceutical industry's efforts to find a treatment as "inadequate" and painted himself as "one of the few executives experienced in ALL aspects of drug development."
"The industry response to COVID-19 is inadequate," he wrote. "All biopharmaceutical companies should be responding with all resources to combat this health emergency. Donations from these very valuable companies do not go far enough."
Shkreli, who isn't scheduled to be released from prison until September 2023, also maintained that he did not expect to profit from coronavirus-related treatments.
But he also said that if the government was "willing" to reward those for their work, it would be at each company's discretion to accept, negotiate or deny the funding.
Shkreli was the CEO of Turing Pharmaceuticals (later known as Vyera Pharmaceuticals and Phoenixus) when the company acquired the rights to Daraprim. The drug is used to treat toxoplasmosis—an infection that can be deadly for those with HIV and AIDs or other problems with their immune system.
Turing then jacked the price of the drug from under $20 to $750 per pill, sparking a furious backlash.