Marvel's 'She-Hulk' Bench at Launch Bashed for 'Anti-Homeless Architecture'
People are bashing the Marvel's She-Hulk: Attorney At Law launch for showcasing a bench that has multiple armrests, calling it "anti-homeless architecture."
In celebration of the new series on Disney+—out August 18th—many stars attended the world premiere showcase at the El Capitan Theater in Los Angeles, California, including Mark Ruffalo, Jameela Jamil and She-Hulk herself, Tatiana Maslany.
Based on the Marvel comics, She-Hulk: Attorney At Law follows Jennifer Walters (Maslany), a lawyer who specializes in cases that involve superhumans. After a lifesaving blood transfusion from her cousin, Bruce Banner (Ruffalo), she becomes She-Hulk. Unlike Banner, however, Walters remains in control of her faculties and command of language when she becomes She-Hulk. She-Hulk is one of the new Disney+ Marvel shows including Moon Knight and Ms. Marvel.
A picture was taken of a bench with the name and phone number of Jennifer Walters in the series and a quote reading, "Superheroes need a super lawyer!" If people call the number, 1-877-SHE-HULK, fans are treated to a minute-long phone message from Walters selling her services.
However, many users on Twitter took notice that there were armrests in the middle of the bench and calling out Disney for showcasing an example of "anti-homeless architecture" in their promotion of the Marvel series.
"Why does the she hulk bench have anti homeless architecture," Twitter user @Mickeyseidick wrote in a viral tweet with over 81,100 likes.
"The actual She Hulk would find every one of these anti homeless benches in town and crush them flat with her super strong a** to make them more accessible once again," one Twitter user wrote.
"Why does even a promo bench have anti homeless bars [what the f**k]," questioned another.
"this type of bench doesn't even serve a single other purpose than stopping people from using it as a bed like how are those bars useable at all," another user wrote.
"I'm not even gonna bother watching, just because of this bench," exclaimed one user.
"Even for a promotional bench they made it anti homeless," other netizen chimed in.
Newsweek has reached out to The Walt Disney Company for comment.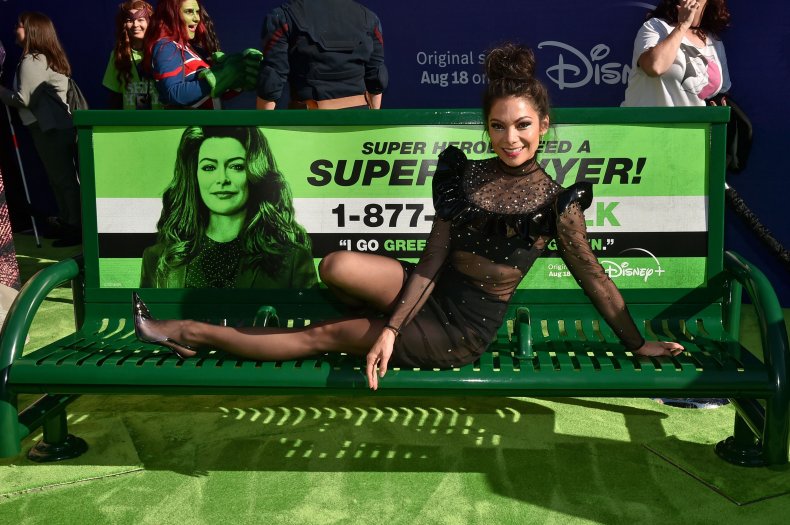 Many people experience homelessness in America. In 2020, over 580,000 people were homeless on a given night. Out of the overall average, 226,000 people were sleeping outside, in cars or in abandoned buildings, via theweek.com.
Hostile architecture—also known as anti-homeless architecture—is used to "prevent unwanted behavior" by placing uncomfortable items in areas that are typical sleeping or resting areas for the homeless. Hostile architecture is also used to stop the use of public space for a long period of time. An example of this type of architecture includes armrests in the middle of long benches.
However, that's not the only place people have been spotting "anti-homeless architecture." Per interestedengineering.com, slanted benches, rocky pavements, spiked windowsills and streets, curved benches, barred corners, street dividers, raised grate covers and boulders under bridges.
A picture of a "leaning bench" has gone viral on Twitter, which received over 35,000 likes. This type of bench isn't used to sit, but to lean on.
"I think [hostile architecture] sends the message that people who sleep outside are not part of the community, are not our neighbors, and that it is all right to ostracize them. This type of attitude hurts any community," Cathy Jennings, executive director of The Contributor, a street paper in Nashville told streetroots.org.