Mary Trump Scoffs at Idea Ex-President's Children Will Run for Office: 'They Have No Skills'
Mary Trump, the niece of Donald Trump and a ferocious critic of her family, scoffed at the idea that the former president's children could become elected officials and said that "they have no skills."
Asked if they should run for office, Mary Trump told Politico on Thursday her cousins—Eric, Donald Trump Jr. and Ivanka, along with Ivanka's husband, Jared Kushner—are not qualified.
"I think we should all resent having to have that conversation. Because they are, despite being—let's put it this way: They have no qualifications, they have no skills," she told the publication.
"Ivanka and Jared just spent the last four years allegedly as employees of the government using their position to make hundreds of millions of dollars, which isn't how it's supposed to work. I hope they'll be sitting next to their dad in depositions for the next few years," she added.
Mary Trump's comments come amid speculation that Donald Trump Jr. and Ivanka could be possible presidential candidates in 2024. In February, President Trump's former chief of staff, Mark Meadows, said that all of the top GOP candidates for the next election cycle "have Trump as their last name," Business Insider reported.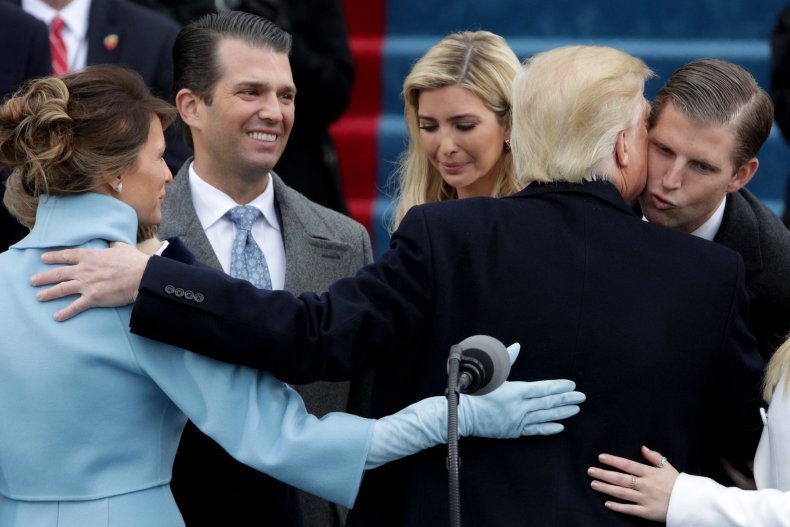 In an interview with Business Insider last week, Mary Trump said she believes the former president's children will be "embroiled" this year in legal controversies linked to the Trump Organization.
"Thanks in large part to their dad, but also to their own antisocial tendencies, going to be defending themselves I'm guessing in a fair number of civil and criminal cases going forward," Mary Trump told the publication.
"That is the only saving grace at the moment: Donald and possibly two or three of his children are going to be embroiled in lots of legal actions, starting in the future and the not too distant future," she told Business Insider.
The former president's niece also weighed in on the possibility that Donald Trump could run for office again in 2024, after he teased the idea at the Conservative Political Action Conference last month.
"He's not going to run," she told Politico. "He's going to pretend to run and keep grifting where he can off the people who will support him. But I think his most time-consuming job in the next couple of years is going to be as a defendant."
Mary Trump is a trained psychologist and has been an outspoken critic of Donald Trump and her family throughout his administration.
In July, she released a scathing book about Donald Trump titled Too Much and Never Enough: How My Family Created the World's Most Dangerous Man. It sold over a million copies in its first week.
Mary Trump is finishing her second book, The Reckoning, which will examine "America's national trauma, rooted in our history but dramatically exacerbated by the impact of current events and the Trump administration's corrupt and immoral policies," according to Politico.
The former president's niece is also suing Donald Trump and two of his siblings for fraud, alleging that they swindled her out of tens of millions of dollars in family inheritance money, NBC reported.
Newsweek contacted representatives for Donald Trump for additional comment but did not hear back in time for publication.