Maryland Gov. Larry Hogan said Sunday that his state will try to accept as many Afghan refugees as it can as the U.S. evacuates Americans and their Afghan allies from the country.
"I was the first governor in America to reach out and say we wanted to reach out and take more of these special immigrant visas for the folks that have been our allies that we've made a commitment to," Hogan, a Republican, told CBS News' Face the Nation.
"We've got to stand by them. We've got to get our Americans out, and we've got to get those allies out of there as well. And we're going to do everything we can to help do that," he added.
Hogan said that he had a discussion planned with the U.S. State Department about the issue on Monday.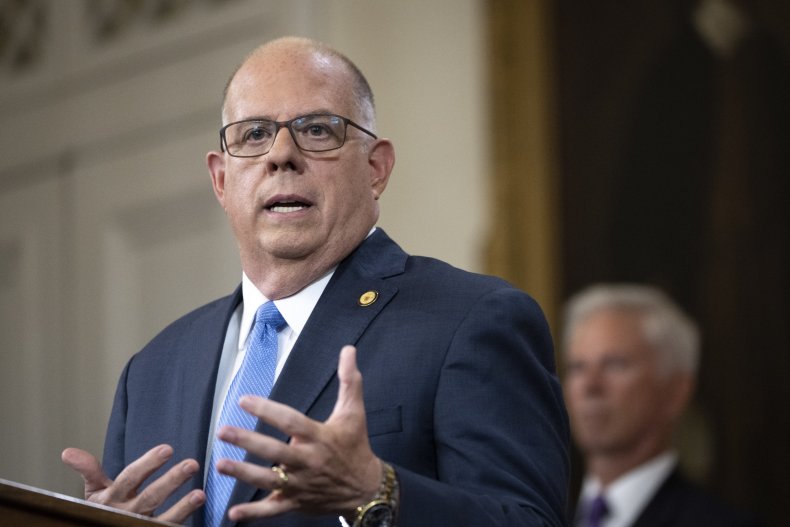 "We've already received some over the past week or two into our state and we're going to try to get as many as we can," he added.
Hogan is one of several politicians who has said they would welcome Afghan refugees amid the U.S. evacuation in Afghanistan.
On Wednesday, Oregon Gov. Kate Brown, a Democrat, offered to resettle Afghan refugees in her state and asked President Joe Biden to lift the cap on the number of refugees the U.S. can accept.
Arizona Gov. Doug Doucey, a Republican, said Thursday that he is "working closely with federal and state officials to offer [Afghan refugees] safety in Arizona."
"The Afghans fleeing the Taliban regime served alongside America's military forces and fought for freedom. We're grateful for their efforts and Arizona wholeheartedly welcomes our fair share of the refugees in our state," Doucey said in a joint statement with Arizona House Speaker Rusty Bowers.
While Republican officials have said they would welcome Afghan allies, others from the GOP have expressed opposition about quickly resettling refugees.
"All can see #Kabul is in chaos. Conducting background & ID checks on 1000's of #Afghans in pandemonium is impossible. The Biden admin's plan to bring planeloads into the US now and ask questions later is reckless and irresponsible," Representative Tom Tiffany, a Wisconsin Republican, tweeted on Tuesday.
On Monday, Fox News host Tucker Carlson criticized plans to settle Afghans in the U.S.
"We will see many refugees from Afghanistan resettle in our country in coming months, probably in your neighborhood," Carlson said.
"And over the next decade, that number may swell to the millions. So first we invade and then we're invaded—it is always the same."
Asked about the divide within his party over resettling refugees, Sen. Ben Sasse, a Nebraska Republican, told Fox News Sunday that the Afghan allies are "men and women who risked their lives to protect Americans."
"When you've fought on behalf of Americans to protect our people, you're welcome in my neighborhood," Sasse said.