Masih Alinejad Issues Dire Warning After Alleged Assassination Plot
Iranian opposition activist, Masih Alinejad, issued a dire warning on Friday after authorities announced that three men were arrested in connection to her alleged assassination.
In a video posted to Twitter, Alinejad, an Iranian journalist who is currently living in the U.S., confirmed that she was the target of a recent assassination attempt that was allegedly planned by three Iranian-backed individuals.
In the video, Alinejad called on the U.S. to take notable action against the Islamic Republic of Iran and said, "If we don't take a strong action right now, we will face these terrorists on U.S. soil, more and more."
On Friday afternoon, the U.S. Department of Justice announced the arrest and charges against three individuals, identified as 43-year-old "Rafat Amirov, aka Farkhaddin Mirzoev," 38-year-old "Polad Omarov, aka Araz Aliyev, aka Polad Qaqa, aka Haci Qaqa," and 24-year-old Khalid Mehdiyev.
"A federal court in New York today unsealed murder-for-hire and money laundering charges against three members of an Eastern European criminal organization for plotting the murder of a U.S. citizen who has been targeted by the Government of Iran for speaking out against the regime's human rights abuses," the Justice Department said in a press release.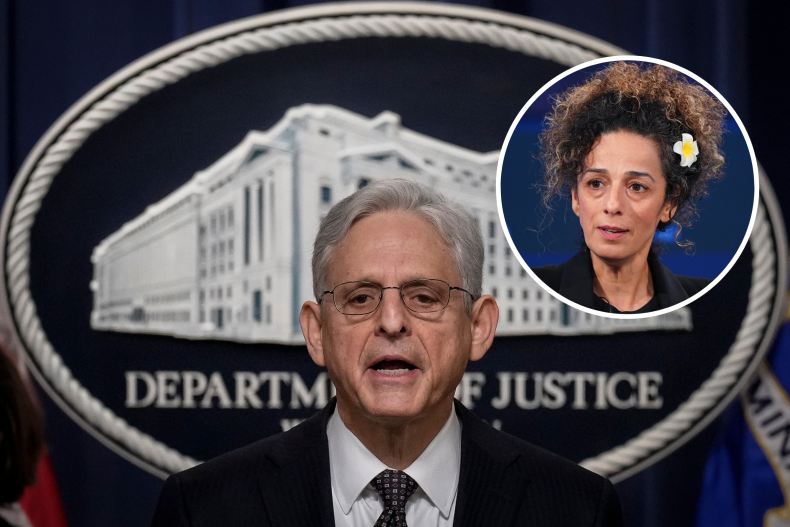 According to the Justice Department, in July 2022, the three individuals were tasked with murdering a "U.S. citizen of Iranian origin." The Justice Department did not name Alinejad in the press release, but she confirmed that she was the victim on Twitter, as well as to the Associated Press.
In 2020 and 2021, the FBI was able to thwart an attempt to kidnap Alinejad plotted by officials in Iran, the Justice Department said.
The three individuals began surveilling Alinejad in July 2022, and shortly after, Amirov and Omarov planned to provide Mehdiyev with $30,000, which was used to purchase "an AK-47-style assault rifle along with two magazines for ammunition and at least 66 rounds."
According to the Justice Department, throughout the month of July 2022, the individuals conducted repeated surveillance of Alinejad. However, on July 28, 2022, Alinejad observed "suspicious activity" outside her residence and left.
"After Mehdiyev drove away from the Victim's residence, he was stopped after a traffic violation, and during a subsequent search of the car, police officers found the assault rifle, 66 rounds of ammunition, approximately $1,100 in cash, and a black ski mask," the press release said.
In a statement following the announcement, Attorney General Merrick Garland said, "The Victim in this case was targeted for exercising the rights to which every American citizen is entitled...The Department of Justice will not tolerate attempts by an authoritarian regime to undermine those protections and the rule of law upon which our democracy is based. We will not tolerate attempts by a foreign power to threaten, silence, or harm Americans. We will stop at nothing to identify, find, and bring to justice those who endanger the safety of the American people."
Newsweek reached out to Alinejad for comment.