Mask Mandate Issued in County Where 9 in 10 Are Vaccinated Amid Delta Surge
A county in California is reintroducing a mask mandate requiring people to cover their faces while inside facilities and businesses following a "troubling rise" of COVID cases.
From Monday, residents of San Mateo County will be required to wear masks indoors despite 89 percent of the population being fully vaccinated.
The mask mandate has been brought back in San Mateo County "out of an abundance of caution" as the Delta variant spreads through the county and the rest of California.
According to the official figures, San Mateo recorded 13 new COVID-19 cases on June 15 as the state lifted restrictions. By July 15, the number of cases had risen to 74, a trend the country describes as "troublesome."
The latest figures show that the seven-day average of cases per 100,000 people is 5.2 in San Mateo, compared to 1.3 in mid-June. A month ago, the county's test positivity rate was 0.4 percent, but has since risen to 2.6 percent.
There are also more people in the hospital in San Mateo as a result of the rising cases. On July 14, there were four people hospitalized with COVID-19. There are now 15, including six who are in intensive care. San Mateo County has a population of about 718,000, according to the 2020 census.
"Our deepest condolences go out to all of you who have lost loved ones and friends due to the pandemic," said county manager Mike Callagy in a statement.
"The increasing case numbers are a harsh reminder that we are not done with COVID and COVID is not done with us. Let's all continue to do our part by getting vaccinated and taking common-sense precautions so we can keep all of us safe."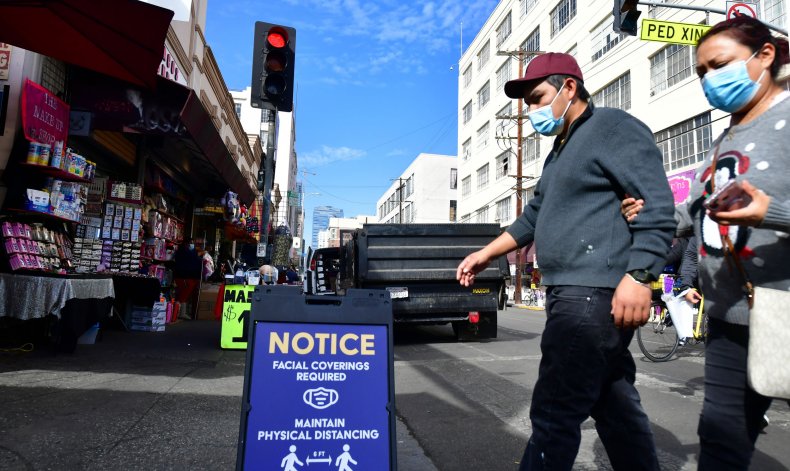 A number of local residents said they agree with the mask mandate being reintroduced in order to help control the spread of the Delta variant, which currently accounts for more than 80 percent of new cases statewide.
"One step forward and a half step backward. I guess you could view it that way but in my mind it's better to be safe than sorry. I think it's probably the right move," San Mateo resident Todd Master told KGO.
Birgul Polat, a San Mateo county resident and nurse at the San Francisco general hospital, also said she agrees with the mask mandate being brought back having seen the effect the Delta variant is having in person.
"I don't think people know how serious it is," said Polat.
Elsewhere, Linda Danc, a nail technician at Chic Salon, said she still required customers to wear a mask inside her business even when the restrictions were lifted.
"I'm not ready yet and all my clients come here and they still wear their mask," she told KGO.
This graph, provided by Statista, shows the percentage of people who are fully vaccinated in each state.