'The Masked Singer': All the Clues About the Chameleon and Who Fans Think It Is
The Masked Singer Season 5 is down to its final six contestants, including the Chameleon. Many viewers of the Fox show think they've worked out who the rapper is. For those who haven't, here are all the clues so far and fans' best guess on who is inside the suit.
Clues to the Chameleon's identity on 'The Masked Singer'
First clue package
While riding a motorcycle—with the licence plate "CAMOFLAG"—he said: "Ready for a wild ride? Because I'm one in chameleon."
Claimed he put the "tech in technicolor."
Said his "Pops" made sure he "kept up with the times." He added: "Years ago, when my career almost tanked and I felt totally lost, I leaned back on what [my dad] taught me. I used those tech-savvy skills from my childhood to amplify my career and change the game."
Objects: dice showing two and three, numbers reading 007, the letters I and T, and a retro video game featuring a sign that read "Beware of Pit."
Second clue package
Speaking about his second performance, he said he had to let his "flow shine."
Most of the package was dedicated to a person close to him when he was younger, who was bullied "until she ultimately learned to embrace what made her unique." He added that this person "was taken from me. It was the most difficult thing I think I've ever faced. Now I honor her memory by fighting for those who don't feel accepted" by making them "proud to show their colors."
Objects: cheese, a blue and gold graduation cap, a dress form, a taxi with peaches on it, the word "bonjour," a chameleon with a halo and a rainbow paintbrush.
Third clue package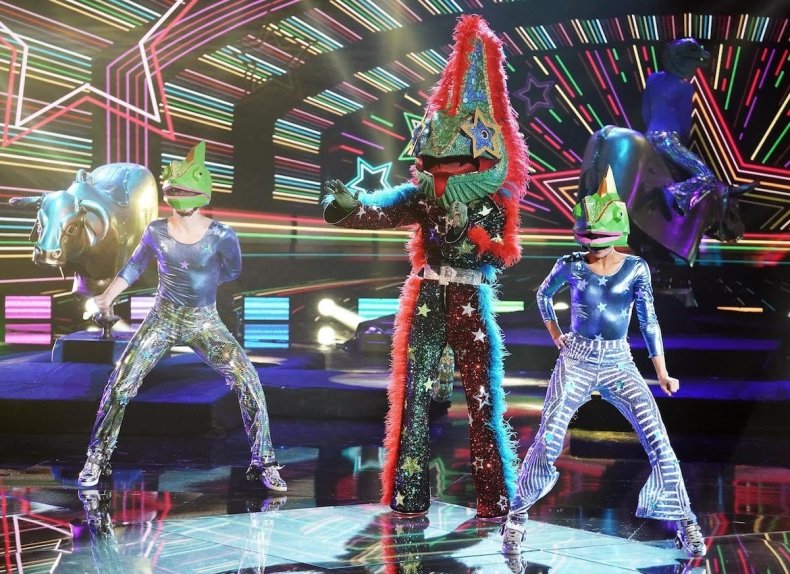 Chameleon's third clues package was mostly about his interest in martial arts, inspired by the Teenage Mutant Ninja Turtles. He said martial arts "reprogrammed my body, mind, and soul," helping him to process his feelings.
He also mentioned teaching his son, "Lil' Chameleon," to express his feelings.
He added that his reason for doing The Masked Singer was to surprise his child by being "the superhero chameleon" so that "one day, he'll be a superhero, too."
Objects: a swerving car warning sign, three clocks set to three, four and six o'clock, a torpedo, candles and pagodas, plus the color red.
Fourth clue package
In the latest package of clues, the Chameleon discussed a basketball idol.
He said he "jumped through hoops" to meet this "GOAT," whom he eventually encountered through a radio contest. "It was a championship," he added.
As he chased a squirrel, he said he later got to work with this person. "I'm lucky to consider him a true friend, my ride or die," he said.
A man in a green suit holding a fly swatter appears in this package, doing a complicated handshake with another man wearing a fly outfit.
Objects: a radio tower, a table with money on it, a disco ball and a picture of two gazelles butting heads.
Other clues
He said of his first performance: "I love being in front of people, whether it's on stage or in your home."
Cluedle-Doo's hints: "Chameleon has a history with precious gemstones," "The Masked Singer stage isn't the only stage he frequents" and "Chameleon, I very much enjoyed your work on the big screen. I was even rooting for you at the Golden Globes."
First crush: Salma Hayek. "I've got a thing for hot ladies, and this chick right here is smokin'," he said.
Meaningful object: hot wings. "If anybody knows me, they know I'm always cooking something in the kitchen."
Food delivery: "fried bird" and "cricket cake" ready meals. He said: "Well, if you know me you know I'm always with my gang, and this one's because I support all the troops."
Songs performed
First performance: "Ride Wit Me" by Nelly
Second performance: "21 Questions" by 50 Cent featuring Nate Dogg
Third performance: "Hip Hop" by Dead Prez
Fourth performance: "Regulate" by Warren G featuring Nate Dogg.
Who fans think the Chameleon is
Nearly all Masked Singer viewers believe the Chameleon is Wiz Khalifa.
The son of military parents—explaining all the references to the troops—Khalifa started sharing his mixed martial arts training with fans in 2018. His son with ex-wife Amber Rose was born in 2013.
In 2016, Khalifa was nominated for a Golden Globe for the song "See You Again" from Fast & Furious 7. That track went diamond on the charts—which could explain Cluedle-Doo's gemstone hint, although that might also be a reference to his former wife.
Khalifa has also worked on film and TV, including the stoner classic Mac & Devin Go to High School.
Some of the clues seem to be about his songs. The numbers two and three match the title of his Mike Will Made It collaboration "23" while 007 appears to be a reference to the Bond-channeling video for "James Bong."
As for the basketball connection, Khalifa shared a story last year about his friendship with Kevin Durant in which Khalifa was banned from a bar they wanted to visit together.
"Beware of Pit" has been read as a reference to Pittsburgh, where Khalifa went to high school and December 12, 2012, was declared "Wiz Khalifa Day." Another Pittsburgh reference is the blue and gold graduation cap. These are the colors of the University of Pittsburgh, where Khalifa performed in 2019.
The second clues package is thought to be about his sister Dorien "LaLa" Thomaz, who was transgender and died in 2017.
Other clues believed to point to Khalifa:
Peaches on the taxi—Khalifa's mom is known as Peachie
"Bonjour"—a possible reference to "French Inhale," his track with Snopp Dogg
The Chameleon mentioned "true colors" in the second clues package—the name of another Khalifa song.
The Masked Singer airs on Wednesdays at 8 p.m. ET / 7 p.m. CT on Fox.