'The Masked Singer': All the Clues About the Robopine's Identity and Who Fans Think It Is
The Masked Singer Season 5 is down to its final six (barring the appearance of any more wild card contestants). The Fox's show still includes Robopine, the smooth-voiced R&B singer alongside contestants like Black Swan, Chameleon and the Russian Dolls. The Masked Singer judges have guessed performers like Will Smith, Jason DeRulo and Jamie Foxx as the secret identity of the Robopine, but fans think it is another star who has worked as an actor and a singer.
All the clues about Robopine's identity on The Masked Singer
First clue package
Futuristic theme, with binary code in the background
What he said: "Scanning. Scanning. Oh, hello there. I may look prickly, but don't be scared. Where I came from, I was forced to grow thick quills. I was left to fend for myself, with nothing but a dream. So, I went on a mission to get on Hollywood's radar. I used 411 day and night just to make a connection. Until a certain angel said, 'hello.' That random call changed everything. Now, I'm on my next mission. And when I have my mind set on something, nobody can touch me."
Objects featured: A lock with a key, a spaceship, DNA strands, a soda can, a George Washington statue, a science experiment in a glass box.
Second clues package
Superhero theme
What he said: "My first performance made every quill on my back stand up. I have been in a funk lately, but putting on this prickly, shiny armor and singing my heart out was exactly what I needed. I felt like a singing superhero! Sixty years ago, as a tiny piney in Costa Rica, my superheroes were the workers whose job it was to keep my streets clean. They had my dream job, but my life took me on a different route. To this day, when I see them working, I like to pull over and lend a claw. They always say, "Why would a shiny porcupine like you want to get your quills dirty with us?" I tell them they are the true superheroes who inspired the work ethic I have carried my whole life, which has gotten me on big stages just like this."
Objects featured: Trash can with an hourglass on it, a sign reading "Men Working," a lightning bolt necklace, police sirens and lights, a cat and mouse, a throne, roses and trash.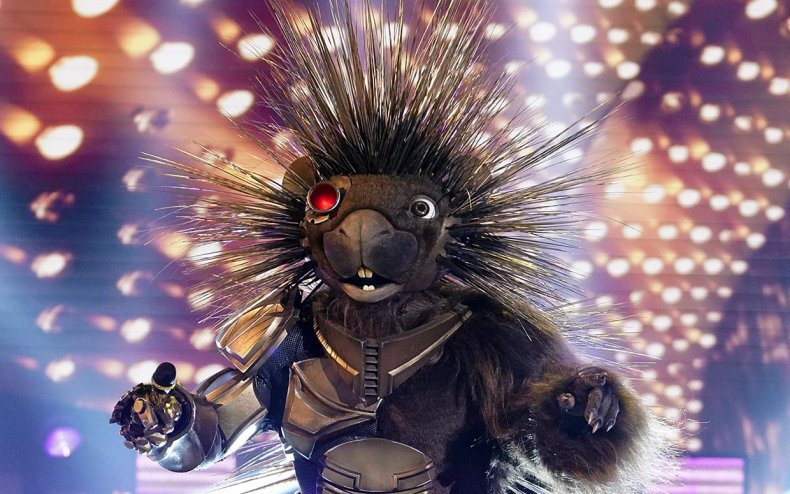 Third clues package
Indiana Jones theme
What he said: "The quills are out tonight, and I'm ready to unleash some magic on that stage. I wasn't sure what to expect from this masked adventure. But now I'm on a mission to make it to the end. And I know a good mission because I've been on one my entire career. A quest for a certain golden relic. It's been an action-packed, fast-paced ride. I've dodged booby traps and so many times my life has nearly crumbled. But I always escaped because I've been jonesing for that idol. But for now, I'm chasing a new idol, the golden mask. Winning it will be proof that the ultimate relic will be mine."
Objects featured: A column with a six on it, golden letters reading "MM" and "MW," a referee doing the hand signals for travelling in basketball, a chalice with a one-dollar bill.
Fourth clues package
What he said: "The panel's reaction last week touched my heart more than you will ever know. I've actually been struggling with depression lately, so being here has really given me a new confidence — especially when it comes to my voice. Growing up in my house, it was tough on my self-esteem. Man, I used to love singing in the shower, but my family would always yell 'shut up!,' so I never had the confidence to chase my dreams. Until one summer, I was riding my bike, and I stopped by a block party. My neighbor begged me to sing in front of everyone. Man, I was terrified. But, I took the mic, I closed my eyes, and I just went for it. I was a hit! I felt this amazing sense of release, and this show is bringing me back to that feeling. I've come from hiding behind a shower curtain to stepping out from a backstage curtain, and I'm so grateful."
Objects featured: Baby blocks and a rattle with "FP" on it, a Roman statue, a tablecloth and burgers.
Other clues
Cluedle-Doo's clue: "Robopine is skilled at not becoming roadkill"
Self-portrait clue: He is seen playing guitar and wearing a shirt with cobwebs and spiders.
Nick Cannon's Cannon clue: A black t-shirt reading "AKA"
Food delivery clue: Lobster. He said of this, "off the coast of Costa Rica, me and my family get a lot of fresh-water sea diving. It's a family tradition that we kind of pride ourselves on."
Songs performed
First performance: "Never Too Much" by Luther Vandross
Second performance: "All of Me" by John Legend
Third performance: "Killing Me Softly" by Roberta Flack
Fourth performance: "Let's Get It On" by Marvin Gaye
Who Masked Singer viewers think the Robopine is
Though some of the clues have been interpreted as referring to Ginuwine, Montell Jordan or Joe, the most popular guess is Tyrese Gibson, the singer turned Fast & Furious star.
Here are how some of the major clues could point to Tyrese:
Binary code in first clue package: His character in the Fast & Furious films is a hacker.
"411": Tyrese Gibson is good friends with Mary J Blige, who released the album "What's the 411?"
"A certain angel": he starred alongside Angell Conwell in Baby Boy
Soda can: Tyrese's first big gig was for a Coca-Cola commercial in 1994
"Singing superhero": In 2009, the singer released Mayhem!, a three-part comic book series about a superhero vigilante
"Costa Rica, my superheroes": Tyrese is set to star in Spider-Man spin-off Morbius. Per its IMDB page, a number of scenes were shot in Costa Rica. Fast & Furious 6 was also set there in part.
Mouse and police siren: Tyrese played Milo "Mouse" Jackson in the film cop movie Black and Blue.
Throne: In 2007, he released the album Three Kings with Ginuwine and Tank.
"A quest for a certain golden relic": He has been nominated for six Grammys but is yet to win
Column with a six: the six in the third clues package could refer to his Grammy noms or the number of solo albums he has released.
"Action packed, fast-paced ride": Something Tyrese would know all about from his Fast & Furious movies.
Traveling signal: Tyrese owns the company Voltron Travel.
Baby blocks and a rattle: A reference to Baby Boy and the song he had on the soundtrack, "Just a Baby Boy."
Block party story: The singer told this story in an October 2020 Facebook post
Roman statue: He plays Roman in the Fast & Furious movies.
Spider shirt: Another possible reference to Morbius.
"AKA": He released an album titled Alter Ego.
Lobster: He appeared in a 2017 commercial for Red Lobster.
The Masked Singer Season 5 airs Wednesdays at 8 p.m. on Fox.