Round three of The Masked Singer is underway and after seven weeks of a whole range of talent and jaw-dropping celebrity reveals, there are just six acts left in the competition.
The most recent to be unmasked was Jack in the Box, who turned out to be controversial ex-NYC mayor Rudy Giuliani.
Jack in the Box was up against some tough competition in round three, battling against the big vocals of Baby Mammoth, Prince, Queen Cobra, and Space Bunny.
Baby Mammoth grabbed the attention of viewers after her performance of Patsy Cline's "Walkin' After Midnight"—and audiences think they may have worked out who is behind Baby Mammoth's mask.
Newsweek has all of the clues below: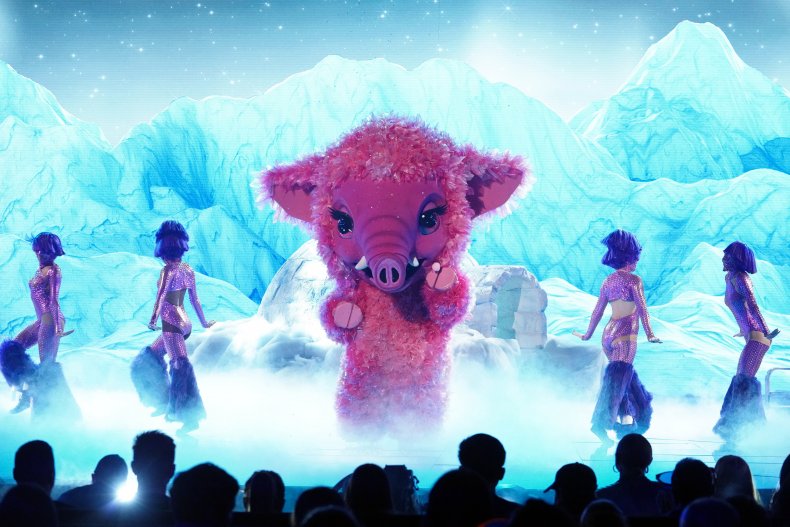 Who Is Baby Mammoth on The Masked Singer?
Baby Mammoth made her debut on The Masked Singer as part of Team Cuddly on Wednesday, April 20, performing on the same stage as Prince, Queen Cobra, Space Bunny, and Jack and the Box.
Thankfully, for fans of the adorable pink creature, Baby Mammoth survived the dreaded elimination round and will return to fight for her spot in the competition next week (Wednesday, April 27).
During her first live performance, Baby Mammoth wowed the judges Ken Jeong, Robin Thicke, Nicole Scherzinger, and Jenny McCarthy Wahlberg with her rendition of Patsy Cline's "Walkin' After Midnight," and they were quick to throw some big names into the ring of who could possibly be under Baby Mammoth's mask.
For example, Scherzinger is certain Baby Mammoth is Oscar-nominated actress Kathleen Turner, whereas Thicke suggested celebrity chef Rachael Ray could be under the mask.
On the other hand, Yeong and McCarthy were convinced Baby Mammoth was ice skater Nancy Kerrigan, thanks to a whole load of ice clues.
Baby Mammoth also spoke of going for gold after having a lot of silver to her name, only bolstering Yeong's theory.
He said: "Nancy Kerrigan, who was unfairly robbed of a gold medal in 1994," referring to the Tonya Harding scandal and her defeat by Oksana Baiul.
Some fans of The Masked Singer do think Yeong could be on to something with his Nancy Kerrigan guess.
One fan tweeted: "Baby Mammoth has to be Nancy Kerrigan. You are right on this one Ken Jeong !! #TheMaskedSinger"
A second fan added: "The Baby Mammoth did a great job singing a Patsy Cline classic!!! I think it's Nancy Kerrigan. She won a Silver Medal at the 1994 Winter Olympics in Lillehammer, Norway. #TheMaskedSinger."
A third fan agreed, writing: "I can't believe I'm saying this but I agree with Ken for Baby Mammoth. I think it's Nancy Kerrigan. #TheMaskedSinger."
Ahead of her performance, the first clue given in her preview was a pair of red shoes and audiences instantly made a Dorothy from The Wizard of Oz connection, leading many to suspect former Glee star, Lea Michele is under the mask.
After all, Michele was the voice of Dorothy in the film Legend of Oz: Dorothy's Return.
One fan tweeted: "@MaskedSingerFOX I was thinking #BabyMammothMask could be #LeaMichele #TheMaskedSinger."
Others also think Ariana Grande could be under the mask and she is set to star in the live-remake of hit musical Wicked: "ariana grande and lee michele are good guess," commented one fan.
Other viewers think Baby Mammoth could be Fleetwood Mac legend, Stevie Nicks. There have not been many clues pointing to Nicks so far, but some fans seem convinced it could be her under the mask.
One fan tweeted: "Someone on Instagram thought this baby mammoth was Stevie Nicks, and given the height of the person, it might be."
Another name making the rounds on Twitter is Kirstie Alley, an American actress, model, and TV star.
One fan tweeted: "I'm thinking baby mammoth is Kirstie alley!!"
A second fan said: "When Baby Mammoth sing "Walking After Midnight" By The Late #PatsyCline During Her first performance of @MaskedSingerFOX. Tonight I thought It was Ok, She sounds like She Isn't profession singer, I'm getting actress vibes, I think might be @KirstieAlley!!!"
A third Masked Singer fan added: "Baby mammoth is 1000% @kirstiealley #TheMaskedSinger @MaskedSingerFOX."
Other clues dropped alongside Baby Mammoth's performance included a whole load of ice, a silver medal, a matchbox, and lots of cheerleading references.
There are still a few weeks to go until the finale of The Masked Singer and if Baby Mammoth makes it to the final, there is plenty of time to keep the guesses coming.
The Masked Singer airs Wednesdays at 8 p.m. on ET on Fox.