'The Masked Singer' Episode 6 Spoilers & Recap: All Performances and Clues, Plus Who Was Unmasked
The Masked Singer returns Wednesday at 9 p.m. EST. Check out our spoilers and live recap of episode 6 "Touchy Feely Clues" including clues and guesses for who's behind the Bee, Peacock, Monster and Raven masks.
The Masked Singer returns for its sixth episode Wednesday, February 6. With just two weeks until the Semi-Finals, the contestants dwindled down from 12 to just 7. In tonight's episode, "Touchy Feely Clues" the remaining four contestants that did not perform last week — Bee, Peacock, Monster and Raven — will take the stage once again to surprise and confuse the audience with riddles and song. During tonight's episode the singers will perform solo and as a group. At the end of the show, we'll see one more singer unmasked, taking the remaining crew to just six.
RELATED: 'The Masked Singer' Revealed a Major Clue That Confirms One Contestant's Identity
Which Singers Have Been Unmasked So Far?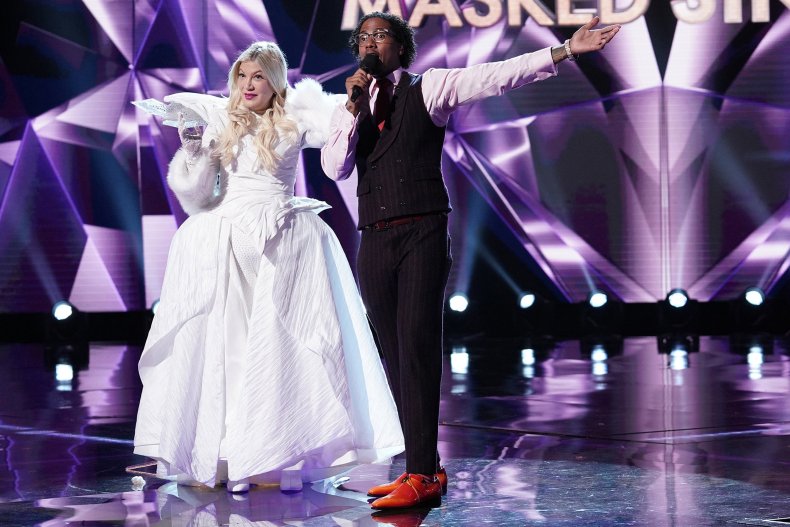 If you're tuning into the show for the first time, The Masked Singer is the craziest singing competition around but the focus isn't on finding the next American pop star. Instead it's about making the audience scratch their heads. The show takes 12 celebrities whose identities have been hidden from audience members and judges alike. Each week, a small handful of clues about the contestant a presented ahead of his or her performance. At the end of the night, whichever performer the audience deems the worst singer will be unmasked while the remaining members move on to the next round. In time, all masked performers will be revealed but until then we'll all be driven collectively crazy trying to sort out who is behind the elaborate facades.
Episode one saw the first six contestants - Hippo, Unicorn, Lion, Deer, Monster, and Peacock take the stage with the Hippo being unmasked at the end as the Steelers' Antonio Brown . During Episode two, the next six contestants — Rabbit, Alien, Raven, Pineapple, Poodle and Bee — faced off against one another while also wearing elaborate head-to-toe costumes. At the end of the episode, the Pineapple received the lowest number of votes and was revealed to be Tommy Chong from the comedy duo Cheech and Chong. In episode three, the Deer got the lowest number of votes and, when unmasked, was identified as former NFL Quarterback and sports analyst Terry Bradshaw. Episode four viewers said goodbye to the Poodle who turned out to be comedian Margaret Cho and in episode 5 the Unicorn was unmasked as Tori Spelling.
Once the show begins, we'll be providing a live-blogged recap of everything that happens, including the clues given and songs performed by each of the masked contestants. In addition, we'll provide our best-guessed spoilers for who might be behind each of the masks. Episode six is one you won't want to miss, so be sure to check in with us on Wednesday at 9 p.m. EDT for a full recap of the event. You can also check out our earlier recaps and guesses for who might be behind the masks, here.
The Masked Singer Episode 6 Spoilers and Recap: Who Are Behind the Masks? Which Singer was Unmasked?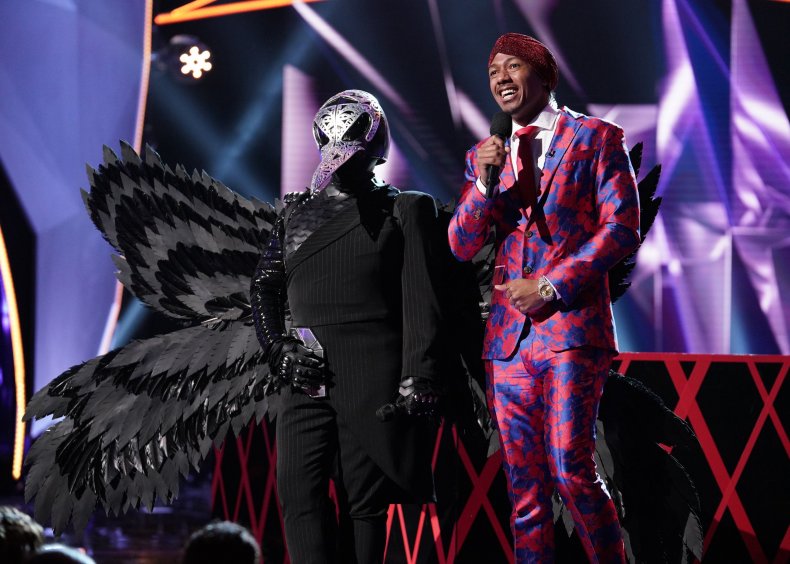 All the performers put on a great show, but in the end, The Raven was the singer the audience chose to unmask. Her identity was revealed as Ricky Lake! When Nick Cannon asked why she chose the Raven, Ricky said:
"The Raven is about metamorphasis. It's about death and rebirth. I went through the loss of my husband last year and this really was an opportunity for me to sort of share my journey throughhis loss. He was the best thing that ever happened to me."
All the clues, guesses and performance details for singers on tonight's show can be found below.
Who Is The Bee? (Clues and Spoilers)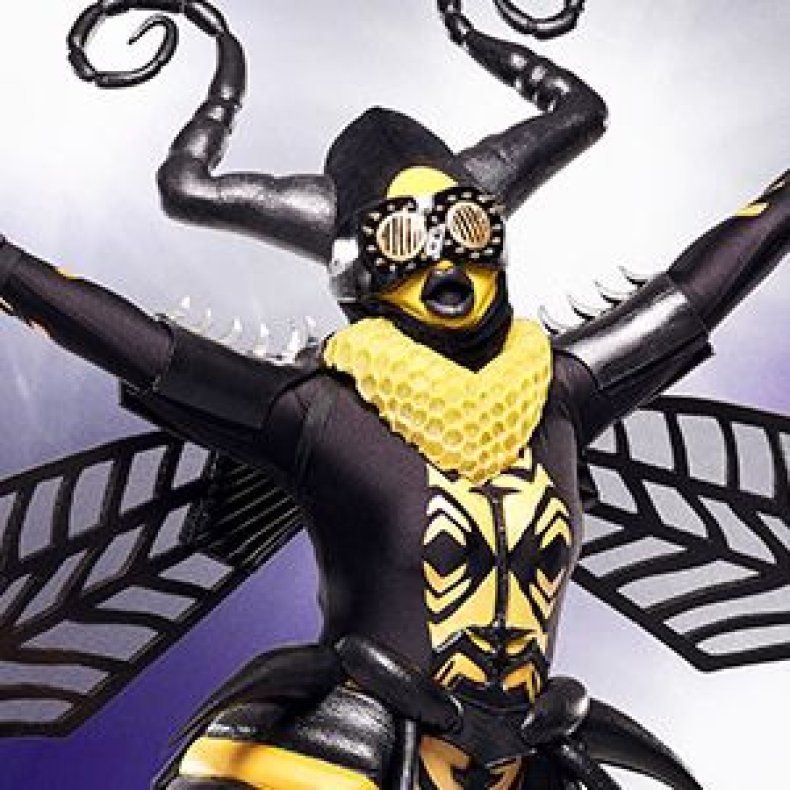 Episode 6 Clues:
I've been performing for a long time and I thought I'd done it all in my career.
But dressing like an insect is definitely a first for me.
It was at a birthday party when I was eight years old. That's when my mamma first gave me the idea to form a group. I guess it was always in the cards
There is a table of kids — looks like four boys and a girl and the child who's birthday it is is one.
We got a record contract and my career has been all peaches and marmalade ever since.
Being on the show it's a trip singing songs other people have written.
It's like I'm every Bee, you know. It's all in me
My song tonight is like a modern tower ballad. I never thought I'd be singing it.
Especially not dressed like this.
Revealing Item: Bakeware -- This is my second favorite thing to do.
What the Bee Sang - Wrecking Ball by Miley Cyrus.
Robin said he got all choked up by her amazing performance and called out Gladys Knight's name again saying he recognized her stage persona. Nicole says she's definitely seasoned. A few other names suggested were Lady Marmalade and Chakra Khan. Jenny says Patti Labelle becuase of the baking clue.
Who Is The Peacock (Clues and Spoilers)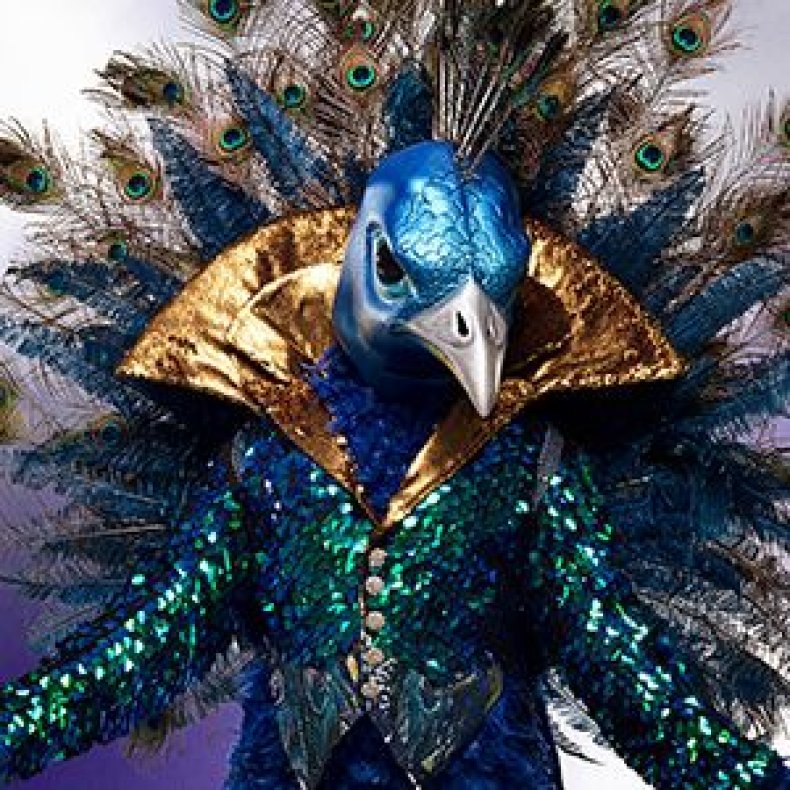 ​Episode 6 Clues
Being behind a mask has been very strange and very lonely.
Let me tell you, before my last performance I was standing all alone getting ready and I couldn't even talk to the crew because I had to remain anonymous.
Without this mask everyone recognizes me and I have to chat, but here I feel invisible.
It's like my entire career just disappeared into thin air.
By day I perform as my 176-pound real self
The video cues in bull fighter music and the peacock waves his cape around. It has a rainbow underneath.
But by night I ride into the competition masked and ready for battle
Winning would mean everything to me.
So as my opponents step up their game, I'm going to step up mine.
Revealing Item: A blonde wig -- "Because of this wig, I was thrown in jail."
What the Peacock Sang - All Of Me by Johnny Legend
The judges also think the Peacock is a seasoned performer. Robin suggests Neil Patrick Harris. Nicole says Wayne Brady. Michael Bolton's name was suggested as well.
Who Is The Raven (UNMASKED - Ricki Lake)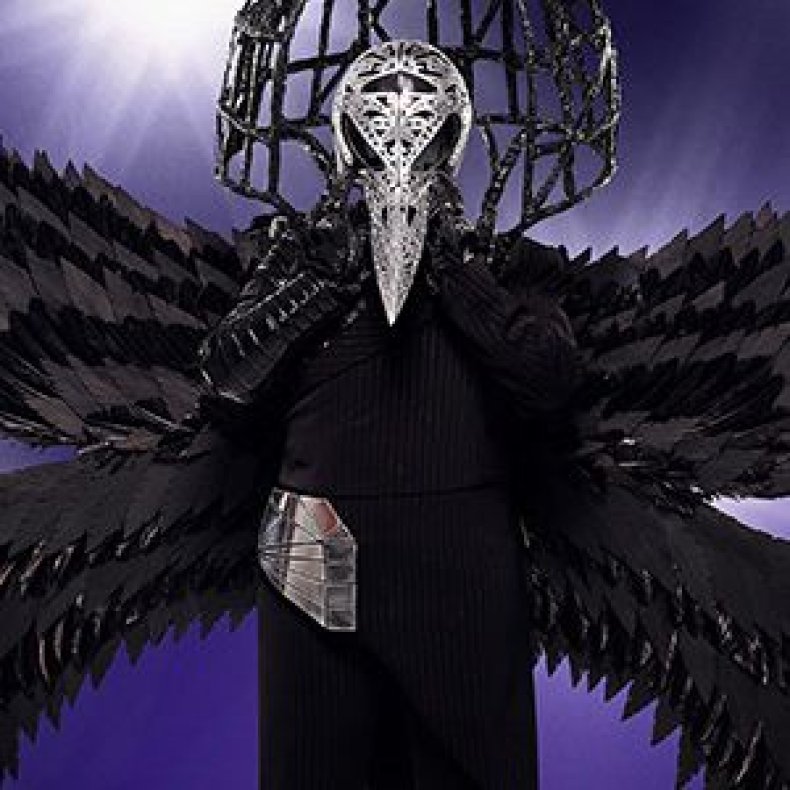 Episode 6 Clues
Being in this competition has challenged me to go against all my basic instincts — especially having to be silent after making a career talking to people.
Yet being alone with my thoughts has given me a chance to think about my own story.
Looking back on my life I have a bird's eye view.
Two guys are lying on the ground seemingly dead. They stand up with canes and bow to the raven.
From death to love to birthing you (raven is holding a clock with the time 11:11 on it)
My greatest joy is being a mother to my flock.
You might say that's so me and it's not just talk. (The raven is standing in a kiddy pool and throwing playing cards in the air.
Sometimes you have to look back to move forward and tonight I an singing with the courage I gained from being here.
I never want it to end.
Revealing Item: An Emmy - I place this where my flock can admire it.
What the Raven Sang: Brave by Sara Bareilles
Nicole doesn't think she's a professional singer but she commends the Raven's performance. One name called out was Raven Simone. Another judge said Sarah Gilbert​. Sheryl Underwood from The Talk was suggested. Ken says Starr Jones.
Who Is The Monster (Clues and Spoilers)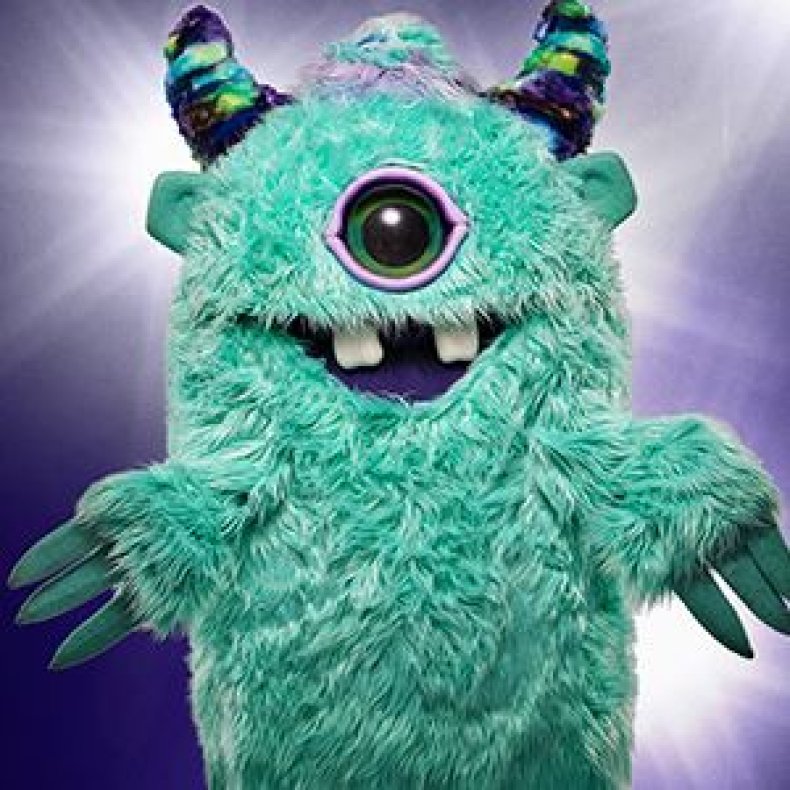 Episode 6 Clues
During my last performance, the panel giving my voice some love went a long way healing a deep wound.
Like everyone else I've had my share of dark days,
But I'm a fighter and I've fought my demons
And I discovered the little teddy bear I am at heart.
This experience is far more meaningful to me than wearing a monster costume (There is a pink Cadillac behind the monster)
It's about being proud of who I am (there is a sound mixing board in the background.
Don't even think about swimming your negativity in my way cause I'll just swing back.
Tonight's performance is about throwing the panel off the scent.
No one would expect me to sing this song — game on.
Revealing Item: AHeadset -- "I make my best calls on this headset."
What the Monster Sang: America Woman by Lenny Kravitz
Robin says he believes tonight that the Monster is a professional performer. Names like Sugar Ray Leonard, David Allen Greer and Tommy Davidson.
When Does The Masked Singer Air? How To Watch
The Masked Singer airs every Wednesday at 9 pm EDT on Fox. You can watch it live of online the next day via HULU.
Who do you think is behind the masks? Share your thoughts in the comments below!