'Masked Singer' Fans Are Very Sure They Know Who Ringmaster Is
The Masked Singer Season 7's Round 2 is in full force, with two contestants (Christie Brinkley's Lemur and Penn and Teller's Hydra) already unmasked.
Ringmaster is one of the remaining contestants, but her identity is leaving the judges stumped. Her clue that she is a "'90s chick" got some judges guessing names like Alanis Morissette, while the other judges think she might be someone born in the 1990s like Olivia Rodrigo or Zara Larsson.
The Fox show's fans, however, are not so easily fooled. Based on the clues given during the contestants' three episodes so far on The Masked Singer, many fans think they have worked out exactly who is hiding as Ringmaster Season 7.
Here is a recap of all the clues so far—and how the fans have interpreted them to work out the contestant's identity.
Who Is the Ringmaster on 'The Masked Singer'?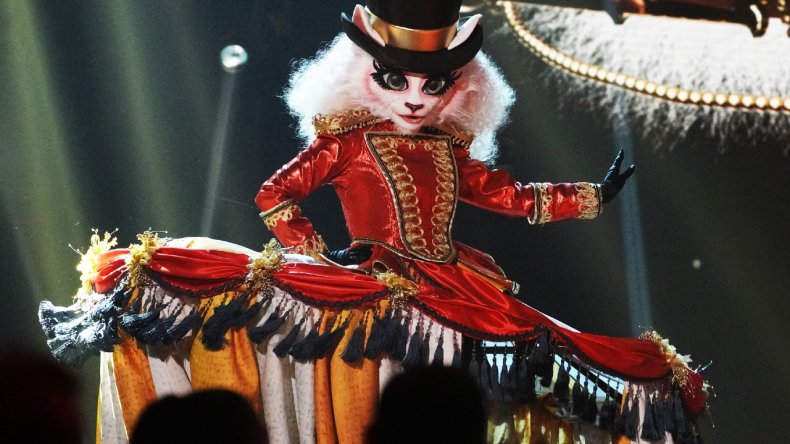 Ringmaster's first clues package was breakfast cereal-themed, with the character selling a circus-brand cereal called "Ring-o's."
Among the objects given as clues during the segment were: A coffee cup with Miley Cyrus on it; A bottle of something called "Sweet Southern"; A tic-tac-toe board with an "x" in its center and a Class C California license plate.
One half of '80s legends Hall and Oates appeared in the package, with John Oates saying: "Hey Ringmaster, I know you're a star. Now it's time to make your dreams come true. Get that Golden Mask Trophy."
Ringmaster also dropped a hint to her identity after her performance, saying to judge Nicole Scherzinger, "Nicole, it's good to see you again."
In her second episode, we also got her "Mega Clue" object, which was an acoustic guitar with a "90s" guitar pick. Ringmaster said of these: "Well, you should know that I'm a '90s chick, but I've been songwriting for as long as I can remember."
Based on these clues, fans think she is none other than Hayley Orrantia, the actor who has played Erica Goldberg for more than 200 episodes of ABC sitcom The Goldbergs.
Orrantia certainly has musical ability. She has released numerous singles over the years, and her YouTube is full of videos of her singing.
Here's how some of those clues could be said to apply to Orrantia:
Miley Cyrus mug: One of Orrantia's first professional gigs was as a backing singer on Hannah Montana.
Tic-tac-toe board: Orrantia was a contestant on The X Factor. This is also where she would have met Scherzinger before; The Pussycat Doll was also a judge on that show.
Sweet Southern: She released a 2016 single called "Strong, Sweet & Southern."
John Oates: Oates guest-starred on The Goldbergs Season 7.
Golden State: Some Masked Singer think this is a reference to The GOLDbergs.
The Masked Singer Season 7 continues Wednesdays at 8 p.m. ET on Fox.