Despite Pandemic Lockdowns, Mass Shootings Are 35% Higher Than 2019—and Year's Not Even Over
Mass shootings in the U.S. have increased by 35 percent since 2019 despite widespread closures of schools, businesses and many public places due to the coronavirus pandemic.
In 2019, the Gun Violence Archive (GVA) found that there were 417 mass shootings over the course of the whole year in the U.S. But in 2020, there has already been 562 mass shootings with six weeks left until the end of the year.
The number also comes as a huge rise compared to mass shooting numbers from the last five years. The GVA recorded 269 in 2014, 335 in 2015, 382 in 2016, 346 in 2017 and 337 in 2018.
But the research organization has an open definition of mass shooting as four or more people shot and/or killed in a single incident at the same general time and location but not including the shooter.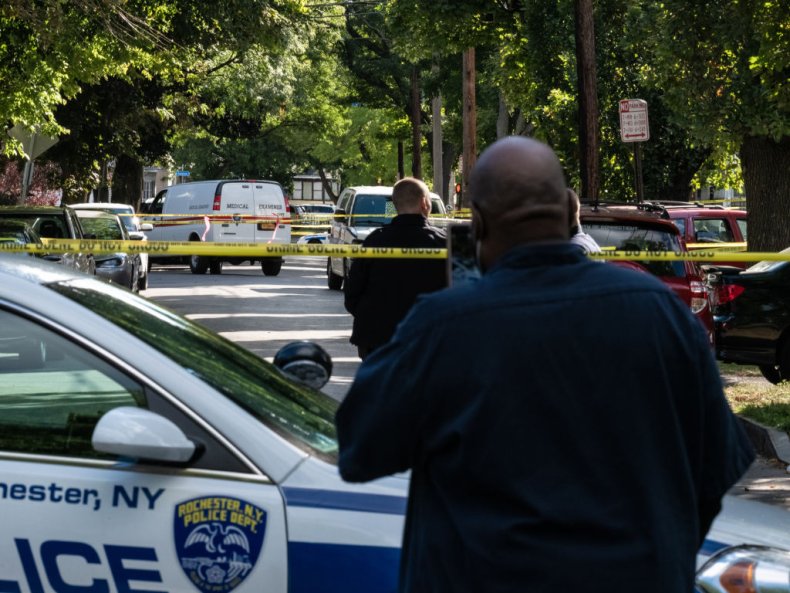 GVA does not "exclude, set apart, caveat, or differentiate" victims based upon the circumstances in which they were shot—including defensive gun use—so their mass shootings data is not limited to the often widely publicized incidents that occur in public places like schools and restaurants.
It comes as civil unrest and fear gripped the nation in 2020 with COVID-19 claiming the lives of hundreds of thousands of Americans while lockdowns have limited individual freedoms, accelerated employment and exacerbated mental health issues.
Meanwhile, George Floyd's death in police custody in Minneapolis sparked Black Lives Matter protests across the country with widespread calls to defund the police. Many demonstrations saw violence erupt and looting break out as officers clashed with rioters.
During his election campaign, Donald Trump used the violence as a way to paint Democrats as soft on crime and stoke fears in white voters. His Justice Department launched Operation Legend, an initiative designed to produce quick increases in arrests and federal prosecutions.
Meanwhile, Democratic President-elect Joe Biden has promised to increase restrictions on gun access but has stopped short of endorsing calls to reduce police funding.
Worst mass shootings of 2020
The U.S. has seen up to seven people killed in at least three mass shootings in 2020.
In March, Alabama emergency crews said they found seven adults dead inside a Valhermoso Springs home, which had then been set alight, according to WTOC.
Crews reportedly said they found seven adults had been shot dead inside after they had put out the fire. Later investigators ruled out domestic violence as a motive for the attack.
Meanwhile, in September, seven people were killed in a marijuana factory massacre in Aguanga, California.
Why has there been an increase in mass shootings?
Increase in domestic violence and violent demonstrations
Dr. Dewey Cornell, forensic clinical psychologist and Professor of Education in the Curry School of Education at the University of Virginia, said that the increase in 2020 does not necessarily correlate to those in schools, offices, and restaurants, which the public often associates with mass shootings.
But he told Newsweek that there are two hypotheses that could explain the rise in numbers, namely an increase in domestic violence during lockdown and more violence around demonstrations.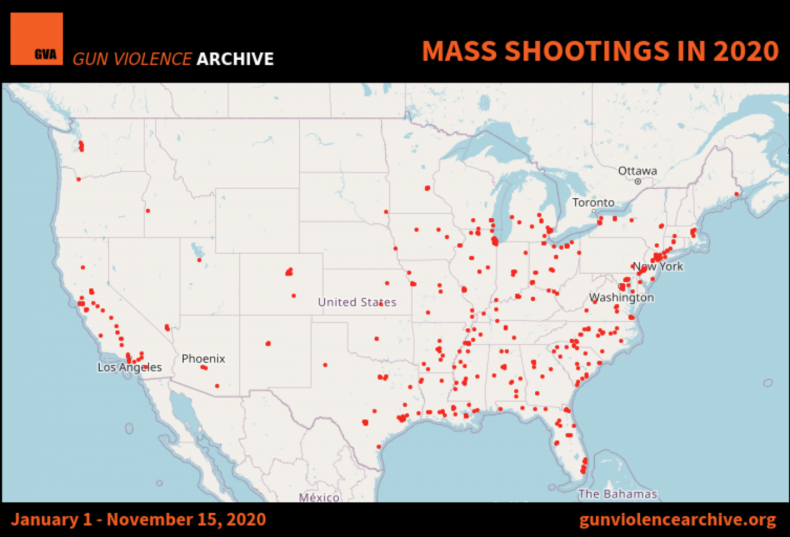 "My first hypothesis would be that there is an increase in domestic violence," he said. "With so many people confined to their homes, there may be greater stress and conflict that is generating these incidents." He added that firearms in the home during a pandemic is a "serious risk factor."
Cornell added that his second hypothesis points towards the numerous incidents of rioting and protests where shootings occurred, saying: "The violence around demonstrations is probably a secondary contributing factor."
Increase in gun sales during pandemic
A huge increase in firearm sales during the pandemic could also help explain the rise in mass shootings, according to Professor Craig Jackson, from Birmingham City University in the U.K.
He said: "A massive increase in firearm sales in the US at the start of the coronavirus pandemic helped to explain the rise in mass shootings (currently at over 560 in the US this year), reaching 1.3 million handguns and 700,000 rifles and shotguns sold.
"This was an increase of 60 percent over average US sales, with August gun sales being the fifth highest month on record, according to FBI background check data."
He said that areas like D.C. and Michigan saw increases in gun sales of 449 percent and 200 percent respectively between August 2019 and August 2020.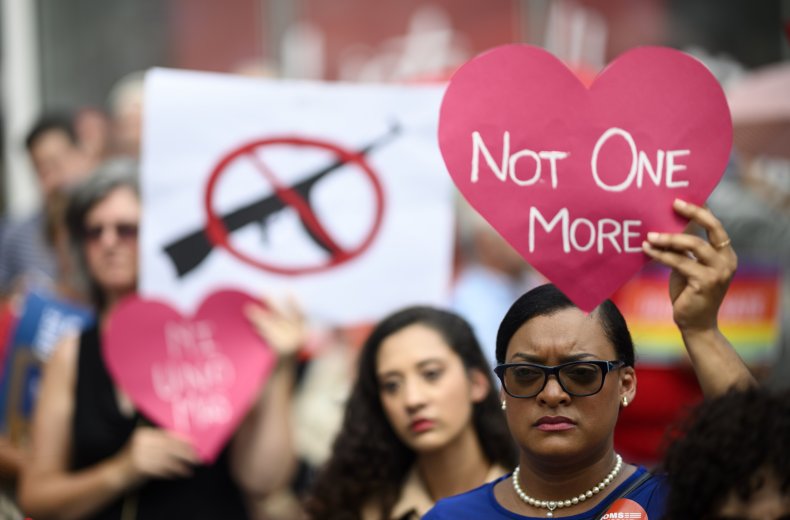 But he added: "Despite businesses and some schools closing, this will have little impact on mass shooting statistics. Data about the targets of mass shootings show that federal buildings, public places, essential services and commerce are readily targets for such attacks.
"The typical view of 'high schools and colleges' being the exclusive preserve of mass shootings is outdated—with such locations only accounting for 40 percent of active shooter incidents."
Impact of pandemic in underserved areas "correlates with increase in mass shootings"
The pandemic has exacerbated violence in underserved areas due to unemployment, reduced access to mental health care and other social services, and confining people to their homes, said DeVone Boggan, the executive director of violence prevention group Advance Peace.
He told The Trace in September that this will have likely fueled conflict within families and communities.
Boggan said: "Being in a dysfunctional environment with multiple people who are all going through the same thing and respond in volatile ways creates a combustion that can produce some of the things that we are seeing in some of these neighborhoods."
According to the publication's analysis of Gun Violence Archive data earlier this year, nearly 50 percent of mass shootings in 2020 had so far taken place in majority-Black census tracts.
This is despite only 10 percent of census tracts nationally listing majority Black populations, the publication said.
The pattern was reportedly seen in almost every city with more than five mass shootings like Chicago where 31 out of 36 shootings with four or more victims happened in majority-Black census tracts.