Is Massive U.S. Aid Helping South Sudan?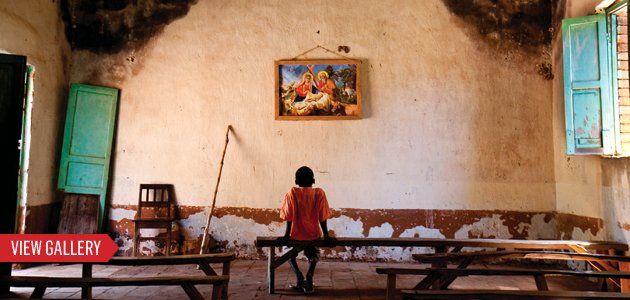 On the wall in the home office of Salva Kiir, the president of Southern Sudan, hang two oversize portraits—one of Jesus Christ and the other of himself. On his desk, between a pair of hippo bookends, Kiir has placed a copy of the Devotional Study Bible next to an edition of Robert Greene's self-help book, The 48 Laws of Power. A former guerrilla in a rebel army called Anya-Nya ("Snake Venom"), Kiir now heads Southern Sudan's autonomous government, which wrested a measure of independence from Khartoum five years ago. His regime has long been a darling of Western donors. During the Bush years, especially, Kiir's blend of defiant nationalism and Christian piety resonated among hardline Washington ideologues seeking to reshape the Sudanese balance of power. Even in the more sober Obama era, the U.S. has been pouring more than $300 million annually into Southern Sudan—part of a vigorous effort to bolster Kiir's government before a referendum on full independence from the predominantly Muslim north scheduled for early next year.
Yet despite the open aid tap, Kiir's ambitious reform project is in trouble. Rights activists warn that Sudan's 22-year civil war, which ended in 2005 after more than 2 million people had been killed, could erupt again. Consultants hired by the U.S. government complain that American institution-building efforts are failing. During a recent interview at the president's compound in Juba, Kiir looked sick and drawn, sniffling and wiping sweat from his brow with a crumpled tissue. (He explained that he had been tested for malaria that morning, and the results had come back negative.) Even if Kiir's men can manage to keep the peace through the secession vote, Western diplomats warn that the region is frighteningly unprepared for independence. Kiir worries that America, beset by its own domestic crises, is losing interest. "We have always believed that America can do anything," Kiir said one recent evening, wearing a beige safari suit and sandals as he welcomed a reporter to his home. "But in our case, it hasn't happened. They have so many other commitments now."
Southern Sudan is shaping up to be a critical test of America's ability to reform distant trouble spots. The reformist impulse in American foreign policy is an old one. Yet the nation-building debacles in Iraq and Afghanistan have prompted new and uncomfortable conversations about the limits of American power. In an era in which trillions of dollars in American wealth can suddenly disappear, deficit hawks are wondering whether the U.S. can still afford to fund ambitious improvement programs abroad. At the same time, recent studies have suggested that African development aid has done little to stimulate growth—and in some cases has done more harm than good.
The Sudanese nation-building effort is a project President Obama inherited from his predecessor, who had a deep commitment to Africa. The Bush administration helped craft the peace agreement that ended the war five years ago; since then, America has injected some $6 billion into the country. America is the largest single donor to Sudan, and Sudan is one of the top recipients of USAID disbursements, behind only Afghanistan and Pakistan. Addressing the U.N.'s Millennium Development Goals summit last week, Obama renewed America's promise of assistance to the devastated country: "As others show the courage to put war behind them—including, we hope, in Sudan—the United States will stand with those who seek to build and sustain peace."
Foreign correspondents used to joke that there was almost nothing made of metal in Southern Sudan except guns, ammo, and the occasional fish hook. At the end of the civil war there were only three miles of paved roads in the entire massive region, roughly the size of France. But now Juba, the southern capital, is a boomtown full of idealistic Americans. While Juba's homes have traditionally consisted of thatched huts and, more recently, tin-roofed shacks, it is difficult now to rent a house for less than $12,000 a month, according to a Western diplomat who lives there but is not authorized to speak on the record. Taxis charge expats Manhattan rates, and boutique hotels host martini nights attended largely by aid workers and other foreigners. One hotel located across the street from the Joint Donor Team headquarters charges $800 per night for dingy suites.
There has been some progress: U.S. and other international aid money has built ministries, roads, and schools where there was virtually nothing before, and it has saved lives. Yet all the frantic activity is misleading. There is little evidence of a fledgling Southern Sudanese state that will be able to stand on its own. A June 2010 report commissioned by the U.S. Agency for International Development found that "capacity building efforts in Southern Sudan are currently neither strategic nor focused. With few exceptions, [the] objectives are sweeping, unspecific, detached from actual performance, impossible to measure, and thus unlikely to succeed."
Americans blame an incompetent Southern Sudanese government—which is something of a Catch-22, since aid money, after all, is supposed to encourage the creation of a competent Sudanese government. Few civil servants have much education, and some 85 percent of the country's security forces are believed to be illiterate, according to a Western security source in Juba, who asked for anonymity in order to speak more frankly. Many educated Southern Sudanese have put down roots elsewhere since the war years and are reluctant to return. The World Bank, which administers a half-billion-dollar trust fund for Southern Sudan, announced early this year that it had spent less than half of its budget—partly because there was so little capacity to effectively absorb the money.
And yet, aid workers and diplomats argue that a successful nation-building effort in Southern Sudan would require significantly more money—and a different set of skills. Humanitarian officials in Juba complain that in the early days of the project, too much emphasis was put on "recovery" efforts—restoring basic social services—and too little on institution building. "You had the wrong kind of people here for the first five years," says one veteran aid official in Juba, asking not to be named in order to speak candidly. "We should have brought in these old Brits who built the central bank of Botswana. Most of the people who know how to construct state structures are lying drunk on the beaches of Zanzibar. Instead, we brought in all these Oxford and Ivy League grads [with other expertise]."
It is a valid question, of course, whether foreigners—especially drunken veterans of former colonial adventures—are really the ones who should be doing the job, and whether any quantity of foreign aid could succeed in reforming Southern Sudan. William Easterly, an economist at New York University and author of The White Man's Burden: Why the West's Efforts to Aid the Rest Have Done So Much Ill and So Little Good, insists that massive aid infusions can be harmful in such a country. "You're flooding the place with aid and outside experts speaking in inconsistent voices, and you have nobody at the center," says Easterly. "I'm not trying to be harsh or cynical. You have this huge desire to help this place, which is great. But you just don't have the receiving capacity." When Juba is flooded with aid money, the few educated Sudanese elites who are there may choose to avoid government posts altogether—instead setting up their own NGOs to tap directly into the aid pipeline.
Businesspeople in Juba say they're already seeing aid money distort the local economy. Ian Alsworth-Elvey, the managing director of an international beer company that has invested some $50 million in a Juba brewery, says that aid agencies drive up prices and labor costs. "I'm staying at the Ritz in Chicago [on an upcoming trip], and I'm spending less than on some crappy hotel in Juba," he says. In the long term, do-gooders with short-term development goals are "bad for the economy," he says. "They're spending other people's money with no accountability." Alsworth-Elvey's company, which employs 250 people in Juba, regularly trains locals in basic accounting and financial skills, only to see them snapped up by the aid agencies as soon as they're up to speed.
Massive aid flows could also be a catalyst for renewed violence. As it is, the overwhelming majority of non-aid revenue comes from oil, which already heightens competition for control of the state and its resources. If a Southern Sudanese government flush with aid money is viewed as a prize by competing Sudanese factions, "that in itself could heighten the potential for conflict," says Easterly. The U.S. has spent more than $100 million over the past several years helping to train and support Southern Sudan's armed forces. Still, reforming the military will be "a 10 to 20-year program," says the Western security source. "They really are just a guerrilla force." The veteran aid official describes the military as "one of the most disorganized, kind of yucky rebel movements—no ideological core, useless administrators."
Humanitarian activists are concerned that the recovery efforts in Southern Sudan could be in jeopardy if diplomatic pressure slackens. "What's the use of doing all this state building and capacity building if they're going back to war?" asks John Prendergast, who cofounded an antigenocide project at the Center for American Progress in Washington. "You're potentially building a castle in the sand—with a big wave coming at it." Prendergast says he's encouraged by Obama's recent diplomatic push, but he warns that the effort could come to nothing unless it includes serious consequences for anyone who violates the peace accord.
Whatever happens, the United States is unlikely to abandon Southern Sudan altogether. The U.S. foreign-policy tradition has always displayed a strong idealistic streak alongside its pursuit of the national interest, and that won't disappear. "The American conscience is a reality," Walter Lippmann once warned would-be realists. Yet depending on the times, statesmen in Washington tend to toggle between crusading moralism and cold-eyed pragmatism. Southern Sudan's Salva Kiir—with Jesus Christ and his own portrait staring down at him from his office wall—must understand that tension. Americans will probably always seek to heal far-flung spots like Southern Sudan. If they want to be effective, however, they'll also need to heal themselves.