Poland Predicts Russia's 'Next Attack'
Russian President Vladimir Putin must be defeated in his invasion of Ukraine because he is also looking to invade other countries in the region, the Polish prime minister has said.
In an interview on the sidelines of the Munich Security Conference, Mateusz Morawiecki told France 24 that Moscow "is preparing for the next attack."
As well as fighting for their independence, he said Ukraine was also fighting for "our freedom and our security" and that Russia "has summoned the worst demons of 20th century imperialism, colonialism and nationalism."
Morawiecki said that he believed with the help of Ukraine's allies that Russia could be defeated "possibly this year," which was essential because other countries, including Poland, a NATO member, could be next.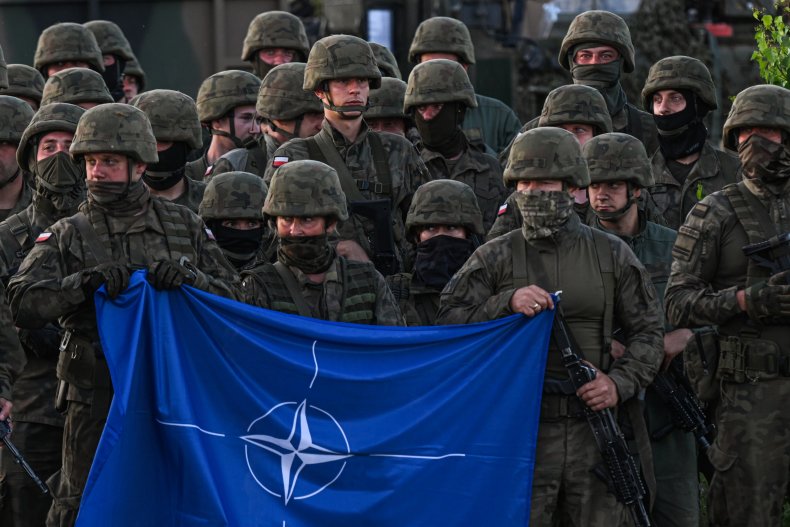 He described how "provocations," such as Russian jets buzzing the borders of NATO members, signaled Putin's future intentions.
"It's up to the Ukrainians to define what victory means," he said, "but I would not wish that Russian is half winning this war because they are preparing the next round.
"They are preparing for the next attack, the next offensive, potentially on the Baltic states, or Finland, or Poland, or Romania or Moldova, any other country bordering," he said, including countries in Central Asia.
On February 13, Moldovan President Maia Sandu said that the Kremlin had plotted a coup in her country, where Russian troops are stationed in the breakaway republic of Transnistria.
"This is now therefore such a critical moment that we do everything possible for this Russia to be completely defeated because this could only create a better starting point for a new era of development," Morawiecki said.
When asked if this implied a regime change in Moscow, Morawiecki replied, "that's always possible but I see unfortunately that public opinion in Russia is by and large supporting Putin," due in part to the role of Kremlin propaganda.
Poland has been a vocal supporter of supplying modern tanks to Ukraine and earlier in February approved the delivery of Piorun (Thunderbolt) short-range, man-portable air defense (MANPAD) systems and munition to Kyiv.
However, Morawiecki reiterated a position expressed by Warsaw that its low number of F-16 fighter jets meant that it could only likely give Kyiv Soviet-era MiG aircraft, if it were part of a bigger coalition.
In a separate interview with CBS, Morawiecki said that Warsaw was in talks with the U.S. about increasing the American troop presence in his country as President Joe Biden prepares to visit Poland this week.
American troops were first sent to Poland in 2017 to bolster NATO's eastern front in response to the threat of Russia, with around 11,000 U.S. service personnel stationed there on rotation.
Newsweek has contacted the Russian foreign ministry for comment.