Matt Amodio Admits He Is 'Nervous' About Returning to Compete on 'Jeopardy!'
Former Jeopardy! champ Matt Amodio has admitted he's "nervous" about returning to compete next year on the show's "Tournament of Champions."
Earlier this month, the Yale Ph.D. candidate's record-breaking run on the syndicated quiz show ended, when he was defeated after a 38-game win streak.
The Ohio native's run saw him take second place in the show's record books for win streaks, behind all-time champ Ken Jennings, who achieved 74 consecutive victories when he first appeared on Jeopardy! back in 2004.
And while Amodio departed his long-held place at the podium after being defeated by actor Jonathan Fisher, he is set to return to screens for the "Tournament of Champions"—a competition reserved for contestants who land five or more wins on the primetime show.
However, the timing of the tournament means that Amodio will have had a full year away from competing on Jeopardy!—leading to fears he will be "rusty" on his return.
"I'm a little nervous about going in with high expectations that I should dominate and then just underwhelm with my performance," he told the Yale Daily News.
"Hopefully I do well. It should be fun no matter what, but I am a little nervous."
Amodio is now settling back into his everyday life, albeit with a newfound celebrity status and a respectable $1,518,601 in winnings from his time on the show.
And Amodio has insisted that life for him isn't much different to what it was pre-Jeopardy! as he explained: "I think the only thing that's changed really is how much attention I'm getting.
"But it hasn't changed my day-to-day or hour-to-hour life all that much... I had something happen that made me popular, and then as that thing becomes farther and farther away in time, I will become less and less popular. I know that I don't have to acclimate to the changes too much. Just trying to ride the wave and enjoy it."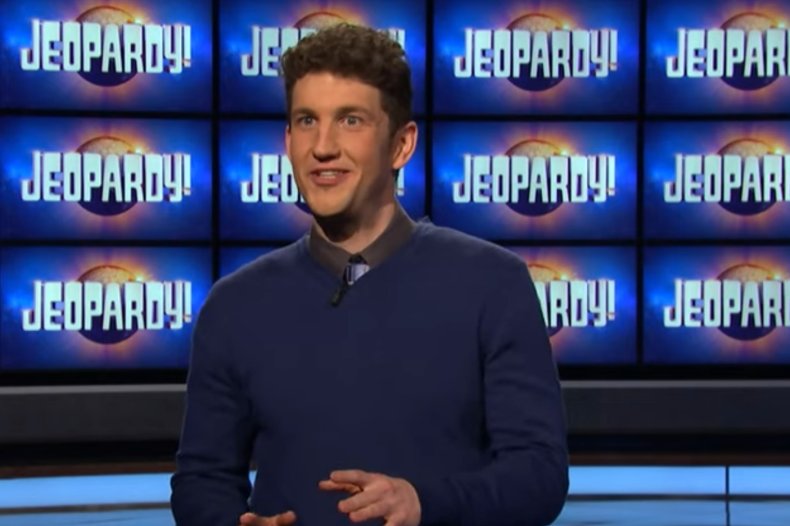 Looking to the future, Amodio said that he plans to complete his studies at the end of this academic year, before applying for post-doctoral research opportunities, and professorship role.
"It's hard to get a professor job right out of the Ph.D., but the worst they can say is no," Amodio said. "So I'll apply."
Since his Jeopardy! defeat was aired earlier this month, Amodio faced accusations from fans that he had thrown the game so that he could escape the grueling shooting schedule and return to his studies.
A number of viewers struggled to believe that Amodio could honestly have answered Poland—rather than Austria—to the "Final Jeopardy" clue: "Nazi Germany annexed this nation and divided it into regions of the Alps and the Danube; the Allies later divided it into four sectors."
However, Amodio shot down the speculation, insisting that he relished competing and winning far too much to lose on purpose.
"I really like winning Jeopardy games," the artificial intelligence researcher told Newsweek over email. "I always want to do that more."
Since defeating Amodio, new Jeopardy! champ Jonathan Fisher was seen landing his seventh consecutive win on Tuesday, bringing his prize total up to $156,100.
Having won more than five games, Fisher has also qualified for the "Tournament of Champions"—meaning he could well face off against Amodio again.