Another Matt Gaetz 'Wants to Date Your Child' Billboard to Go up in Florida
A political action committee is hoping to turn even more heads in Florida by putting up a second billboard referring to sexual misconduct allegations about Rep. Matt Gaetz.
Earlier this month, Mad Dog PAC, a pro-Democrat group, was behind a digital sign claiming the GOP lawmaker "wants to 'date' your child."
The Department of Justice is investigating Gaetz over accusations of sex trafficking and sex with a minor. He denies all the allegations and has not been charged.
Mad Dog PAC founder Claude Taylor described as "absolutely extraordinary" the reaction to the first billboard on State Road 85, Crestview. He said it had "reached a lot of values voters" in a right-leaning part of Gaetz's congressional district.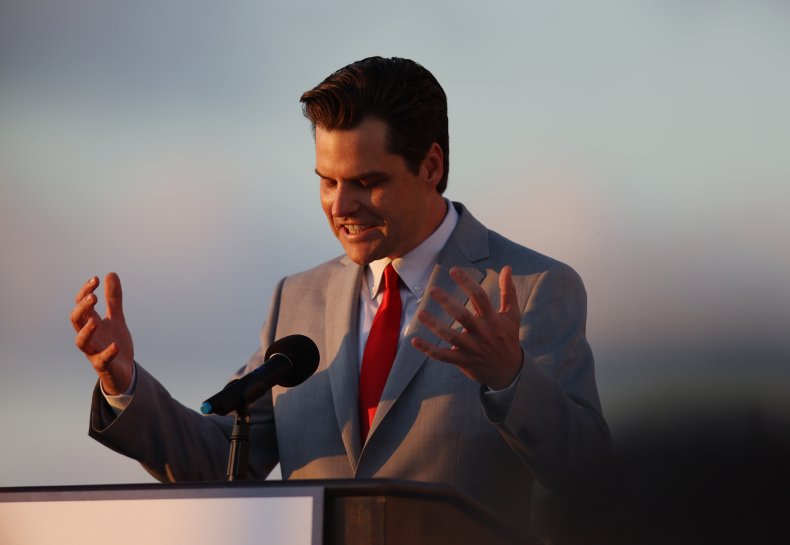 Taylor hopes to get even more attention with a second sign in a busier part of the district. This one will be made from vinyl and placed about 50 miles away in Pensacola.
"Crestview is not the biggest population center, that is Pensacola," he told Newsweek. "So we are putting the second billboard right in the middle of Pensacola near the Naval Air Station that Pensacola is well known for."
"It is going to be the same art, the same message," Taylor said. "We are there to do as much political damage as possible."
The 12 foot by 40 foot billboard, which is currently being printed, will "probably be up next week," he added.
Gaetz is an ardent supporter of former President Donald Trump and was one of the 147 congressional Republicans who sought to overturn the Electoral College results that affirmed the victory of Joe Biden.
Although Taylor accepts that it would be very difficult for a Democrat to win Gaetz's right-leaning district in the 2022 midterms, he hopes his campaign can boost the chances of "a reasonable rational Republican who can beat him in the primaries."
"The press coverage of all of his activities have probably opened the eyes of many of his constituents," Taylor said.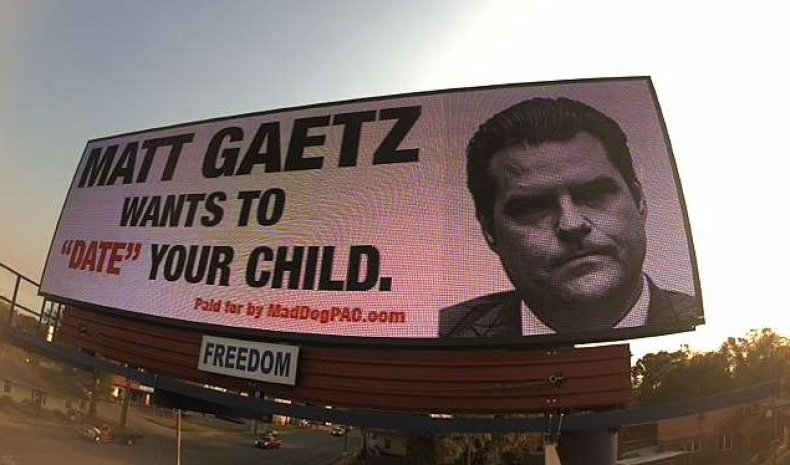 Mad Dog PAC will target other prominent GOP lawmakers this election cycle, including Senators Marco Rubio (R-FL), Ron Johnson (R-WI) and Rand Paul (R-KY).
Taylor believes billboards can be a more effective tool than social media in some areas.
"We are trying to reach voters in a deeply red conservative part of the Florida panhandle," he said. "Social media is not necessarily the way to reach those people."
"One way to reach those people is with traditional billboards and if you can get your traditional billboard on Fox News, you have got two ways to reach them," added Taylor, who once worked in the administration of President Bill Clinton.
Gaetz is fighting for his political future, with Rep. Steve Scalise of Louisiana saying this week that House Republicans would "take action" if charges were filed against him.
The House Ethics Committee has also opened an investigation into claims that Gaetz had used illicit drugs and had shown nude photos of women to fellow lawmakers on the House floor.
Newsweek has contacted Gaetz's office for comment.
On Wednesday, his office announced an ad buy targeted at CNN, which will be featured in his congressional district and on some national cable networks.
A statement from his congressional campaign said the ad marked the beginning of Gaetz's counter-offensive, to "fight back against a multi-week fake news cycle against him," Politico reported.
"Now we see what's really behind all of this: Democratic Party and media-driven smears aimed at taking out a Congressman of the United States," a spokesperson for the Friends of Matt Gaetz said in the statement.