Matt Gaetz Confident He'll Be Vindicated for Backing Far-Right Allegation of FBI 1/6 'Role'
Republican Florida Representative Matt Gaetz has expressed confidence that he'll be vindicated for supporting the far-right allegation that the FBI helped plot the Jan. 6, 2021, insurrection at the Capitol after infiltrating far-right groups.
In a Gettr message published on Wednesday evening, Gaetz posted a screenshot of a CNN broadcast. The broadcast showed him alongside other legislators who have pushed the same far-right claim, which included Texas Senator Ted Cruz, Florida Representative Marjorie Taylor Greene and Kentucky Representative Thomas Massie.
"Saving this for when the full extent of the federal government's role in J6 is exposed," Gaetz wrote.
One of the first times that Gaetz publicly pushed the conspiracy theory was while appearing on the June 18, 2021, installment of Cortes & Pellegrino, a talk program on the right-leaning network Newsmax.
On the show, he said the FBI had infiltrated groups whose members were arrested for allegedly participating in the riots—groups such as the Oath Keepers. The FBI did this, Gaetz said, to "bring that organization to the point of criminal conduct as a mechanism as to try and bring it down."
"There was FBI infiltration of these groups, and what we've got to decide is whether that infiltration led to more acute criminal conduct than would have otherwise occurred," he said.
"The FBI has a long history of this, dating back to even the civil rights era," he added, "and I certainly hope our premier law enforcement organization is not actually working to violate federal law."
"I've been called a conspiracy theorist just for asking these questions, but whether it was the Russian hoax that was nonsense or the origins of the coronavirus at the Wuhan lab, I've got a pretty good track record of being right when I make pronouncements.
The conspiracy theory has also been pushed by Fox News host Tucker Carlson.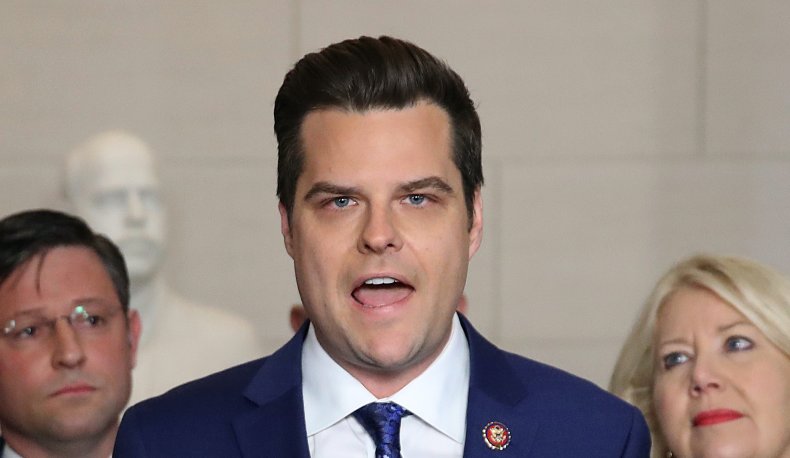 Gaetz also pushed the theory once again on the recent anniversary of the riots.
"We know this January 6 last year wasn't an insurrection," he said. "No one has been charged with insurrection. No one has been charged with treason, but it very well may have been a Fed-surrection."
Most of the suspected Capitol rioters have been charged with trespassing, assault and obstructing a congressional proceeding. They haven't been charged with insurrection or treason because such charges require prosecutors to prove beyond a reasonable doubt that they intended to overthrow the government or harm the country, Josh Blackman, professor of constitutional law at the South Texas College of Law, told KPRC-TV.
The basis for Gaetz's conspiracy claim was a video of ex-Marine Ray Epps telling people to "go into the Capitol." Conspiracy theorists alleged that Epps was an FBI informant. Gaetz and Greene said that Epps was allegedly removed from the FBI's Capitol Violence Most Wanted list, even though he wasn't charged with a crime.
No evidence has connected Epps to the FBI, The New York Times reported.
Gaetz also said that another video captured an individual cutting a chainlink fence to help rioters gain access to the Capitol's restricted areas. He claimed the individual hadn't been sought by federal legal authorities either.
Gaetz said he and Greene have sent letters to the FBI and Department of Justice inquiring about Epps and the fence-cutter. The legislators haven't received a response from either agency.
Gaetz and Greene both contend that arrested rioters were just protesters who have been prosecuted for their conservative political beliefs.
Gaetz is currently being investigated by the FBI over allegations that he broke sex trafficking laws and paid a 17-year-old to have sex with him. Gaetz has denied these allegations and hasn't been charged.