Matt Gaetz Roasted by Republican Colleague Over Sex-Trafficking Probe
Republican Representative Nancy Mace roasted her GOP colleague Matt Gaetz on Wednesday over an investigation into alleged sex-trafficking.
Mace made the remarks at the Washington Press Club Foundation (WPCF) 76th Annual Congressional Dinner, which the foundation describes as a "a light-hearted evening, a departure from partisan politics and the issues of the day."
Gaetz, who wasn't at the dinner, had been under investigation by the Department of Justice (DOJ) in a sex-trafficking probe. He hasn't been charged with any crime and CNN reported in September that prosecutors had recommended against charges.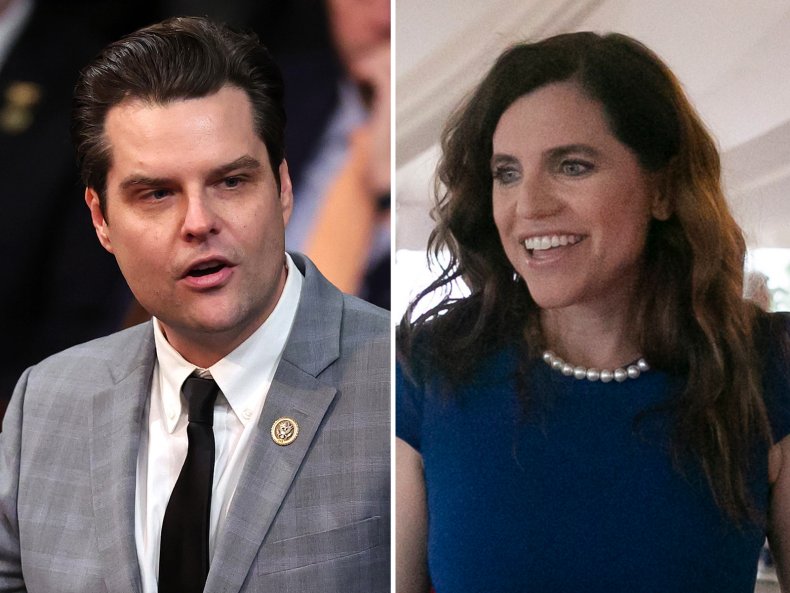 Mace referred to Speaker of the House Kevin McCarthy's election, which required 15 ballots last month. Gaetz was opposed to McCarthy and voted for other candidates before voting "present" on the final ballot.
"Did you watch McCarthy during the speaker's vote? I know many of you were in halls of Congress during that vote. I haven't seen someone assume that many positions to appease the crazy Republicans since Stormy Daniels. It only goes downhill from here, people," Mace joked.
That was a reference to pornographic actor Stormy Daniels, who received a $130,000 payment from former President Donald Trump's then attorney Michael Cohen in 2016 to stop her from disclosing an alleged affair she had with Trump.
"I mean, come on! But let's be honest. We all knew that Matt Gaetz would never let the vote get to 18," Mace said on Wednesday.
"I hope that C-SPAN has a buzzer or a bleep because this s*** is about to get real, ok? It only goes downhill from here. I do have a message from Matt this evening. He really, really wanted to be here tonight, but he couldn't find a babysitter."
When she was met with laughter, Mace added: "To be his date. I mean, come on."
Gaetz had faced an investigation into whether he had violated sex-trafficking laws, including whether he had a sexual relationship with a 17-year-old girl. He has consistently denied any wrongdoing.
Prosecutors had questions about whether potential witnesses would appear credible before a jury, according to CNN's report, which cited an unnamed source.
Mace's remarks were meant in jest, as speeches at the annual event are similar to those delivered by the president at the White House Correspondents' dinner. Like that event, it brings together journalists and politicians from Capitol Hill.
WPCF's website says the "jabs are lighthearted quips from the podium and the only business at hand is a convivial, across the aisle congeniality."
It was also a bipartisan affair and Democratic Senator Raphael Warnock of Georgia was the other featured speaker. The dinner is a major fundraising event for WPCF and the funds raised go to support journalism initiatives.
Newsweek has contacted Gaetz' office for comment.