House Republican Matt Gaetz has told Kevin McCarthy he will use his leverage over the speaker, including threatening votes to remove him from the position "over and over again until it works."
Gaetz is urging McCarthy to take a tougher line over a number of issues, including impeachment efforts against President Biden, balancing the budget and issuing subpoenas for Hunter Biden, the president's son.
On Tuesday morning, McCarthy announced a full impeachment inquiry into Biden and any connections with his son's business dealings. Gaetz dismissed this in a speech on the House floor as a "baby step following weeks of pressure from House conservatives to do more," adding: "We must move faster."
Speaking to CNN later that day, Gaetz warned McCarthy he would push for more concessions from the GOP leader, expressing regret he was unable to block the debt limit deal McCarthy agreed to with Biden in May to avoid the United States defaulting on its debts.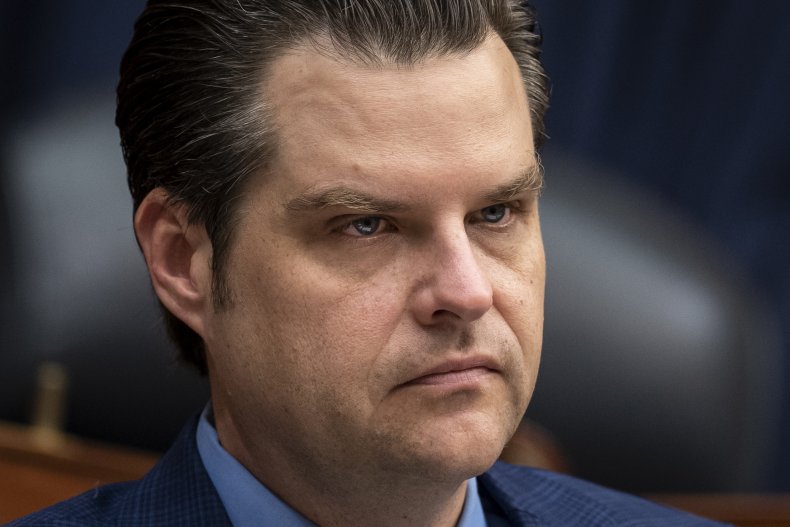 In response to the CNN anchor asking about "leverage" over McCarthy, Gaetz replied: "I'm going to do it over and over again until it works, and today we saw a baby step towards that with more robust efforts towards impeachment, but I'm going to keep doing it...the American people want term limits, they want balanced budgets, they don't want to see government funding wrapped up in like just one up or down vote."
Speaking after McCarthy said he supports an impeachment inquiry into Biden, Gaetz issued him with an ultimatum to go further or risk losing his job.
"I rise today to serve notice: Mr. Speaker, you are out of compliance with the agreement that allowed you to assume this role. The path forward for the House of Representatives is to either bring you into immediate, total compliance or remove you pursuant to a motion to vacate the chair," Gaetz said on the House floor.
"So we're either going to get compliance, or we're going to start having votes on motions to vacate, and we're gonna have them regularly. I don't anticipate them passing immediately. But I think that, you know, if we have to begin every single day in Congress with the prayer, the pledge and the motion to vacate, so be it."
Newsweek reached out to Speaker McCarthy's office via phone call for comment.
McCarthy was elected speaker in January on the 15th round of voting after several Republican hardliners, including Gaetz, opposed his bid for the office. Before his election, in a bid to appease the hardliners, McCarthy agreed to change House rules so any one member could introduce a "motion to vacate," which could see him forced to stand down as speaker.
Republicans have a wafer-thin House majority, meaning just a few GOP representatives uniting with Democrats could vote McCarthy out of office.
Republicans launched investigations into the Biden family's business activities after seizing control of the House in the November 2022 midterms but have struggled to conclusively link the president to alleged efforts at influence peddling by his son.
Responding to McCarthy's impeachment announcement, White House spokesperson Ian Sams commented on X, formerly Twitter: "House Republicans have been investigating the President for 9 months, and they've turned up no evidence of wrongdoing. His own GOP members have said so.
"He vowed to hold a vote to open impeachment, now he flip flopped because he doesn't have support. Extreme politics at its worst."