Who Is Matthew Whitaker? If Trump Fires Rosenstein, Jeff Sessions's Chief of Staff Will Take Over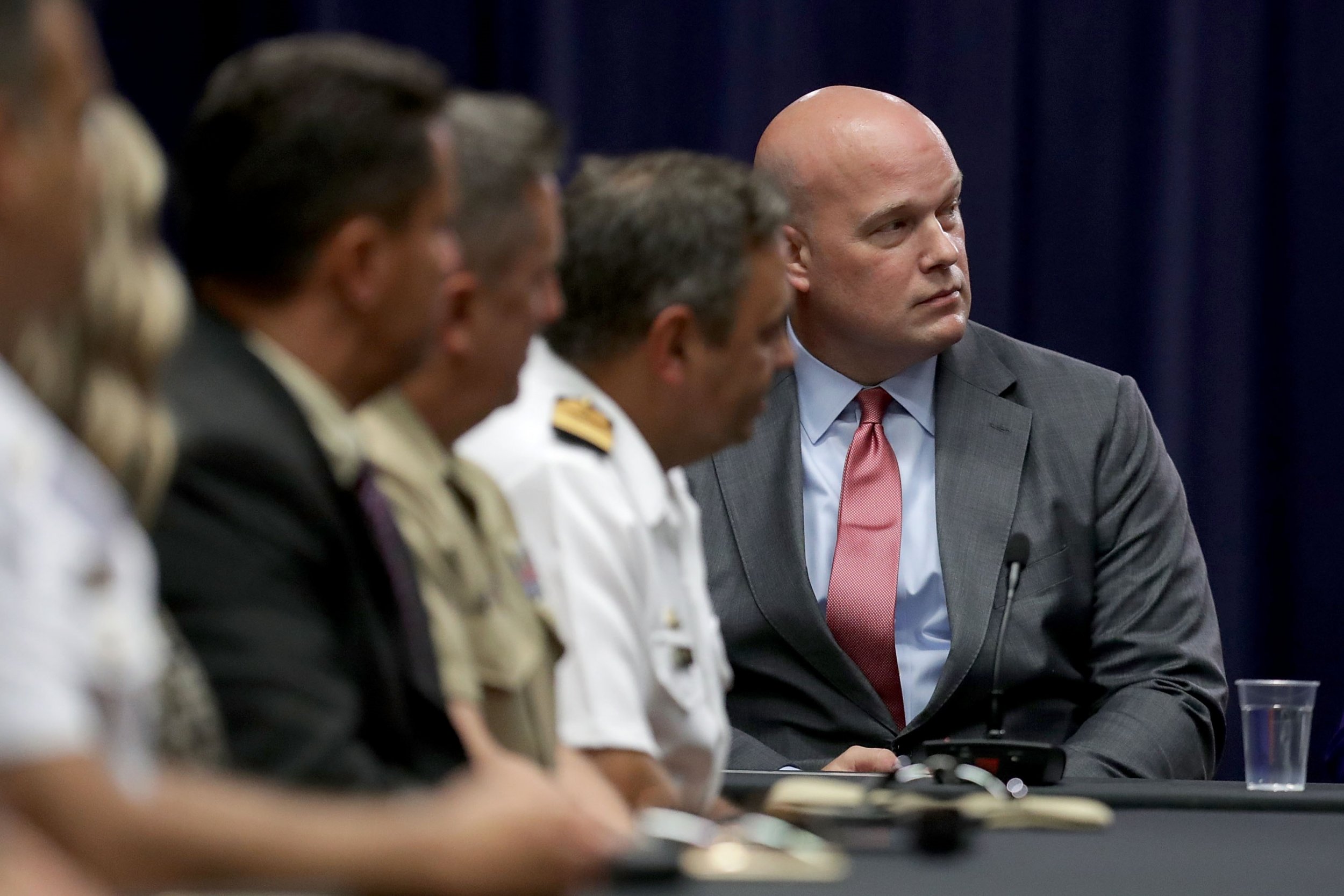 If President Donald Trump fires Deputy Attorney General Rod Rosenstein, the candidate reportedly lined up to replace him in the immediate aftermath would be Matthew Whitaker, chief of staff to Attorney General Jeff Sessions.
Whitaker received a call from White House Chief of Staff John Kelly Saturday morning to say he would step up as acting deputy attorney general if Rosenstein, who is overseeing the Russia investigation after Sessions recused himself, leaves, reported The New York Times.
At the time, Rosenstein was expected to either quit or be fired after The New York Times reported that he had suggested wearing a wire around Trump and spoke of invoking the 25th Amendment to remove the president from office. Rosenstein called the reports "factually inaccurate."
Many prominent Trump supporters have long wanted the president to fire Rosenstein over his handling of the Russia investigation, though some cautioned against the president acting now, expressing concern that it might be a setup to ensnare him in obstruction of justice charges by special counsel Robert Mueller.
Trump has appeared to heed those warnings, and the two are scheduled to meet Thursday to discuss Rosenstein's future.
"I'm talking to him now, we've had a good talk. He says he never said it," Trump said at a news conference in New York on Wednesday. "I would much prefer keeping him. He said he did not say it."
Whitaker, 48, joined Sessions at the White House in 2017. He hails from Des Moines, Iowa, and is a former college football player at the University of Iowa, where he earned an MBA.
In 2002, Whitaker ran as the Republican candidate for state treasurer in Iowa, losing to Democrat Michael Fitzgerald. He was later appointed by President George W. Bush as U.S. attorney for the Southern District of Iowa, serving from 2004 to 2009.
In 2014, Whitaker ran unsuccessfully for the Republican nomination for an Iowa U.S. Senate seat, coming in fourth.
"We've tried liberalism, we've tried big Republicanism. We really haven't tried conservatism," Whitaker said at a debate hosted by Christian conservative organization the Family Leader at Family Baptist Bible College, reported The Courier.
He subsequently joined the board of World Patent Marketing, a patent assistance company later shut down by the Federal Trade Commission for fraud, after which Sessions hired Whitaker.
Before he joined Sessions at the Justice Department, Whitaker wrote an op-ed for The Hill demanding more scrutiny of a meeting between a Democratic official and Ukrainian officials during the 2016 campaign.
Whitaker also played down the infamous Trump Tower meeting involving Donald Trump Jr. and a Kremlin-linked lawyer promising "dirt" on Hillary Clinton.
Before the Rosenstein debacle, Whitaker's name appeared as a potential replacement for White House counsel Don McGahn.