Matthew McConaughey's Texas Governor Bid Divides Bookmakers
Matthew McConaughey's potential Texas Governor bid is dividing bookmakers.
The True Detective actor has said he is seriously considering a gubernatorial run in the Lone Star State but betting companies can't seem to agree on whether or not he has a solid chance of becoming state leader.
Betting aggregator Covers confirmed to Newsweek that there is a huge discrepancy between the odds being offered by different Britsh-based bookmakers, Ladbrokes and Sky Bet.
Ladbrokes are offering 5/1 on the Interstellar star becoming the next Texas Governor, while Sky Bet has the same outcome at a whopping 40/1.
Meanwhile, Betfair has confirmed odds at 10/1 of the heartthrob winning a potential race for governor.
"Essentially, this indicates that Ladbrokes rate McConaughey's chances of taking office eight times higher than SkyBet do, a staggering divergence," a Covers spokesperson said to Newsweek.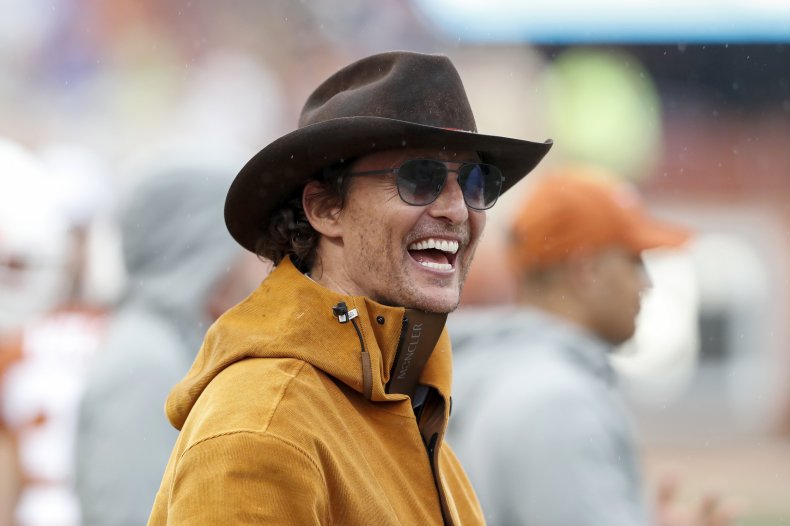 A recent poll indicated that McConaughey leads current Texas Governor Greg Abbott by 12 points in a hypothetical election match-up.
The poll published by The Dallas Morning News and the University of Texas at Tyler earlier this month showed McConaughey to be supported by 45 percent of Texas voters while Abbot was backed by just 33 percent of respondents.
The Oscar winner has not announced formal plans to run for office and it is not clear whether he would run as a Republican or Democratic candidate, having been critical of both parties in the past.
McConaughey sparked interest in his political ambitions back in March during an appearance on The Balanced Voice podcast where he told host Rania Mankarious that running for governor was a "true consideration."
"I'm looking into now again, what is my leadership role?" he wondered. "Because I do think I have some things to teach and share, and what is my role? What's my category in my next chapter of life that I'm going into?"
McConaughey also spoke to Al Roker, the co-host of NBC's Today, where he called the move a "very honorable consideration."
"So am I considering that? Sure. It's a great thing to and an honorable thing to be able to consider."
He added: "What I've got to choose for myself is, I want to get into a leadership role in the next chapter of my life.
"Now, what role am I going to be most useful in? I don't know that that's in a political position or if that's me as a free agent. So that's something I'm personally working on, is: What is my position of most use in a leadership role?"
Former U.S. President George W. Bush has since warned McConaughey that being the governor of Texas is "tough business."
A former governor of the Lone Star State himself, Bush said during an appearance on the Today show: "I read that about Matthew, yeah... I tell you this, it's a tough business."