Who is Matthew Tyrmand? Project Veritas Board Member Under Scrutiny
Matthew Tyrmand is one of the Project Veritas board of directors, which on Monday made a series of allegations about the conduct of the controversial organization's founder and now-former CEO James O'Keefe.
Project Veritas describes itself as conducting undercover reporting to expose "corruption, dishonesty, self-dealing, waste, fraud, and other misconduct in both public and private institutions." However, the organization's reportage has often been seen as false or misleading.
On Monday, O'Keefe posted a video in which he claimed that he had been removed as the group's leader, prompting concern from Republican figures and a mass exodus of Twitter followers.
In response, the Project Veritas board of directors put out a statement in which it said it had not fired him, but claimed it had discovered "financial malfeasance" on O'Keefe's part. Newsweek has contacted O'Keefe for comment on the allegations.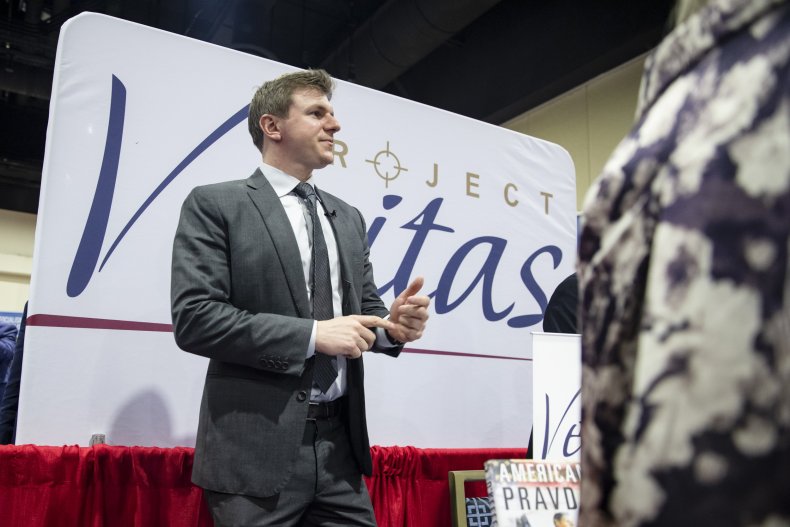 Who Are the Project Veritas Board Members?
According to tax-exemption filings with the Internal Revenue Service (IRS) from 2019, Tyrmand is listed as a director of Project Veritas, along with Colin Sharkey and John K. Garvey. More recent records are not listed.
George Skakel was identified by Intelligencer as another long-serving board member. He is not listed on recent IRS filings for Project Veritas, but is listed as a director on filings for Project Veritas Action, a related organization, along with Joseph Barton.
Many angered by the departure of O'Keefe on social media have blamed Tyrmand.
Michael Swartz, found of frat gear providers Old Row, claimed Tyrmand was the "ringleader" in a "coup" that led to the ousting of O'Keefe. Tyrmand was also fingered as leading the alleged coup by Alex Bruesewitz, a conservative political strategist.
Tyrmand has worked for Breitbart, a far-right online outlet, and according to The Associated Press in 2021 lost a years-long legal battle with a Polish journalist who described him as part of a global war against democracy.
On social media, he jocularly describes himself as a New York City "public school survivor" and "Deputy Minister at Ministry of Sillywalks." According to his LinkedIn profile, he attended Midwood High School in Brooklyn, New York, before studying at the University of Chicago.
After spending time at several finance firms in the noughties, from 2012 he has provided consulting for companies and think tanks through Matthew Tyrmand LLC, listed as being located in lower Manhattan.
In September 2013, Tyrmand published a book about his life as the son of Leopold Tyrmand, a Polish Jewish novelist from Warsaw who published Zły (The Man With White Eyes, in English), a bestseller, and was active in the Polish jazz scene as well as being described as an anti-communist.
In the blurb for his book, Tyrmand said despite his father dying when he was only four years old, he had inherited "a disagreement with stupid ideologies and a tendency to talk."
"When my mother is furious, she says that I am as sure of my opinion as he is, just as stubborn, and just as convinced of my indestructibility," he added.
Tyrmand wrote that he lives in "two worlds," stating: "In America, I roam around Brooklyn and make money on Wall Street. In Poland, I love women and I drink mad dogs [a fortified wine]."
Conservatives on social media have also been critical of his recent comments about Donald Trump. Speaking on the Patriot Talk Show at a Florida's Voice panel on February 7, Tyrmand said Trump "does not belong in this [2024 presidential] race," accusing the former president of "flailing around" and showing "total clown behavior."
Bruesewitz, who is pictured on his Twitter profile speaking at a Trump rally, described his comments as "unhinged."
Newsweek has contacted Tyrmand and Project Veritas for comment.