Matthew Whitaker's first publicized act as acting attorney general was to issue a new rule Thursday denying asylum to migrants who enter the country illegally through the southern United States-Mexico border.
Whitaker was appointed to the role on Wednesday by President Donald Trump after the president asked then-Attorney General Jeff Sessions for his resignation. Whitaker previously acted as Sessions's chief of staff and has attracted scrutiny after making public his views that the special counsel investigation into Russian interference in the 2016 election and possible collusion with the Trump campaign should be limited. Multiple legal scholars have argued that Whitaker's appointment is "unconstitutional."
The new asylum rule is dated November 6, the day of the midterm elections and the day before Sessions's resignation and includes a line for Sessions's signature. It is left blank.
As a hard-liner on immigration who issued the administration's controversial "zero tolerance" immigration ruling earlier this year, there is no suggestion that Sessions would not have signed off on the ruling.
Session's replacement and Department of Homeland Security Secretary Kirstjen Nielsen issued a statement about the ruling. According to the rule, the restrictions will not go into effect until Trump issues an official proclamation.
"Consistent with our immigration laws, the President has the broad authority to suspend or restrict the entry of aliens into the United States if he determines it to be in the national interest to do so," it read. "Today's rule applies this important principle to aliens who violate such a suspension or restriction regarding the southern border imposed by the President by invoking an express authority provided by Congress to restrict eligibility for asylum.
"Our asylum system is overwhelmed with too many meritless asylum claims from aliens who place a tremendous burden on our resources, preventing us from being able to expeditiously grant asylum to those who truly deserve it. Today, we are using the authority granted to us by Congress to bar aliens who violate a Presidential suspension of entry or other restriction from asylum eligibility."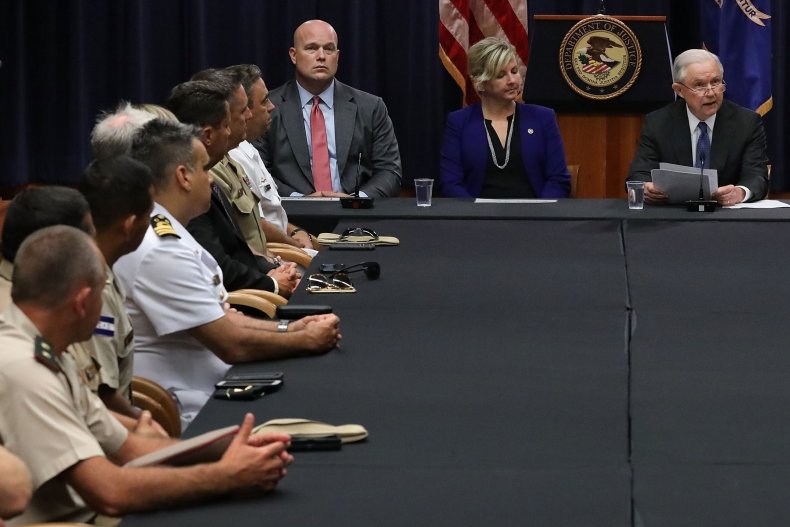 The ruling seeks to change the current law that any migrant can apply for asylum "whether or not at a designated port of entry." Many migrants who enter the country illegally immediately apply for asylum. If they demonstrate that they have a "credible fear" of returning to their home country, they are then placed into the immigration system to further determine their eligibility. The new rule will almost certainly be challenged in the courts.
"It's not legal," Bill Hing, general counsel at the Immigrant Legal Resource Center and professor at the University of San Francisco, told Newsweek last week when Trump first floated the move. "U.S. and international law does not specify that you have to go to a certain port."