Maui Beachgoers Warned to 'Steer Clear' After Tiger Shark Bites Paddle Board
Safety officials warned people to "steer clear" of the water between Keawakapu Beach and White Rock Beach in Maui after several sharks, including a 10-foot-long tiger shark, were reported in the area. At least one other shark was reported to have "aggressively" followed a group of paddle boarders and bitten one of their boards, according to local authorities.
The 10-foot tiger shark was reported in the waters facing the Andaz Maui at Wailea Resort on Wednesday morning by a stand-up paddle boarder, the Hawaii Department of Land and Natural Resources (DLNR) confirmed in a post to its official Facebook account.
Ocean safety officers who surveyed the area reported "the possible sighting of three tiger sharks of at least ten feet in length" and "at least one shark had been aggressively following a group of stand-up paddle boarders who attempted to fend it off with their paddles," the Hawaii DLNR confirmed.
"People are being cautioned to stay out of the ocean between Keawakapu Beach and White Rock Beach in the Wailea district on Maui after several sharks were spotted this morning [Wednesday].
"No one has been hurt, though a shark did bite a paddle board. Ocean safety officers, along with DLNR Division of Conservation and Resources (DOCARE) officers and personnel from the Division of Aquatic Resources (DAR) have been cautioning people to stay out of the ocean in the area and are putting up shark warning signs.
"Standard protocols call for warnings and signs to continue until at least noon tomorrow, after authorities survey the area to ensure no further shark activity," the department added.
To date, there have been 66 confirmed unprovoked shark attacks since 1828, according to the International Shark Attack File of the Florida Museum of Natural History, which claims to be the "world's only scientifically documented, comprehensive database of all known shark attacks."
This week's shark sightings are the latest in a series of shark incidents reported in recent months. Last November, multiple shark sightings in Hawaii prompted beach closures, including the beach stretch from Kihei Boat Ramp to Kalama Park, and between Kihei Boat Ramp and Cove Park in Maui.
Warning signs were also posted at Pounders Beach on the island of Oahu after an 8-to-10-foot shark was spotted around 20 feet from the shore.
In October, items of clothing believed to have belonged to a diver in Kailua-Kona were reported to have been evidence of a shark attack. In September, three people in Hawaii were bitten by a swarm of sharks during on a free-diving trip on Oahu island, while a surfer in Maui managed to make a narrow escape after a shark bit the back of her surfboard 150 yards off shore.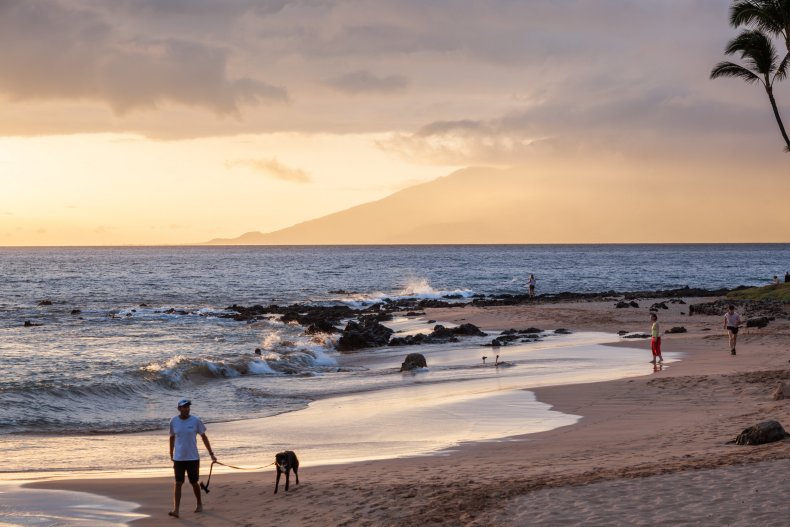 Safety tips to reduce the risk of shark injury, as advised by the office of the Hawaii DLNR:
Swim, surf, or dive with other people, and don't move too far away from assistance.
Stay out of the water at dawn, dusk, and night, when some species of sharks may move inshore to feed. But be aware that tiger sharks are known to bite people at all times of the day.
Do not enter the water if you have open wounds or are bleeding in any way. Sharks can detect blood and body fluids in extremely small concentrations.
Avoid murky waters, harbor entrances, and areas near stream mouths (especially after heavy rains), channels, or steep drop offs. These types of waters are known to be frequented by sharks.
Do not wear high-contrast clothing or shiny jewelry. Sharks see contrast very well.
Refrain from excessive splashing; keep pets, which swim erratically, out of the water. Sharks are known to be attracted to such activity.
Do not enter the water if sharks are known to be present, and leave the water quickly and calmly if one is sighted. Do not provoke or harass a shark, even a small one.
If fish or turtles start to behave erratically, leave the water. Be alert to the presence of dolphins, as they are prey for some large sharks.
Remove speared fish from the water or tow them a safe distance behind you. Do not swim near people fishing or spearfishing. Stay away from dead animals in the water.
Swim or surf at beaches patrolled by lifeguards, and follow their advice.