Hawaii Beaches Closed Following Multiple Shark Sightings Including 15-foot Tiger Shark
Multiple shark sightings in Hawaii—three incidents in the past two days—have prompted beach closures across the state.
The South Maui beach stretch from Kihei Boat Ramp to Kalama Park remains closed after two sharks were spotted off of Kamaole Beach 1 and Charley Young Beach, according to a post Tuesday on the official County of Maui Facebook account.
"One 10- to 15-foot tiger shark was seen about 300 yards off of Kamaole Beach Park 1, and another, approximately 10-foot shark was spotted within 100 yards off of Charley Young Beach. The sightings continued the closure of ocean waters from Kihei Boat Ramp to Kalama Park until further notice. The presence of sharks will be reassessed throughout the day, according to the Maui Fire Department," the post said.
There were no reported injuries but signs directing people to stay out of the water due to shark sightings remained posted on Tuesday, the County of Maui noted.
The latest incident follows other shark sightings in Maui on Monday which saw beach closures between Kihei Boat Ramp and Cove Park, with warning signs posted and ocean safety officers patroling the area and fire crew and police telling people to return to shore and to stay out of the water, according to the County of Maui.
"A crew aboard [Maui Fire Department] MFD's Air One helicopter observed at least three and as many as five tiger sharks a few hundred yards off shore of Kamaole 1 and 2 shortly before 8 a.m. The sharks were estimated to be at least 15 feet long," according to a post by the County of Maui on its official Facebook account.
MFD inspected Kamaole Beach Parks 1 and 2 on Monday morning following "a report of dead or dying fish in the water from a damaged akule net off of Kamaole 3 over the weekend. There were no shark sightings late Saturday or all day Sunday," the County of Maui said in the post.
Also on Monday, warning signs were posted at Pounders Beach on the island of Oahu after an 8-10 foot shark was spotted around 20 feet from the shore, according to Hawaii News Now.
No one was reported to be in the water at the time of the sighting but around 20 people were on the shore. Hawaii's ocean safety officials were reported to be reassessing the conditions on Monday.
"Pounders Beach was never closed. Warning signs are now down," Shayne Enright, a spokesperson from the Honolulu Emergency Services Department, told Newsweek on Wednesday.
"While shark attacks are rare, they can still happen on Hawaii beaches," HIOceanSafety.com (Hawaii Drowning & Aquatic Injury Prevention Advisory Committee) notes on its website.
"When a shark is sighted or a shark bite has occurred, lifeguards and other coastal authorities will warn beachgoers in the vicinity of the incident. Do not enter the water in areas where signs are posted, and obey all warnings to clear out of the water when a shark is sighted. If you see or encounter a shark, notify Ocean Safety Personnel or call 911 immediately," it adds.
"There are about forty species of sharks that occur in Hawaiian waters, ranging in size from the deep-water pygmy shark (about 8 inches) to the whale shark (up to 50 feet or more)," the Hawaii State Department of Land and Natural Resources (DLNR) notes on its official website.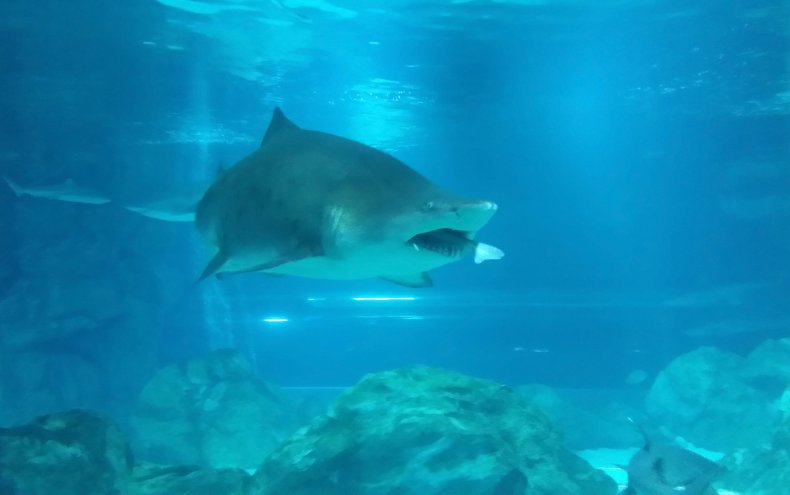 "Incidents of sharks biting people in Hawaiian waters are very rare, occurring on average at a rate of about three or four per year. Fatal shark bites are extremely rare, especially considering the number of people in Hawaii's waters.
"The risk of injury caused by sharks is extremely small, but it is a risk accepted by anyone who enters the shark's world. By learning more about sharks, using common sense, and observing safety tips, the risk may be greatly reduced," the Hawaii State DLNR states.
This week's shark sightings come after a string of shark-related incidents in Hawaii in recent months, including one last month when items of clothing believed to have belonged to a diver in Hawaii were reported to have evidence of a shark attack.
In September, three people in Hawaii were bitten by a swarm of sharks while on a free-diving trip in Haleiwa on Oahu island, while a female surfer in Maui made a narrow escape after a shark bit the back of her surfboard just 150 yards off shore. Back in August, a woman was critically injured and hospitalized after being bitten by a shark while swimming around the Kealakekua Bay area on the Kona coast of Hawaii.
According to the International Shark Attack File (ISAF) of the Florida Museum of Natural History, which claims to be the "world's only scientifically documented, comprehensive database of all known shark attacks," to date there have been 64 confirmed unprovoked shark attacks in Maui, 42 in Oahu, 29 in Kauai and 20 on the island of Hawaii reported since 1828.
Speaking to Newsweek, Tyler Bowling (the manager of Florida Program for Shark Research at the Florida Museum of Natural History) said: "Hawaii ranks #2 for [shark] bites in the US. But these are still rare incidents, only adding up to 66 unprovoked incidents in the last decade (2009-2018). The odds are extremely low, but practicing smart and safe habits will help lower those odds even more."
Gavin Naylor (director of the Florida Program for Shark Research and curator at the Florida Museum of Natural History) also told Newsweek: "There is a peak in shark activity in October off Hawaii most years. I don't think this year is any different from most."
Newsweek has contacted the Maui Fire Department and the Hawaii State DLRN, HIOceanSafety.com for updates on the latest sightings and further comment on the latest shark incidents in Hawaii.
Below are safety tips to reduce the risk of shark injury, as advised by the office of the Hawaii State DLNR:
Swim, surf, or dive with other people, and don't move too far away from assistance.
Stay out of the water at dawn, dusk, and night, when some species of sharks may move inshore to feed. But be aware that tiger sharks are known to bite people at all times of the day.
Do not enter the water if you have open wounds or are bleeding in any way. Sharks can detect blood and body fluids in extremely small concentrations.
Avoid murky waters, harbor entrances, and areas near stream mouths (especially after heavy rains), channels, or steep dropoffs. These types of waters are known to be frequented by sharks.
Do not wear high-contrast clothing or shiny jewelry. Sharks see contrast very well.
Refrain from excesive splashing; keep pets, which swim erratically, out of the water. Sharks are known to be attracted to such activity.
Do not enter the water if sharks are known to be present, and leave the water quickly and calmly if one is sighted. Do not provoke or harass a shark, even a small one.
If fish or turtles start to behave erratically, leave the water. Be alert to the presence of dolphins, as they are prey for some large sharks.
Remove speared fish from the water or tow them a safe distance behind you. Do not swim near people fishing or spearfishing. Stay away from dead animals in the water.
Swim or surf at beaches patrolled by lifeguards, and follow their advice.
This article has been updated with comments from the Honolulu Emergency Services Department and the Florida Museum of Natural History.