'Mayans MC' Season 3: How to Watch to FX Show Online
Mayans MC Season 3 is finally coming to FX, more than a year after the last episode aired on the network. Season 3 will begin with a double bill in March, with episodes also airing weekly on streaming services.
Per actor Emilio Rivera, the new season of the Sons of Anarchy spin-off is set to be the darkest yet. He told PopCulture.com, "the hurt, the pain is a whole different level. From the gate, you're going to say 'what the f*** just happened?'"
How to watch Mayans MC Season 3 online
Mayans MC Season 3 episodes will come to Hulu the day after they air on FX, meaning episodes will arrive on Wednesday mornings on the streaming service.
Viewers who want to watch the episodes as they air, however, will be able to do so on Tuesdays at 10 p.m. ET/ 9 p.m. CT on FX. Mayans MC Season 3 will begin with a double bill of Episode 1 and 2 of the show, "Pap Struggles with the Death Angel" and "The Orneriness of Kings," set to air on Tuesday, March 16. After that, episodes air one a week on Tuesdays.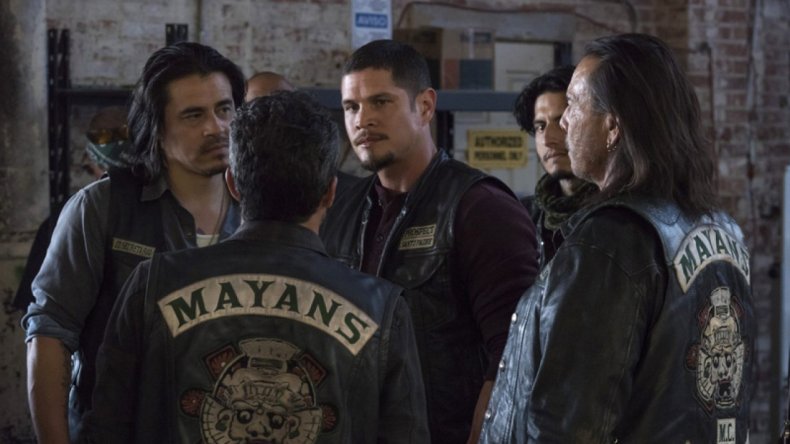 Mayans MC Season 3 airing on Hulu means that some viewers are able to watch it online for free. The streamer still offers a 30-day free trial for new subscribers, giving viewers plenty of time to watch the first few episodes.
After that free period, the service costs $5.99 a month for its basic version with ads ($59.99 a year), or $11.99 for the premium version with no commercials.
The streamer also offers a bundle whereby viewers can get basic Hulu, Disney+ and ESPN+ at $12.99 a month—$6 cheaper than paying for all three separately. This bundle, however, is set to rise to $13.99 a month once Disney+ raises its price by one dollar a month at the end of March 2020.
The official FX summary for Mayans MC Season 3 reads, "Mayans MC follows the life of Ezekiel 'EZ' Reyes (JD Pardo), a newly patched member of the Mayans M.C. charter on the Cali/Mexi border. Once the golden boy with the American Dream in his grasp, EZ and his brother Angel (Clayton Cardenas) are closer than ever after uncovering the truth behind their mother's murder while their father Felipe (Edward James Olmos) struggles to reconcile the choices he and his sons have made.
"After U.S. Assistant District Attorney Lincoln Potter (Ray McKinnon) threatens to deport Felipe, EZ and Angel chose to leverage incriminating information to protect him rather than to free rebel leader Adelita (Carla Baratta) from federal custody, leaving her to give birth to Angel's son while in handcuffs. Meanwhile, Miguel Galindo (Danny Pino) is left reeling over the loss of his mother to apparent suicide, while others quietly suspect foul play. Additionally, the Mayans seek vengeance on their rivals, the Tijuana M.C. Vatos Malditos, after a surprise attack on their club. When the smoke clears, they discover the body of a Sons of Anarchy Motorcycle Club Redwood Original – there will be hell to pay."
Mayans MC Season 3 airs Tuesdays at 10 p.m. ET/ 9 p.m. CT on FX and Wednesdays mornings on Hulu.