Mayim Bialik has remained silent since Mike Richards stepped down as the new host of Jeopardy! due to offensive remarks he made in the past.
While Richards was slated to be the regular host, former Big Bang Theory star Bialik was hired to host the primetime version of the show as well as specials.
However, there have also been calls for Bialik, 45, to step down as host over remarks she's made in the past about vaccines. The vaccine comment came from Bialik's 2012 book titled Beyond the Sling.
Bialik, who earned a Ph.D. in neuroscience in 2007, wrote: "We made an informed decision not to vaccinate our children, but this is a very personal decision that should be made only after sufficient research, which today is within reach of every parent who seeks to learn about their child's health regardless of their medical knowledge or educational status."
However, Bialik has since publicly stated that she is not anti-vax with a spokesperson telling The Wrap: "She has been fully vaccinated for the COVID-19 virus and is not at all an anti-vaxxer."
She also tried to clear up the rumors in 2015 when she tweeted: "dispelling rumors abt my stance on vaccines. i'm not anti. my kids are vaccinated. so much anger and hysteria. i hope this clears things up."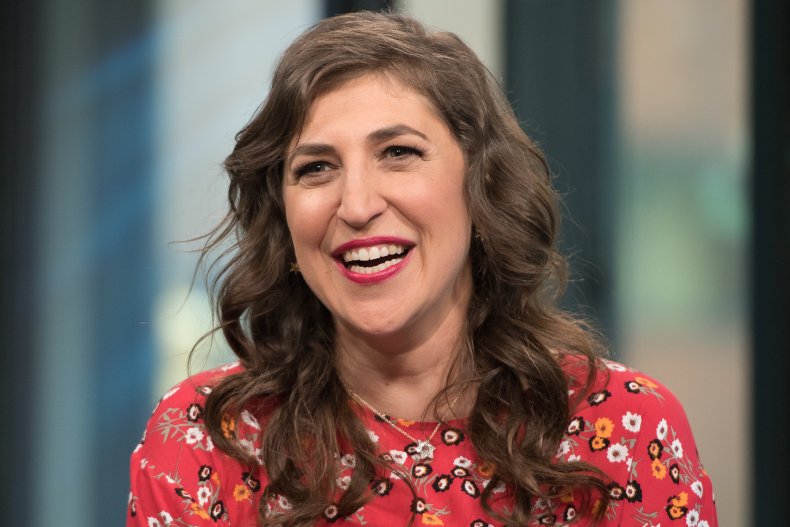 The Blossom star also attempted to clarify her stance on vaccines in an October 2020 YouTube video in which she confirmed that she and her two children would be getting the COVID-19 vaccine as well as seasonal flu jabs.
"This year I'm gonna do something I literally haven't done in 30 years: I'm gonna get a vaccine. I know! And guess what? I'm actually gonna get two," she said at the time.
"You might be saying, 'Hey, wait a second, Dr. Mayim Bialik, you don't believe in vaccines! You're one of those anti-vaxxers,'" Bialik continued in the video. "I wrote a book about 10 years ago about my experience parenting, and at the time my children had not received the typical schedule of vaccines. But I have never, not once, said that vaccines are not valuable, not useful, or not necessary, because they are."
She added: "The truth is, I delayed vaccinations for reasons that you don't necessarily get to know about simply because you follow me on social media.... As of today, my children may not have had every one of the vaccinations that your children have, but my children are vaccinated."
Bialik then explained her belief that children receive "way too many vaccines in this country" and that "the medical community often operate from a place of fear in order to make money."
She added: "I want my immune system to have the best chance at fighting anything that comes its way, especially if that's COVID."
Amid the concern over Bialik's past remarks about vaccines, she has continued to remain silent on the Jeopardy! hosting scandal.
Newsweek has reached out to Bialik's representatives for comment.
Despite her clarifications on her vaccine stance, many people are still calling for her to step down as host of the beloved quiz show.
Jeff Jarvis, a former television critic and current journalism professor at the City University of New York tweeted that Bialik "spreads vaccine doubt and hawks brain quackery. She is no representative for a show about facts and authority."
While activist Ashe Grey added: "The fact that she let them get a flu shot and the COVID vaccine does not change that she has very problematic views on vaccines generally, that she won't walk back. She's being vague AF for a reason."
Surgical oncologist David Gorski tweeted: "Aside from her spreading antivax misinformation years ago (something she still does even as she denies being antivax), not she's using her PhD to sell snake oil in the form of a dubious "brain health" supplement. Not a good look for @Jeopardy!"
Some people however are expressing their support for Bialik to remain in the job with one person tweeting: "I hope it's Mayim Bialik that becomes the permanent Jeopardy host."
While another added: "Hey can Mayim Bialik be the next host of Jeopardy?"