LeVar Burton Fans Demand He Replace Mike Richards As 'Jeopardy!' Host
LeVar Burton fans are not letting up. Legions of people are calling for the actor to replace Mike Richards as the permanent host of Jeopardy! after he stepped down amid a scandal over offensive comments he made in the past.
Richards, who is also an executive producer of Jeopardy! was lined up to take on the highly coveted job but had a swift fall from grace this week after comments he made on a podcast eight years ago resurfaced.
The Anti-Defamation League called for an investigation following a story in The Ringer that reported Richards' disparaging comments mocking women's weight, Jewish people and Asians on episodes of his podcast "The Randumb Show" from 2013-2014.
He apologized in a statement to The Ringer earlier this week, saying: "Looking back now, there is no excuse, of course, for the comments I made on this podcast and I am deeply sorry."
However, as of Friday morning, the 46-year-old has confirmed he is stepping down from the role and issued another statement.
It reads in part: "It pains me that these past incidents and comments have cast such a shadow on Jeopardy! as we look to start a new chapter.
"As I mentioned last week, I was deeply honored to be asked to host the syndicated show and was thrilled by the opportunity to expand my role. However, over the last several days it has become clear that moving forward as host would be too much of a distraction for our fans and not the right move for the show. As such, I will be stepping down as host effective immediately. As a result, we will be canceling production today."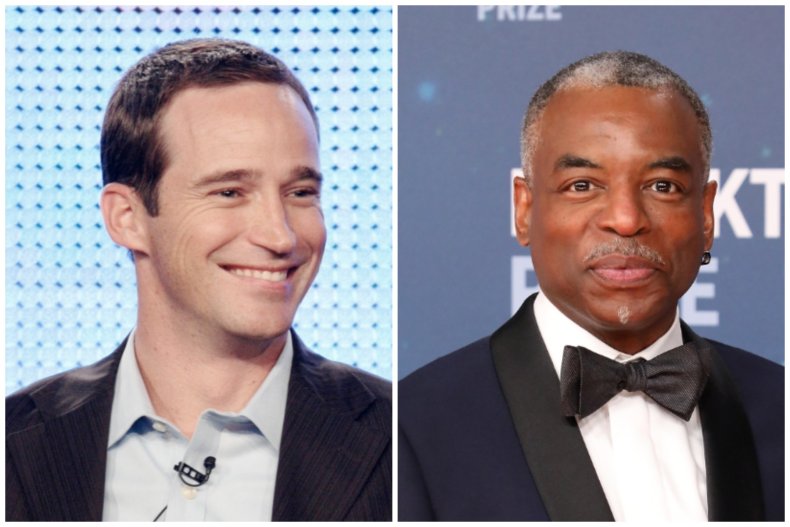 Richards confirmed that producers will now be resuming the search for a permanent syndicated host and a roster of guest hosts will continue in the meantime.
The latest turn of events in the Jeopardy! hosting saga has given new hope to the legions of staunch LeVar Burton supporters who believe he is the best man for the job.
News of Richards' departure from the show has prompted a swift reaction from fans of the former Star Trek: The Next Generation actor who continue to call for him to be the one to replace the late Alex Trebek.
"I'll take "Should've hired LeVar Burton in the first place for 500, please,'" tweeted columnist Rod Walker.
While another added: "Hire LaVar Burton and be all will be watching again."
Responding to news of Richards' stepping down, activist Charlotte Clymer tweeted: "LeVar Burton is right there."
Meanwhile, Tevin Wooten of the Weather Channel joked: "It's almost as if...they need someone to...help them...read-the-room..."
"now hire levar burton you fools!!!!!!!!!!" said author Talia Lavin.
A recent poll found that Burton was the fan favorite to get the job but producers may be hesitant due to poor ratings during his guest host week.
Nielsen Media Research figures show that Burton pulled in an audience share of just 4.4—making his week the least-watched of all of the guest hosts.