John McCain Once Suggested Trump's New Secretary of Defense Patrick Shanahan was a 'fox in the Henhouse' Over Ties to Boeing
President Donald Trump announced Sunday he was ousting Secretary of Defense James Mattis from his role two months early, reportedly frustrated with Mattis's resignation over the president's sudden decision to withdraw U.S. troops from Syria.
Patrick Shanahan, the deputy secretary of defense, will be appointed as acting secretary of defense beginning January 1, 2019.
The move to oust Mattis and elevate Shanahan has resurfaced the undersecretary's confirmation hearing before the Senate Armed Services Committee in the summer of 2017, in which the late-Arizona GOP Senator John McCain ridiculed the then-Boeing executive and nearly blocked his confirmation.
The root of McCain's concerns with the defense contractor were whether Shanahan supported offering Ukraine military assistance to help fight against Russian-backed separatists. McCain, who was then chairman of the committee, offered a stinging rebuke to Shanahan's written answers on the matter that were provided to the committee prior to the hearing.
"I have to have confidence that the fox is not going to be put back into the henhouse," McCain told Shanahan. He suggested that placing an executive from one of the largest military defense contractors, a man with no prior military experience, in such a powerful Pentagon role could be damaging to the agency.
Shanahan had been with Boeing, a company that completes military contracts for the Pentagon each year totaling billions of dollars, since 1986.
His written answers explained he planned to look at the matter, "closely," once confirmed because he would have access to classified information. The answer was, "not satisfactory," for McCain. The GOP senator threatened to withhold a vote on Shanahan's confirmation as deputy secretary of defense.
"The answers that you gave to the questions, whether intentionally or unintentionally, were almost condescending, and I'm not overjoyed that you came from one of the five corporations that receive 90 percent of the taxpayers' dollars," McCain scolded Shanahan.
McCain, a veteran and a prisoner of war survivor, wanted more Pentagon nominees from the Trump administration who were "totally objective, well-known and well-regarded."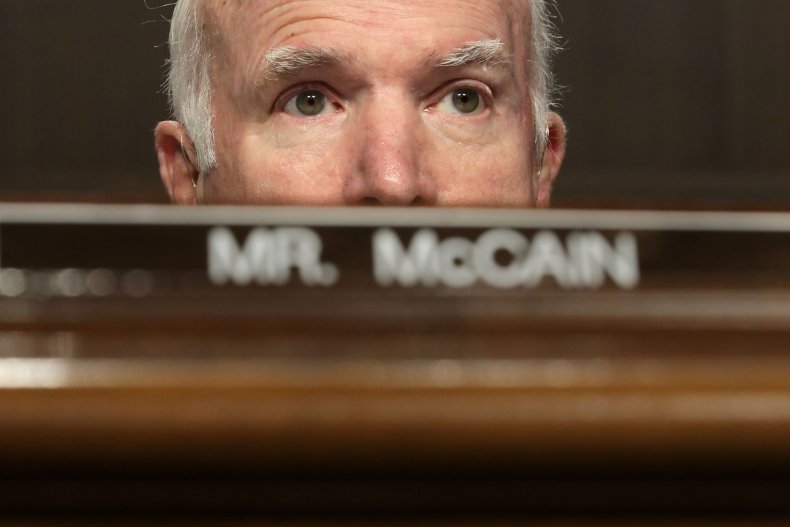 DoD officials told Newsweek that Shanahan, as acting secretary of defense, will be good for the military industrial complex, since he's a former Boeing executive. However, they said, he is not a strategic thinker and, "has no policy or strategic background."
"Do not [avoid questions like] that again Mr. Shanahan, or I will not take your name up for a vote before this committee," McCain told him during the confirmation hearing. "I'm not going to sit here and watch you duck every question and expect that everything is going to go smoothly. It's not."
After taking the Arizona senator's offer to amend his answers, Shanahan said that he did support backing Ukraine militarily, much to the pleasure of McCain.
Ultimately, Shanahan was confirmed by the Senate 92-7 and the DoD in December 2017 made the decision to provide Ukraine with anti-tank missiles and other weapons with, "enhanced defensive capabilities as part of our effort to help Ukraine build its long-term defense capacity, to defend its sovereignty and territorial integrity, and to deter further aggression," said then-spokeswoman Heather Nauert.