Republican Senate Majority Leader Mitch McConnell has said he hopes that President Donald Trump will not veto a massive military spending bill over a measure in the bill that could possibly remove the names of former confederate soldiers from military bases.
"I will Veto the Defense Authorization Bill if the Elizabeth "Pocahontas" Warren (of all people!) Amendment, which will lead to the renaming (plus other bad things!) of Fort Bragg, Fort Robert E. Lee, and many other Military Bases from which we won Two World Wars, is in the Bill!" Trump tweeted on Wednesday morning.
In response, McConnell said, "I hope the president will reconsider vetoing the entire defense bill, which includes pay raises for our troops... I would hope the president really wouldn't veto the bill over this issue."
In June, the Senate Armed Services Committee approved Democratic Massachusetts Senator Elizabeth Warren's measure to establish a commission that would oversee the renaming of at least 10 confederate-named U.S. military bases within three years.
Typically, the annual defense spending bill receives bipartisan veto-proof support but the current one is still being negotiated by both congressional chambers. Because 45 Democrats and two Democratic-aligned Independents in the Senate support Warren's renaming measure, Republicans would at minimum require 50 of the Senate's 53 Republicans to vote against it.
On June 10, Trump said he wouldn't consider renaming the bases.
"These monumental and very powerful bases have become part of a great American heritage and a history of winning, victory, and freedom," Trump wrote on Twitter at the time.
Newsweek reached out to the White House for further information. This story will be updated with any response.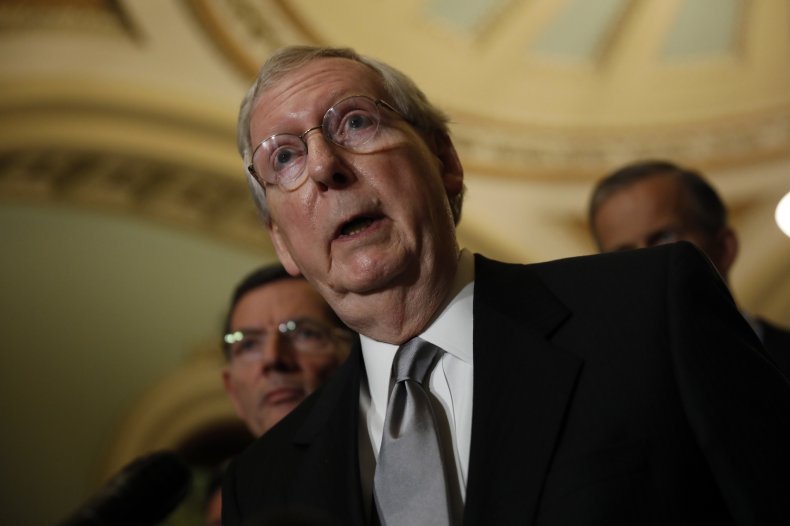 White House Secretary Kayleigh McEnany reiterated Trump's sentiments at a press briefing later that same day.
"To suggest that these forts were somehow inherently racist in their names and need to be changed is a complete disrespect to the men and women with the last bit of American land they saw before they went overseas and lost their lives for these forts," McEnany said.
On June 11, Democratic U.S. Representative Anthony Brown of Maryland and Republican U.S. Representative Don Bacon of Nebraska introduced legislation to rename the bases and issued a joint statement explaining why.
"Military leaders, active-duty troops, veterans, civil rights organizations and every day Americans have long called for changing the names of these installations and acknowledging that the cause for which they fought was wrong," the statement said, "Recent, highly visible instances of racial violence and racism have underscored the immediate need for change."
The two legislators pointed to the recent decision by the Marine Corps and Navy to ban the Confederate flag amid the nationwide protests following the death of George Floyd which have sought to end police brutality and acknowledge systemic racism. The uprising has compelled citizens and local government officials to remove Confederate statues across the country.
The 10 Army installations that would be re-named include Fort Rucker in Alabama; Fort Benning and Fort Gordon in Georgia; Fort Polk and Camp Beauregard in Louisiana; Fort Bragg in North Carolina; Fort A.P. Hill, Fort Lee and Fort Pickett in Virginia; and Fort Hood in Texas.